Posted on
Mon, Nov 7, 2011 : 7:08 a.m.
A case for Thomas Gordon to reclaim a spot at safety on the Michigan football team
By Kyle Meinke
IOWA CITY, Iowa — There is one question Michigan football coach Brady Hoke surely will face in the aftermath of his team's second loss of the season.
Where was Thomas Gordon?
The sophomore safety played superbly this season alongside junior Jordan Kovacs, and the pair combined to form Michigan's best position group. Their ability to keep balls in front of them and create turnovers — Gordon has picked off one pass and recovered a team-high three fumbles — held the defense together, even when Michigan wasn't playing as well early in the season.
Now, Gordon finds himself benched?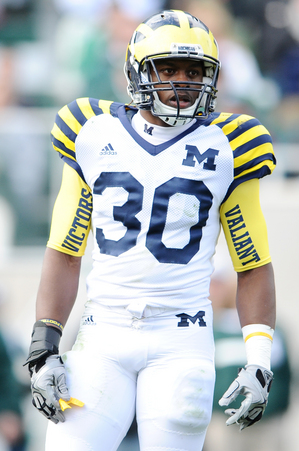 Melanie Maxwell | AnnArbor.com
The sophomore did not make an appearance on defense — not one snap, according to the official participation report — in Michigan's 24-16 loss Saturday at Iowa. Although, he did play on special teams, which effectively rules out injury for his absence.
Instead, it was fifth-year senior Troy Woolfolk who started alongside junior Kovacs, and he never left the game. It was his second consecutive start there since he was supplanted at cornerback by true freshman Blake Countess.
Against Purdue two weeks ago, Woolfolk started for Kovacs, who was out with a knee injury. Gordon also was back there. The big question heading into the Iowa game was, who would be the odd man out once Kovacs returned?
Most though it would be Woolfolk, the newcomer who hasn't played particularly well this year.
Instead, it was Gordon.
Coach Brady Hoke was asked last week about Gordon's role with the team once Kovacs returned, and with Woolfolk at safety, and he said Gordon might find himself in more nickel packages. However, that didn't happen either, as sophomore Courtney Avery continued as the regular there against Iowa.
Woolfolk certainly has a role on this defense — he is a veteran with great speed, after all. But how can Gordon — who remains the team's second-leading tackler, despite not playing last week — not once leave the bench?
And, in the end, how did Woolfolk play against the Hawkeyes?
Not bad, but not great. He missed several tackles and took several bad routes to ball carriers, a problem that has bothered him for much of the year. Gordon, certainly, has played more effectively at safety.
So, if Gordon was playing well, and Woolfolk isn't, then why would Gordon be benched in favor of Woolfolk?
Good question.
Big plays starting to hurt Michigan
Maybe it's coincidence. Maybe, it's not.
Michigan went seven games this year with Kovacs and Gordon as its starting safeties, and never allowed a play of 40 or more yards. In two games since, it has given up three.
Woolfolk and Gordon were the safeties against Purdue, with Kovacs out with his injury. Against Iowa, it was Woolfolk and Kovacs.
There may or may not be a correlation between the lineups and the 40-yarders ... but there's no question Gordon and Kovacs played well together in the first seven games, especially in containing big plays and creating turnovers.
Against Iowa, neither happened.
Countess showing worth
Need more proof Countess is the real deal? Didn't think so.
The true freshman was Michigan's best defensive back against the Hawkeyes, including fellow starting corner J.T. Floyd. In fact, it wasn't close.
Floyd, who has played well this year, was caught in soft coverage several times against Iowa star receiver Marvin McNutt, and was beaten. Countess, conversely, played more aggressively against the senior — despite a 6-inch disadvantage — and was more effective in coverage.
McNutt has been one of the Big Ten's best receivers the past couple years, and he weighed declaring for the NFL after last season. Countess, meantime, couldn't buy a lotto ticket until two days before Michigan opened camp this year.
Yet, the freshman with only one previous start played without fear.
Now, it appears he's beginning to dish some out himself, as Iowa went away from Countess on several key third-down attempts. Regardless of whether that was done purposefully, the fact offenses are not picking on a true freshman corner is sign enough Countess is viewed as a legitimate threat.
Illinois could present a good barometer for Countess' growth next week, as it features another big-time receiver in A.J. Jenkins.
It might be in the Wolverines' best interest to defend Jenkins with Countess as much as possible. They don't typically match up a specific corner on a specific receiver, but perhaps now is the time.
Offensive playcalling suspect
Offensive coordinator Al Borges has come under fire for his playcalling, and some of it justified. Some are on board with the multiplicity of the Michigan offense, others are discouraged by a lack of flow.
Here's the deal: Running the deuce formations and trick plays, and varying the looks and calls as much as possible — even alternating between spread and pro-style looks — is in Michigan's best interest because it already is so one-dimensional with quarterback Denard Robinson.
He can run consistently (for the most part). He can't pass consistently (for the most part).
Defenses already are creeping into the box with spies and extra defenders, daring Robinson to pass. That's called cheating, and it gives the defense an edge. Imagine how much more cheating defenses could do if they didn't have to spend time preparing for deuces, or for multiple looks?
Now, here's where there is a problem with the playcalling: Tailback Fitz Toussaint began the day with some tremendous runs, a few of which were power plays up the middle on which he followed the blocking of new fullback Stephen Hopkins.
The Wolverines had great success with this look — but instead of sticking with it, Borges got multiple.
Toussaint received more than two carries on two drives, and Michigan scored on both of them. He got only five carries on the Wolverines' other nine drives, and the Wolverines scored once (although he did leave the game early with an undisclosed injury).
Because of who Michigan is, it has to provide as many looks as possible. But when something's working — especially on the road, in a tough place to play, against a team that's beaten you twice in a row — you have to stick with it. Exploit it.
Instead, Michigan never really got back to Toussaint — at first by choice, then by force because of its late deficit. The Wolverines finished the game with 13 consecutive pass plays.
Working wonders in short yardage
The silver lining in the loss? Michigan's defense continues to be uncannily tough in third-and-short situations.
The Wolverines allowed Iowa to covert only two-of-five third-down attempts of 3 or fewer yards, and also held on a fourth-and-one. That's a conversion rate of just 33.3 percent on short third- and fourth-down tries.
That's insane.
Two of Michigan's biggest defensive plays came in such circumstances. Most notably, linebacker Jake Ryan blew up a third-and-one play with little more than 2 minutes left and the Wolverines trailing by eight points.
He dropped Coker for a 1-yard loss, which forced Iowa to punt and gave Michigan one last chance to score. It almost did, thanks to Ryan.
"At times, we rose up and played pretty good third- and fourth-down defense," Hoke said. "The third-down stop there late was huge. ... I think they were 4-of-12 on third-down conversions, which, defensively, is OK."
Overall, Michigan is 47th in opponents' third-down conversion rate (37.9 percent) and No. 1 in the country in red-zone defense, which accentuates how good its been in short-yardage situations.
Homely away from home
Big Ten teams struggle on the road. Young teams struggle on the road.
Michigan, which is starting three freshmen on defense, and playing five, is struggling on the road. Both of the Wolverines' losses have come away from Ann Arbor, and have played some of their worst football in hostile environments.
They have won three of 12 quarters away from Michigan Stadium, and looked rattled against Michigan State and Iowa. The Wolverines were much better at Northwestern, but Ryan Field was at least 50 percent behind Michigan in that game. Not exactly intimidating.
The Wolverines, as it happens, hit the road again next week to face Illinois. The Illini have lost their past three, which seems to bode well for Michigan.
On the other hand, Iowa was coming off an ugly loss to Minnesota, and that didn't work out so well for the Wolverines.
By the way, Big Ten teams are 9-22 this season on the road, and a third of those wins came against Indiana. (They do still play football in Bloomington, right?)
Morgan struggles
While Countess was been the most impressive freshman, linebacker Desmond Morgan was the biggest disappointment against the Hawkeyes.
He lost contain several times, leading to chunks of yards for Iowa tailback Marcus Coker, and also missed a tackle on Coker's first touchdown run of the game.
Coaches speak highly of him, and he's obviously shown something in practice, since he supplanted a junior, Brandin Hawthorne, in the starting lineup. And, although the team went to Hawthorne with Morgan struggling in the first half against Iowa, it went back to Morgan in the second half.
He has talent and good instincts, but also has been more susceptible to youthful mistakes than some of his classmates.
Early TDs plaguing defense
Three games in a row, Michigan has allowed a first-drive touchdown (and in the game before that, it allowed touchdowns on Northwestern's second and third drives). Clearly, something is not working.
It's difficult to criticize much about the defense, considering how far it's come in less than a calendar year. Who could have projected this team would allow just 15.7 points per game after the carnage inflicted the past three seasons?
Yet, the slow starts are puzzling, considering how effective the defense has been late in games.
With two tough teams and another road game left to play, Michigan needs to find a solution if it's to finish the season with more than seven wins. Michigan is good, but not good enough to consistently come back against Big Ten teams.
Especially on the road.
Kyle Meinke covers Michigan football for AnnArbor.com. He can be reached at 734-623-2588, by email at kylemeinke@annarbor.com and followed on Twitter @kmeinke.