Posted on
Sat, Nov 5, 2011 : 7:45 p.m.
Iowa 24, Michigan 16: Your comprehensive guide to our coverage
By Rich Rezler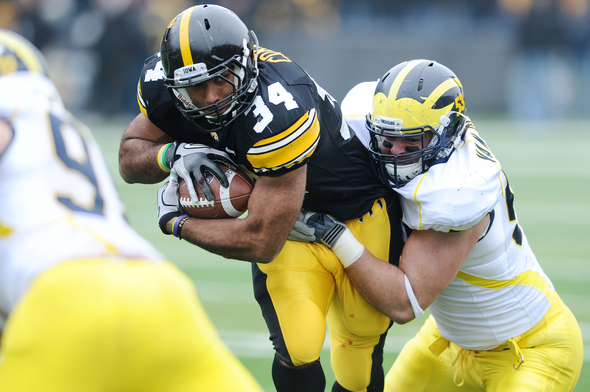 Melanie Maxwell | AnnArbor.com
You can't ask for much more drama. There was plenty of that in the final 16 seconds.
But after four straight incomplete passes from inside the Iowa 5-yard-line, the Michigan football team has lost three straight games to the Hawkeyes for the first time in history.
Was Junior Hemingway's second-down catch a touchdown? Maybe, but it was ruled incomplete. Was Roy Roundtree interfered with on fourth down? It's arguable, but the officials didn't call it.
"We can't leave the game to the officials," said quarterback Denard Robinson. "We've got to do it ourselves."
That didn't happen in a 24-16 loss Saturday in Iowa City.
AnnArbor.com had the game covered from pre-game to post-game. Here is a compilation of game day details you can find on our site:

Post-Game Coverage

• Boxscore | Big Ten standings
• Kyle Meinke column: Two missed calls ... yes, missed calls ... hurt Michigan, but are not why it lost.
• Game story: Final drive falls 3 yards short as Iowa bruises Michigan football team's Big Ten hopes, 24-16.
• No answer for Coker: Michigan defenders can't slow Big Ten's leading rusher in loss at Iowa
• Notebook: Michigan loses the turnover battle, in turn, loses the game Saturday against Iowa
• Jordan Kovacs returns to an altered secondary lineup
• Photo gallery: Melanie Maxwell's favorite images from Saturday
• Associated Press: Still perfect at home, Iowa saves its season with win over Michigan
Video: Denard Robinson, Brady Hoke and others react to Michigan football's 24-16 loss at Iowa
• Grade the Wolverines: Your chance to rate Michigan's performance on offense, defense, special teams, coaching and overall.
• Game balls: They go to Iowa's "Big 3," Michigan's Kenny Demens and others

In-Game Coverage
• We strung together live updates throughout the game. Check them out here.
• And you can also revisit our always-lively live chat. That transcript can be found here.

Pre-Game Coverage
• Some pre-game personnel news: Jordan Kovacs, Taylor Lewan start Saturday, Ricky Barnum not with team
• We asked you to predict the outcome of the game. Ninety percent thought Michigan would win. Whoops. Just 5 percent correctly predicted "Iowa wins by 4-9 points."

More Scores

Ball State 33, Eastern Michigan 31: Field goal with 9 seconds left gives Ball State a win at Rynearson Stadium. (AnnArbor.com story | Photo gallery)
Michigan State 31, Minnesota 24: Spartans fend off upset bid with Le'Veon Bell touchdown, late interception. (MSU coverage)