Posted on
Sun, Jul 24, 2011 : 5:51 a.m.
A look at remaining needs in Michigan's recruiting class, and players that could fill them
By Kyle Meinke
The Michigan football team's 2012 recruiting class already is earning consensus top-10 rankings among the country's major analysts -- with one tabbing the Wolverines No. 1 overall.

But it's only July, and Michigan still has several spots to fill.

What will happen going forward?

It can be a precarious proposition to predict what teenagers will do six months from now on National Signing Day, particularly this early in the cycle. However, there are a few things to look for from Michigan, whose class already has earned a Big Ten-high 20 commitments.


BIGGEST REMAINING NEED
The most glaring void in an otherwise stellar class? Defensive tackle.
Recruiting analysts agree Michigan will add at least one — and more likely two — players at that position.
FUTURE WOLVERINES
AnnArbor.com football writer Kyle Meinke's three-part look at Michigan's 2012 football recruiting class:

The Wolverines are in good shape to land some combination of two four-star recruits: Ondre Pipkins, a 6-foot-3, 325-pounder from Missouri, and Danny O'Brien, a 6-foot-2, 293-pounder from Flint Powers.
Rivals national recruiting analyst Mike Farrell said both are leaning toward Michigan.
O'Brien did not dispute that characterization -- nor confirm it, a fine line recruits are wont to walk -- in an interview with AnnArbor.com. He did say he would announce his top six this week, and that Michigan would be on that list.
"I don't deny that," O'Brien said, when told experts say he likely will end up at Michigan. "Definitely, Michigan is a good possibility for me. Definitely true.
"But I still have a lot of time before I make a decision."
O'Brien said he would like to make his commitment during or soon after this season. That is not unusual for elite prospects, who tend to commit late.

OFFENSE TO BE ADDRESSED
New Michigan coach Brady Hoke said when he was hired in January he would focus on repairing the Wolverines' tattered defense — and he has, netting an elite crop of defensive recruits.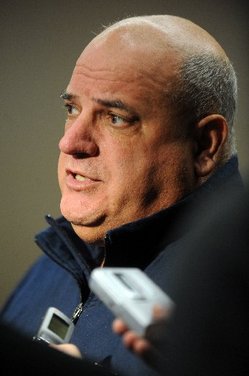 AnnArbor.com file photo
But what about the offense, where Hoke and offensive coordinator Al Borges are scrapping the spread attack of former coach Rich Rodriguez and installing a pro-style scheme?
Michigan's recruiting haul still is missing some key cogs on that side of the ball, particularly skill guys at wide receiver and running back.
The Wolverines seem to be in good position to attract a top running back, considering they already have commitments from Kyle Kalis of Ohio and Erik Magnuson of California — two of the country's top offensive tackle recruits — and return sophomore Taylor Lewan, who had an outstanding redshirt freshman season last year.
Five-star Ohio State commit Brionte Dunn has taken visits to Ann Arbor since pledging to the Buckeyes, but his recruitment is uncertain and is expected to draw out into next year.
Farrell said Muskegon running back Juwan Lewis could end up at Michigan. Lewan is a three-star back according to Rivals and a two-star according to Scout.
"If they offer him, he might jump right away," Farrell said.
Things are still uncertain at wide receiver, but the Wolverines have drawn interest from Aaron Burbridge of Farmington Hills Harrison. The four-star recruit, who is the highest-ranked uncommitted player in Michigan, is expected to visit Ann Arbor at the end of the month.
Michigan is not expected to pursue another quarterback. It already has a commitment for 2013 from Shane Morris, a pro-style quarterback who plays for Warren DeLaSalle High School.
The Wolverines also have junior Denard Robinson, sophomore Devin Gardner (who will seek a redshirt for last year, although he is not allowed to do so until before his senior season) and incoming freshman Russell Bellomy.

WHO'S NEXT?
With the core of their class set, the Wolverines have the luxury of being more selective as they fill out their class.
However, there is one player on Michigan's board who could be on the verge of making a choice: Four-star Ohio defensive end Chris Wormley.
The Toledo, Ohio, native said Thursday he would commit "soon."
"I'm a little surprised he hasn't committed to Michigan already," said Scout's Midwest recruiting expert Allen Trieu. "It'd be a major shock if he went anywhere else."
When relayed those comments, Wormley texted: "I wouldn't say it's true, but it's not false."
Wormley is 6-foot-5, 250 pounds and moves well for a player of that size. He is an end who play on the strong side.
Trieu thinks Wormley is the uncommitted recruit most likely to play for the Wolverines in 2012.
Kyle Meinke covers Michigan football for AnnArbor.com. He can be reached at 734-623-2588, by email at kylemeinke@annarbor.com and followed on Twitter @kmeinke.