Posted on
Tue, Sep 13, 2011 : 1:17 p.m.
Add Eastern Michigan coach Ron English to the growing Denard Robinson fan group
By Nick Baumgardner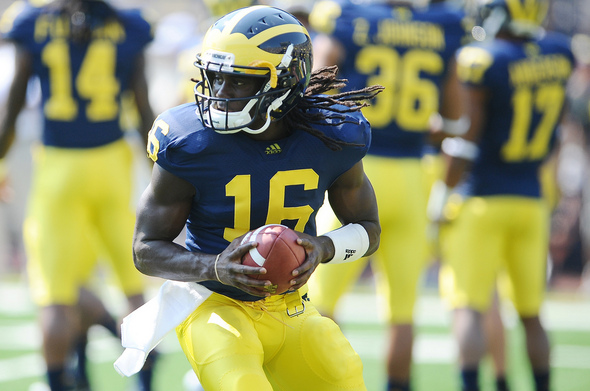 File photo
Michigan junior quarterback
Denard Robinson
officially joined Twitter on Tuesday night (he's
@denardx
, by the way), and in less than 24 hours has accumulated more than 9,000 followers.
Eastern Michigan football coach Ron English isn't one of those followers -- yet -- but that doesn't mean he's excluded from the ever-growing group of people that appreciate and admire Robinson's unique talents on the football field.
"I've always been a fan, from the first time I saw him," English said earlier this week. "I think he's in the class of the great players that have played college football and I don't think you're going to stop Denard Robinson over the course of an entire game."
Robinson added another chapter to his growing Michigan legacy last Saturday by accounting for 446 yards and five touchdowns in the Wolverines' stunning comeback win over Notre Dame.
Asked how he plans to stop Robinson this Saturday when his Eagles visit Michigan Stadium (noon, BTN), English said that he has no definite plans.
Because, he explained, completely stopping him is something that just can't be done.
"Denard, to me is like (Reggie) Bush or Vince Young when they were in college," he said. "You're not going to stop Denard Robinson, he's going to make his plays."
English also tipped his cap to Michigan offensive coordinator Al Borges for mixing in components of both the spread and the pro-style offense in the Wolverines' new system.
Many wondered before the season began how Robinson -- a natural spread-option quarterback -- would fit into a new scheme.
Through two games, English says everything seems to be fitting just fine.
"It limits how much he runs, but he's still running," English said. "They've put the quarterback counter in there, the quarterback power in there, he's still doing the read-zone and running the (quarterback) lead and the (quarterback) sweep -- he's still running."
"I think (Borges) is smart, because he's still running those plays," "He wants to run his stuff, too, but he's letting Denard do what he does best."

English glad Hoke's at Michigan
On Saturday, English certainly won't be rooting for first-year Michigan head coach Brady Hoke. But that doesn't mean the former Wolverine defensive coordinator wasn't glad to see a person with Michigan roots take over the program.
"I was happy he got the job," he said. "When you coach there, it's kind of a fraternity, to be honest with you, of people who understand that program.
"I was happy that a man who understood the University of Michigan got the job. And after watching them over the first two games, they look like a Michigan team to me."
English said he spoke with Hoke during the summer and congratulated him, and added that through two games, the Wolverines are starting to look like themselves again.
"What I see now is a Michigan team that plays like Michigan is supposed to play," he said. "They play hard. They know what to do, they're well-coached and they're on track."
Time to shine
Though EMU will be traveling just six miles Saturday, English said it will be a tremendous opportunity for his program -- and not just from a football standpoint.
In each of the next two weeks, the Eagles have the opportunity to play in front of more than 100,000 people in a televised game, giving the program far more exposure than it will likely receive all season. Eastern plays at Penn State on Sept. 24.
"It's great for our program," he said. "It's great for recruiting and it's great for our kids to go into a place that many have never had the opportunity to be in -- and to see one of the great, if not the greatest, stadiums in the country.
"If you haven't experienced that, it's a great experience that you can tell your family about."
Nick Baumgardner covers Michigan basketball for AnnArbor.com. He can be reached at 734-623-2514, by email at nickbaumgardner@annarbor.com and followed on Twitter @nickbaumgardner.