Posted on
Fri, Sep 10, 2010 : 7:43 a.m.
After almost missing the season, Michigan running back Michael Shaw emerged as a starter
By Michael Rothstein
The Michigan offense ran onto the field for its first offensive series of the season Saturday, and junior running back Michael Shaw was along for the ride.
Seeing Shaw start wasn't much of a surprise. He has the skill and the speed to fit well in Michigan football coach Rich Rodriguez's offense.
But as late as three weeks ago, there was a chance that Shaw wouldn't play this season.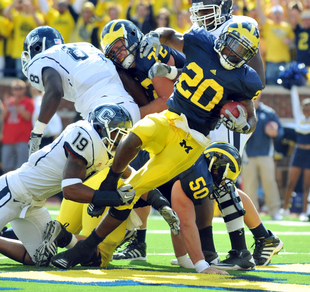 Lon Horwedel | AnnArbor.com
He knew the situation was coming, too. His academic advisors prepared him for it. Shaw said the coaching staff discussed it with him. He discovered in June that for him to play this year, he needed to make sure he was academically eligible over the summer.
"The coaches, they stayed in my corner, were very supportive of me," Shaw said. "What they said was, first and foremost, we want you to take care of your academics, and we want you to get your grades.
"So that's what I did. I had full support from my family, the academic staff was amazing, the professors and tutors and everybody that made sure I had help was great."
Shaw missed portions of the preseason to focus on making sure he'd be able to play in the fall. And when you're in the midst of a five-way battle for carries at running back, every opportunity missed could mean more time spent on the bench.
Shaw declined to say what class he needed to pass in order to ensure his academic eligibility for this season, but said he "had a feeling" the situation would end up presenting itself at some point.
So he focused on class as much as football, all of which led to Saturday.
"I thought Mike played really, really well," running backs coach Fred Jackson said. "He had missed a lot of practice, but what he got when it was put in front of him today, he played really well."
Part of that, in a weird way, might be due to the missed practice. Shaw said he felt fresher than he had in prior season openers. His body didn't take as much punishment in the preseason because he spent time studying for school and then looking at film instead of being hit.
It could also have to do with the weight Shaw put on after the spring. The Trotwood, Ohio, native said he weighed 175 pounds in spring practice. He's now up to around 190 pounds.
At 6-foot-1, he saw last year's running back tandem of Brandon Minor and Carlos Brown both weigh over 200 pounds. So he decided the extra weight could help him be a stronger, more durable runner.
So far, so good.
"We have a lot of talented backs on the team," Shaw said. "I don't want to be one-and-done, so I want to be a guy that gets my name called, I have to be ready when the time comes.
"So I put on the weight."
Shaw ran 15 times for 48 yards while splitting carries with sophomore Vincent Smith on Saturday, including a touchdown in Michigan's 30-10 win over Connecticut. He also ran himself, after two years of waiting, into a critical role with the Wolverines.
"It was a lot of emotions, because there was a chance I couldn't have played," Shaw said. "So every play I tried to play like it was my last because I know, once upon a time, it could have been my last play."
Instead, Shaw is merely starting.
Michael Rothstein covers University of Michigan basketball for AnnArbor.com. He can be reached at (734) 623-2558, by e-mail at michaelrothstein@annarbor.com or follow along on Twitter @mikerothstein