Anthony Carter and Marlin Jackson to sign autographs at Heisman Trophy event
Posted on Fri, Oct 19, 2012 : 2:01 p.m.
For all his accomplishments as a player at the University of Michigan, Anthony Carter never won a Heisman Trophy, but on Saturday he'll hold an autograph session near one.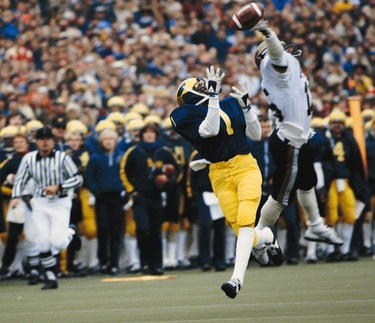 Carter, a three-time All-America wide receiver at Michigan, and former All-America defensive back
Marlin Jackson
will hold autograph sessions as part of the Sports Illustrated Heisman Tour presented by Nissan which will make a stop at the Michigan Fan Fest on the campus of
Pioneer High School
on Saturday, located on the southwest corner of Main Street and Stadium Boulevard, across from Michigan Stadium.
Jackson will sign autographs from 11:30 a.m.-12:30 p.m. and Carter will sign autographs from 1-2:30 p.m. Each will be interviewed as part of Sports Illustrated's "SI Chalk Talk" prior to the autograph sessions.
Carter is also signing autographs and participating in an "SI Chalk Talk" at Ann Arbor's ABC Warehouse, located at 890 West Eisenhower Parkway, from 5-6:30 p.m. on Friday and the Heisman Trophy is currently on display for the public to see and have pictures taken with at Ann Arbor's Nissan dealership on Friday until 8 p.m.
The Heisman Trophy will be on display before, during and after Saturday's event from 10 a.m.-3:30 p.m. and fans will have the opportunity to hold the trophy and have pictures taken.