Posted on
Thu, Nov 24, 2011 : 9:32 a.m.
B1G Notes: Michigan's Brady Hoke tops our ranking of conference's football coaches
By Nick Baumgardner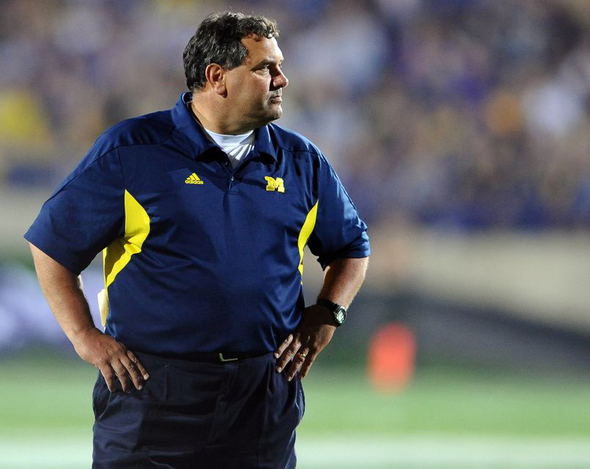 Melanie Maxwell | AnnArbor.com
Big Ten
football coaches are under pressure. They're questioned. Every move they make is dissected over and over and over again.
Since we don't want them getting spoiled, let's add to the list.
Let's rank them!
The season has just one week remaining, but we've seen enough to offer a fair rank of all 12 league coaches based on their performances this year. Here goes:

1. Brady Hoke, Michigan

No disrespect to Michigan State's Mark Dantonio, but the job Hoke has done in his first year has been remarkable.
If this was a contest that spanned the course of four years, Dantonio wins hands down. But it's not.
One could argue that former coach Rich Rodriguez may have had similar success with this team, but Hoke's job was harder.
Not only did he install new systems on both sides of the ball, shoving square pegs into round holes all over the place, but he's been successful in doing so.
More than that, though, there has been zero drama to speak of in Ann Arbor this season.
Hoke has been calm in every situation. He didn't blow a gasket when Michigan was dominated by Michigan State, he didn't break into tears when the Wolverines manhandled Nebraska.
Also, he hired Greg Mattison. That's an achievement by itself.
Melanie Maxwell | AnnArbor.com
2.
Mark Dantonio
,
Michigan State
The Spartans have beaten Michigan four straight times, grabbed the first-ever Legends Division crown and were the first team to qualify for the inaugural Big Ten Championship game.
Dantonio is a close second to Hoke. And, if we're ranking coaches for the job they've done over the past four years, Dantonio probably gets first and second place. It's really not close.
This season, the Spartans faced a brutal midseason stretch and almost made it out perfect.
If he finishes things off the way the Spartans hope, he'll go into Michigan State lore forever as the coach who brought MSU back to its first Rose Bowl since 1988.

3. Bo Pelini, Nebraska

No one had a tougher road this season than the Cornhuskers, a horrible welcome if ever there were one. Nebraska played at Wisconsin, at Penn State, at Michigan and hosted both Ohio State and Michigan State.
The only 'gimme' on Pelini's schedule was Minnesota -- and that was on the road.
Nebraska fizzled at Michigan, but still has a shot at 10 wins (with a bowl) this season. An admirable job given the schedule.

4. Luke Fickell, Ohio State

Fickell was in an impossible situation this season. I don't think folks realized just how uphill a climb the whole Jim Tressel-Terrelle Pryor mess put this team in.
The Buckeyes are just 6-5, 3-4 in the Big Ten. But, oh my, could it be much worse.
Fickell's team knocked off Wisconsin, won on the road at Illinois and played both Nebraska and Michigan State tough. He did all this with a freshman quarterback (Braxton Miller) and without his top running back (Boom Herron) for most of the year.

5. Bret Bielema, Wisconsin

Bielema entered the season with a favorable schedule and more talent than anyone else in the Big Ten. It wasn't close.
He had one difficult stretch, back-to-back weeks at Michigan State and at Ohio State. And his team gagged in both.
Wisconsin was out-played by the Spartans before collapsing in coverage on a hail mary. Then, against Ohio State, the Badgers needed a furious comeback to reclaim a lead, only to have the same thing happen to them in the closing minutes.
Plain and simple, Wisconsin should've been talking about a national championship at this point in the season. That's on Bielema.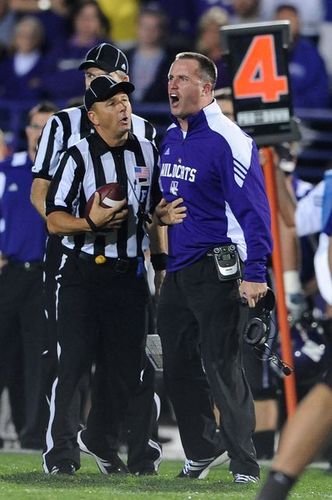 Melanie Maxwell | AnnArbor.com
6.
Pat Fitzgerald
, Northwestern
Considering how the Wildcats started, things could've been absolutely terrible in Evanston this season. But, in the end, Fitzgerald's squad is going bowling.
Northwestern began muddled through a tough five-game losing streak as Big Ten play began, and the Wildcats were in every single game they lost.
Rather than folding, though, Fitzgerald's group has battled back to win four straight and clinch a bowl bid. He can really put a capper on things Saturday by knocking off division champion Michigan State at home.

7. Kirk Ferentz, Iowa
Ferentz might be higher on this list, but his team lost to Minnesota and Iowa State. I really can't let that go.
Also, Iowa has been a miserable road squad. The Hawkeyes are 6-1 at home, but 1-3 on the road. It'll move to 1-4 Saturday when they visit Nebraska.

8. Danny Hope, Purdue

Hope's group got nipped by the injury bug early, but has responded to beat Ohio State and move within striking distance of bowl-eligibility. That's the good news.
The bad news is his team's mediocre at best, and a group that refuses to play with any consistency. It's been one up, one down all season for Purdue. Even after the Boilermakers got a signature win over Ohio State, they turned around and fizzled at home to Iowa.
Nowhere near good enough.

9. Jerry Kill, Minnesota

First, let's be up front: Minnesota is the least talented team in the Big Ten. So there wasn't a whole lot to work with in the first place. And, when you add on the seizure situation, Jerry Kill was behind the eight-ball from the start.
But, Minnesota has shown a few more signs of competence as the season drug on. The Gophers beat Iowa, gave Michigan State a game and were in it for some time against Northwestern.
A disaster of a season, but it could've been much worse.

10. Ron Zook, Illinois

Collapse, much? After starting 6-0, Zook and the Illini have completely fallen off the wagon, dropping five straight.
Making matters worse was Zook's press conference walkout earlier this month when questions about his job arose. Get used to hearing that one, Ron. Could be an interesting offseason in Champaign.

11. Kevin Wilson, Indiana

Wilson's first season in Bloomington has been one to forget. He's struggled to change the culture, struggled to implement his system and struggled to stay in ballgames.
Bottom line: New coach or not, getting beat by an average of nearly three scores per game (IU being outscored 415-232) is unacceptable.

Incomplete: Penn State (Joe Paterno/Tom Bradley)

Penn State still only has one Big Ten loss and can advance to the conference title game with a win Saturday against Wisconsin, but the entire Jerry Sandusky scandal has completely overshadowed anything done on the field.
Paterno's been fired, Bradley's stepped into an impossible situation. There's really no way to rank this, other than calling it an epic mess.
***
Sky high:
No. 11 Michigan State (9-2, 6-1)
There were several firsts and one normalcy last Saturday in East Lansing.
The firsts: Michigan State became the first-ever champion of the Big Ten Legends Division and the first-ever qualified participant in a Big Ten Championship Game.
The normalcy: Indiana lost by 52 points.
Fire up the grills and bring the slip and slide, MIchigan State's going to Indianapolis. Even if the Spartans fall on their face Saturday at Northwestern, Michigan State still has a chance to win an outright Big Ten crown and earn its first Rose Bowl bid since 1988.
On Jan. 1, 1988, Kirk Cousins was still eight months away from birth and Mark Dantonio was serving as Jim Tressel's defensive coordinator at Youngstown State.

Rock bottom: No. 22 Nebraska (8-3, 4-3)

So, what was that? Nebraska had a chance to make things interesting in the Legends Division a week ago when it visited Michigan for the first time since 1962.
The Cornhuskers had other plans, though, as they turned in their third embarrassing performance of the season. Credit the Wolverines for dominating, but also slam Nebraska for gagging.
All three of the Cornhuskers' league losses this season have been thoroughly humbling: a 48-17 thrashing on the road at Wisconsin, last week's 45-17 drubbing in Michigan Stadium and an inexcusable 28-25 home loss to Northwestern earlier this month.
The Big Ten isn't very good this year, but apparently its good enough to give Nebraska a pretty sour welcome.

Last week's heavy lifter: Chris Borland, Wisconsin LB

Montee Ball put up three more touchdowns, but we can't list him here every week, can we?
Borland made a career-high 16 tackles to go along with a pair of forced fumbles as Wisconsin knocked off Illinois. One more win over Penn State, and the Badgers get their rematch with Michigan State in the Big Ten title game.

Standout stats

30
Touchdowns by Wisconsin's Montee Ball this season, most in Big Ten history.
35
Touchdown passes by Michigan quarterback Denard Robinson, tying him with All-Pro Tom Brady on the school's all-time career list.
2,924
Days, as of Saturday, since Ohio State lost to Michigan.
2
Big Ten teams, since 2003 (Illinois '03, Minnesota '07), that finished a season with just one win. Indiana (1-10) can make it three on Saturday against Purdue.

Quotable:

"Jordan Kovacs would never do something that was not ethical or was not part of what Michigan teaches. Whatever a guy wants to comment, a guy can comment. I don't care about that."
— Michigan defensive coordinator Greg Mattison, responding to Nebraska coach Bo Pelini's insinuation that Michigan safety Jordan Kovacs faked an injury against the Cornhuskers last week.

Off the cuff:
We'll go deep off the cuff this week into basketball season, and bring you a travel warning. If you're ever in Las Vegas and need to fly to Hawaii, or any international destination, space your connection flights accordingly.
I almost learned the hard way this week while flying from Detroit to Maui to cover Michigan in the 2011 Maui Invitational. If not for the help of perhaps the kindest airport employee I've ever come across, I might have had to swim from California to Hawaii.
Mark Spitz says I'd have never made it.
Thanks for pushing me and a fellow beat reporter through one of the longest, and most ridiculous, security lines I've ever seen, McCarran International Airport employee (who shall remain nameless).
Next time I'm in Vegas, the first slot pull is on me.
Nick Baumgardner covers Michigan sports for AnnArbor.com. He can be reached at 734-623-2514, by email at nickbaumgardner@annarbor.com and followed on Twitter @nickbaumgardner.