Posted on
Tue, Nov 22, 2011 : 2:33 p.m.
Michigan defensive coordinator Greg Mattison says it's 'absurd' for people to say his players fake injuries
By Kyle Meinke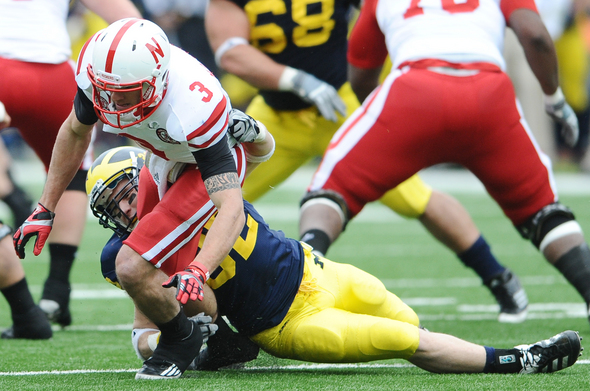 Melanie Maxwell | AnnArbor.com
Did
Jordan Kovacs
fake an injury to slow down the
Nebraska
offense?
Cornhuskers coach Bo Pelini has expressed concern this week about the increasing number of players who fake injuries. He did not refer to the Michigan football team in particular, although he clearly was unhappy his offense was slowed multiple times by injured players.
Michigan beat Nebraska 45-17 last weekend.
"I think it has been pretty obvious at times, but it obviously hasn't been to the referees," Pelini told reporters Monday at his weekly news conference. "What are you gonna do? Sometimes your hands are tied. I don't know what the answer is to that."
Michigan defensive coordinator Greg Mattison, asked about Pelini's comments, became visibly upset.
"I better not talk too much about that," he said. "The only thing I can tell you is we never have and we never will have someone fake an injury, and for somebody to even say that, to me, is absurd."
Mattison said he thinks Pelini is talking about Kovacs, who went down with an injury after tackling tailback Ameer Abdullah. The safety, who missed the Purdue game four weeks ago with a knee injury, originally stood up after the play, but went back to the ground and was helped off the field by trainers.
He returned a series later.
Mattison denied Kovacs feigned injury to slow the Cornhuskers' offense.
"Jordan Kovacs would never do something that was not ethical, or was not part of what Michigan teaches," Mattison said. "Whatever a guy wants to comment, a guy can comment, I don't care about that.
"We don't substitute for Jordan Kovacs, he's never raised his hand and said, 'I'm tired.' So, he was hurt. That knee or whatever it was, he did the right thing."
Mattison said Michigan teaches its players to go to the ground if there's a chance they could further hurt themselves by trying to get off the field before the next play.
Nebraska quarterback Taylor Martinez said after the game the frequent stopages in play hurt the Cornhuskers.
"Just the turnovers, and then the injuries with them, it just kept throwing us off," Martinez said. "It kind of took the momentum out of the offense because we'd get going, then someone on their team would get injured, and it stopped us with all the momentum."
The NCAA football rulebook states, "feigning injury is dishonest, unsportsmanlike and contrary to the spirit of the rules," but does not prescribe a punishment for teams caught in the act.
Kyle Meinke covers Michigan football for AnnArbor.com. He can be reached at 734-623-2588, by email at kylemeinke@annarbor.com and followed on Twitter @kmeinke.