Posted on
Fri, Jul 13, 2012 : 2 p.m.
Big Ten could move to 9-game conference football season if Pac-12 alliance is scrapped
By Kyle Meinke
The Big Ten and Pac-12 jointly announced Friday their scheduling collaboration has been "suspended," a swift turn after Big Ten commissioner Jim Delany said as recently as May that the plan was on track.
He said in Chicago at the league's spring meetings he hoped to have member institutions on board in football, the most difficult sport to coordinate, by 2017. That's no longer happening.
So, what exactly is the fallout?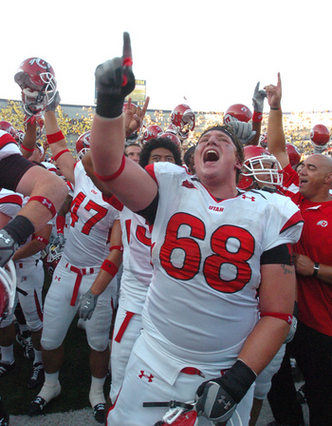 If the agreement moves from "suspended" to "scrapped" -- and that seems likely, considering the reason this thing is off the table is the Pac-12's desire to maintain a nine-game season -- then it's possible the Big Ten will add a game to its current eight-game league season.
Keep in mind, the league already agreed to expand to a nine-game conference schedule by 2017 in August, although the plan was tabled after the Pac-12 agreement surfaced in December.
Delany said in May he would still favor adding a ninth Big Ten game if it weren't for that agreement.
"You know, if we hadn't done the collaboration, we'd do nine," Delany said of the Big Ten's league slate. "If we do the collaboration, we'll do eight. So, we're able to attract a higher quality of game. We're not expanding the number of games, we'll still play 12.
"The question is, are you gonna play eight quality conference games and assure there's a ninth quality game in the mix, one way or the other? ... The idea was to upgrade the quality of the schedules, either through nine or through the collaboration."
Delany, along with the Big Ten's athletic directors, were in accordance at those meetings that schedule strength should carry more weight now that college football is moving to a four-team playoff format.
So, now that the Pac-12 agreement is stuck in purgatory -- or worse -- conference ADs will be scrambling to fill out their schedules with respected opponents.
It won't be as bad for Michigan, which already has announced a home-and-home with Utah that begins in 2014, as well as single games against Oregon State in 2015 and Colorado in 2016. A message to Michigan athletic director Dave Brandon regarding whether contracts have been signed for those games was not immediately returned.
The bottom line for Big Ten teams is this: Find a respectable ninth opponent, either via new nonconference games or an expanded league slate. And it appears the latter could already be favored.
Kyle Meinke covers Michigan football for AnnArbor.com. He can be reached at 734-623-2588, by email at kylemeinke@annarbor.com and followed on Twitter @kmeinke.