Posted on
Sun, Dec 4, 2011 : 2:01 a.m.
That's progress: Big Ten moves into title game era with defined champion in Wisconsin
By Kyle Meinke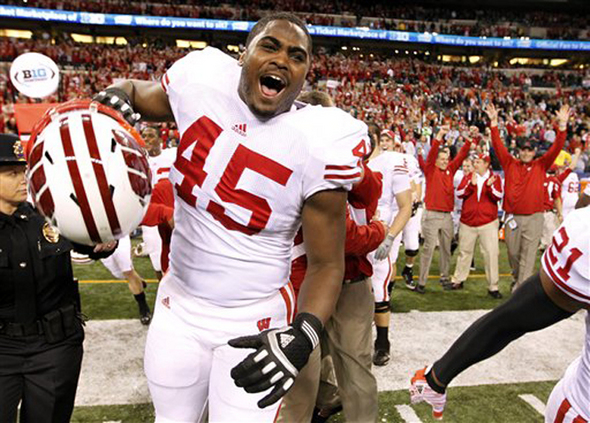 Associated Press
INDIANAPOLIS — It was a heartbreaking way for Michigan State to be booted from the Rose Bowl.
It was a thrilling way for Wisconsin to punch its ticket there.
The Spartans will say they're the better team — and they did.
The Badgers will say they're the better team — and they were, on this day.
And, now, this day is all that matters in the new-look Big Ten. That's progress.
Michigan State can say whatever it wants, Wisconsin can feel whatever it wants, but the bottom line is this: For the first time in the Big Ten's 115-year history, it decided a football championship with a title game.
The Badgers beat the Spartans 42-39 in a thrilling final. They go to the Rose Bowl for a second consecutive year, and Michigan State does not — despite winning 10 games each of the past two years.
In a sport that decides its national champion with a flawed albatross such as the BCS, it's refreshing to see something determined absolutely.
"I know I read a lot in their papers about preparing for the Rose Bowl," Wisconsin coach Bret Bielema said. "To get the satisfaction to beat Michigan State, to earn our way there, kind of put that discussion to bed.
"The game itself goes to show that you're true champions. You get to play in a game that decides."
Welcome to championship football, Big Ten. And a welcomed entrance, it was.
Michigan State and Wisconsin went down to the wire earlier this year, with the Spartans prevailing on a Hail Mary touchdown pass that helped them get here — one of the most memorable moments of this college football season.
It fed the hype for the rematch Saturday, with the proverbial marbles — all of them, in fact — on the line. And, somehow, it didn't disappoint.
Wisconsin struck first, and eventually opened a 14-point lead. Michigan State stormed back, eventually taking an eight-point lead of its own.
Tailback Montee Ball's fourth touchdown gave the Badgers their first second-half lead with 3:45 left -- and they wouldn't relinquish it, after Michigan State's Isaiah Lewis ran into the punter, robbing the Spartans of one last possession.
History was written.
"A hundred years from now, people will look back and say, 'Who won that game? Who won the first ever game?" And it's Wisconsin," senior quarterback Russell Wilson said.
Roses were won — and lost.
"It's a game of inches," Michigan State coach Mark Dantonio lamented afterward. "This game of football is so close, you can't squeeze two fingers together sometimes, it's that close.
"I learned a long time ago, you can wish things, think about things like this and try to change them, but you can't change them. We can sit and talk about it, but we're 10-3 and they're 11-2 right now, and that's the way it's going to fall."
Michigan State blew its chance at a comeback with a silly penalty. But it had a chance, and that's the point. It's been a season of change in the Big Ten, and it's never been more evident the change is for the better.
No more doubts, no more conjecture, no more tiebreakers. As college football prepares to be enveloped in uncertainty — Should Oklahoma State or Alabama play LSU for the national title? — the Big Ten is defining its champion resolutely.
It also antiquates comments such as this, from Michigan State senior receiver B.J. Cunningham: "Wisconsin played a great game. Hats off to them. I feel like we're a better team than them."
Sorry, B.J., but feelings don't matter anymore in the era of the Big Ten championship game. Only results.
That gives us electric nights such as this.
And defined champions such as Wisconsin.
Isn't that refreshing?
Kyle Meinke covers Michigan football for AnnArbor.com. He can be reached at 734-623-2588, by email at kylemeinke@annarbor.com and followed on Twitter @kmeinke.