Posted on
Thu, Oct 27, 2011 : 6:46 p.m.
Big Ten predictions: Michigan State in the conference's spotlight again
By Nick Baumgardner
A pair of coaches with Ohio State ties will tangle Saturday to help determine a front-runner in the Big Ten championship race.
But the Buckeyes have nothing to do with it.
Mark Dantonio will take No. 9 Michigan State into Lincoln on Saturday (noon, ESPN) to face Bo Pelini and No. 13 Nebraska.
The winner becomes the unquestioned favorite to stake the Legends Division spot in the Dec. 3 Big Ten Championship Game.
"We can't make this the end-all important game," Dantonio cautioned earlier this week. "(But) the chips get bigger the farther you go."
Dantonio and Pelini are alike in many ways, their OSU ties being obvious.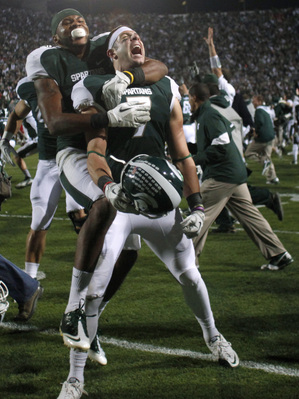 AP Photo
Pelini was born in Youngstown and played at Ohio State. Dantonio made his first real coaching splash as a defensive coordinator for
Jim Tressel
at Youngstown State (in Pelini's hometown) before moving on to serve as Tressel's defensive coordinator at Ohio State (Pelini's alma mater).
But the real tie binding the two is defense.
Pelini earned a national championship ring as LSU's defensive coordinator in 2007, while Dantonio collected one with the Buckeyes in 2002.
"He's done it for a lot of years," Pelini said of Dantonio's defensive work. "Mark and (MSU defensive coordinator) Pat Narduzzi and that whole staff, they do a nice job. It's nothing magical. … Their kids play confident and they play fast."
What's at stake is simple, sort of.
Michigan State is 6-1, 3-0 in conference. Nebraska is 6-1, 2-1 in conference (but has yet to lose to a divisional opponent).
If Michigan State wins, the Spartans may as well pack their bags for Indianapolis with remaining games vs. Minnesota, at Iowa, vs. Indiana and at Northwestern.
If Nebraska wins, MSU is still in the hunt, but things get much more murky as the Cornhuskers put themselves, Michigan and Iowa right back in the mix on the Legends side.
The tie-breakers and remaining scenarios will be sorted out later. But for now, this is a big one.
"Every game's a must win as far as we're concerned," Pelini said. "It's a division game, so you look at all division games as must wins."
B1G Predictions

The AnnArbor.com sports department are picking the winners of Big Ten football games this season with bragging rights in our corner of the newsroom at stake. Check out last week's results below, after you play along with us by choosing your own winners.
Note: To avoid redundancy, you won't find Michigan's game here. A Purdue-Michigan poll and prediction will be available Friday.

No. 9 MICHIGAN STATE (6-1, 3-0) AT No. 13 NEBRASKA (6-1, 2-1)
Noon, ESPN

Nick Baumgardner: Nebraska's at home, but Michigan State just defeated a team that embarrassed the Cornhuskers earlier this season (Wisconsin). The Spartans are riding high, will get William Gholston back and won't need a Hail Mary this time. Michigan State.
Pete Cunningham: Does this make me a hater, a non-believer or both? Nebraska.
Jim Knight: The Cornhuskers don't look like the scary Big Ten addition everybody expected. Michigan State.
Kyle Meinke: It seems there was a team last season that was in position to win an outright Big Ten championship -- then forgot to show up in Iowa. Oh, hi there, Michigan State. Nebraska.
Rich Rezler: The Spartans complete an incredible four-game stretch (Ohio State, Michigan, Wisconsin and Nebraska) with another win. Michigan State.

NORTHWESTERN (2-5, 0-4) AT INDIANA (1-7, 0-4)
Noon, BTN

Baumgardner: The Wildcats have been a thorn in my side this season. Apparently I'm a glutton for pain, because I refuse to pick Indiana. Northwestern.
Cunningham: With all due respect to Northwestern's struggles, they are a long way from being Indiana-esque. Northwestern.
Knight: It's already about next year for the Hoosiers, who have played 16 true freshman this season. Northwestern.
Meinke: Northwestern is the most disappointing team of this Big Ten season. That doesn't make it the worst team. Northwestern.
Rezler: Northwestern's last Big Ten road win came 363 days ago in Bloomington. Time for another. Northwestern.

ILLINOIS (6-2, 2-2) AT No. 21 PENN STATE (7-1, 4-0)
3:30 p.m., ABC

Baumgardner: I'm still convinced that Penn State's a bit of a fraud, but Illinois lost to Purdue last week. Plus, I pegged them at Rock Bottom in the B1G Notes. I have to go with the fighting JoePa's at home. Penn State.
Cunningham: Come to ... Penn STAYYY-TE!!!
Knight: I can't figure out Penn State. Neither will Illinois. Penn State.
Meinke: I'm not sure if I'm a believer yet in Penn State. But I am a believer in Illinois' demise. Penn State.
Rezler: Penn State is 7-1, but let's not forget the Nittany Lions scored 14 points in a win against Temple, 16 in a win against Indiana and 13 in a win against Iowa. That's not enough. Illinois.

IOWA (5-2, 2-1) AT MINNESOTA (1-6, 0-3)
3:30 p.m., BTN

Baumgardner: Jerry Kill got a new seven-year contract this week. After Saturday, he'll have seven losses on the season. Iowa.
Cunningham: According to Wikipedia, gophers, "because of their burrowing, can disrupt human plans like commercial agriculture, garden plots, some landscaping," but not winning. They in no way disrupt any human plans to win ... except their own. Iowa.
Knight: I love the name Marvin McNutt. Iowa.
Meinke: The Hawkeyes are not the worst BCS team in America. That gives them a very good shot in this game. Iowa.
Rezler: Don't sleep on the Hawkeyes, who have a chance to make some noise in the Legends Division when they host Michigan and Michigan State in consecutive weeks … after disposing of Minnesota. Iowa.

No. 12 WISCONSIN (6-1, 2-1) AT OHIO STATE (4-3, 1-2)
8 p.m., ESPN

Baumgardner: Ohio State turned back the clock by refusing to allow its quarterbacks to throw against Illinois two weeks ago. Wisconsin is in an interesting spot after having its heart broken last week. This could be close, but Wisconsin has too many weapons. Wisconsin.
Cunningham: I wouldn't be surprised if the Wisconsin defense lays an egg after Brett Bielema gave the secondary a vote of no confidence on the Michigan State Hail Mary play by subbing in a wide receiver who subsequently lost them the game. The Badgers are still the better team, though. Wisconsin.
Knight: Just like last season, a 31-18 victory for the Badgers. Wisconsin.
Meinke: The Badgers are the best team in the Big Ten, no matter what Sparty says. Wisconsin.
Rezler: Braxton Miller will be very good. But he's also one of only three true freshman starting quarterbacks at the FBS level. Winning a game like this is a lot to ask. It'll be close, but … Wisconsin.
Last week: Rezler 4-1, Cunningham 3-2, Baumgardner 2-3, Knight 2-3, Meinke 2-3, Reader polls 2-3.
Season: Rezler 14-4, Knight 13-5, Reader polls 12-5-1, Baumgardner 12-6, Cunningham 12-6, Meinke 11-7.
Nick Baumgardner covers Michigan sports for AnnArbor.com. He can be reached at 734-623-2514, by email at nickbaumgardner@annarbor.com and followed on Twitter @nickbaumgardner.