Posted on
Fri, Oct 21, 2011 : 5:59 a.m.
Blake Countess pulls even with Troy Woolfolk in one of 6 position battles on Michigan football team
By Kyle Meinke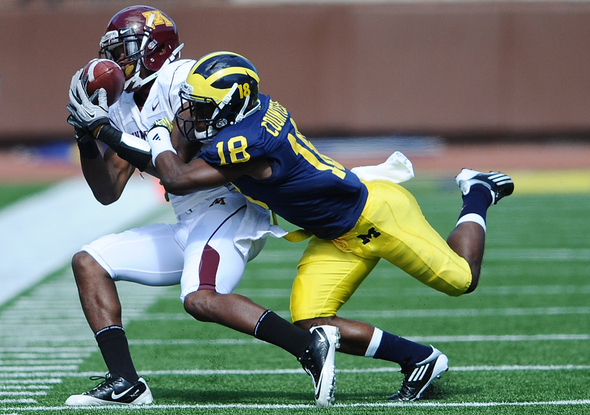 Melanie Maxwell | AnnArbor.com
Brady Hoke
has a dilemma.
On one hand, the Michigan football coach has a senior cornerback in Troy Woolfolk, a well-liked and outspoken team leader who battled earnestly for a year to get back on the field after a gruesome leg and ankle injury.
On the other hand, he has a freshman who is playing better.
Blake Countess has been stellar since getting his first action on defense against San Diego State. The recently-turned 18-year-old quickly asserted himself as one of the Wolverines' most talented corners, despite his inexperience.
In return, his playing time has grown in recent weeks -- and with junior cornerback J.T. Floyd playing well, those snaps have come at the expense of Woolfolk, the veteran who has lost a step since hurting his ankle in the opener against Western Michigan.
On the first series of Michigan's 28-14 loss to Michigan State on Saturday, Woolfolk was badly beaten on a deep route -- saved only by a dropped pass in the end zone -- and took two bad routes to ball carriers. He was pulled in favor of Countess and did not return.
Hoke has been asked about Countess each week since his debut against the Aztecs. For the first time this year, though, Hoke acknowledged on Monday that the freshman is pushing Woolfolk.
"I don't know if anybody passed anybody, but I do know there's great competition there," Hoke said. "I think that will make both those guys better players."
Hoke likely won't be much more definitive than that, out of deference to Woolfolk and his career at Michigan. But, there's no question who is playing better right now.
Countess is fourth on the team in tackles (24) despite playing defense in only four games. He's been stout in the running game, and shown superior closing speed and athleticism in the passing game. His instincts have been sharp.
Defensive coordinator Greg Mattison has been familiar with Countess for a long time because Countess grew up in the Baltimore area and Mattison coached the Ravens the past three seasons.
He said he wants to see more from Countess before lauding him in the media, but does know one thing about him: He has great maturity for a freshman, and a good handle on the mental aspects of playing the position.
"All I know is that when he's gone in there, he's played without a conscience," he said recently, "and I think when you're a corner you have to play that way.
"You're out there in front of 110,000 people, and everybody knows if you don't do something right. They don't know if (defensive tackle) Mike Martin doesn't do his job, but they know if that guy doesn't.
"I think he has that 'it' factor (where he thinks), 'OK, I'm going to go out there and I'm going to do what you tell me to do, and if it doesn't go right, then I'm going to come back the next play.' You can't have a secondary guy, that if he makes a mistake, his head goes down."
The 5-foot-10, 176-pound freshman already has begun impressing his veteran teammates, with one comparing him to a former Michigan great.
"As a true freshman, sometimes guys get those wide eyes when they come onto the field," senior defensive lineman Ryan Van Bergen said recently. "But he reminds me of a guy like Donovan Warren when he first came in. He's very focused, he has a swagger about him and he's very confident."
Countess' role likely will continue to expand at the expense of Woolfolk. At this rate, he might be the starter sooner rather than later.
This will be Michigan's most hotly contested position battle of the coming weeks. Others to keep an eye on: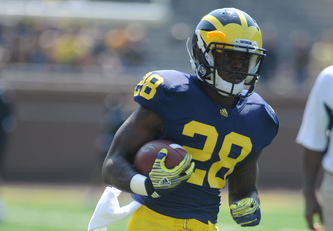 Angela J. Cesere | AnnArbor.com
Vincent Smith vs.
Fitz Toussasint
Most likely, no one wins this one, but competition certainly exists between these two at running back.
Toussaint, a sophomore, has started five of seven games and leads the tailbacks in carries (51), yards (253) and touchdowns (two). He's a bruising back, in the mold preferred by Hoke and offensive coordinator Al Borges.
But Smith, a junior, just won't go away. His elusive running style has made him a viable option for Michigan, and he's scored some of the team's most meaningful touchdowns, including a go-ahead score in the fourth quarter of the Notre Dame game.
He's the team's best blocker, and is much better than Toussaint on screens, which Michigan could employ more of down the stretch to get quarterback Denard Robinson going in the passing game.
Each has a role in the offense, so expect this battle to persist throughout the season.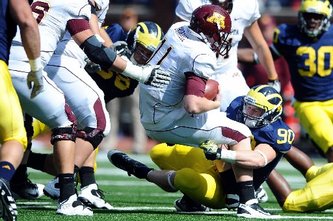 Melanie Maxwell | AnnArbor.com
Jake Ryan vs. Cam Gordon
This battle at strong-side linebacker has been latent, with Gordon out because of a balky back. The sophomore has yet to play on defense this year, although he made his season debut last week on kick return, signaling he's getting close.
But will he displace Ryan?
The redshirt freshman has started every game this year (except when Michigan happened to open in a nickel package) for Gordon. He's had issues in the rushing game, especially in edge containment, but he's also made several big plays this year.
Ryan has four tackles for loss — second most on the team — recovered two fumbles and he deflected a pass in the opener that was intercepted by Brandon Herron and returned for a touchdown.
Overall, Ryan's been one of Michigan's most pleasant surprises.
He's is a gifted player with a bright future, but Gordon has more experience and has remained the starter on the depth chart throughout his battle with injury. It should be an interesting decision for Hoke when Gordon becomes healthy enough to play.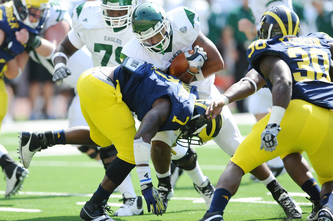 Melanie Maxwell | AnnArbor.com
Brandin Hawthorne vs. Desmond Morgan
Hawthorne, a junior, has been the primary player at weak-side linebacker since coming on strong against Notre Dame. He's recorded 36 tackles, fourth most on the team.
He also was pulled for Morgan, a freshman, after a series of bad plays against Michigan State.
Morgan has not been good this year, playing only sparingly since he was lit up in his only start against Notre Dame. So, if he was a better option against Michigan State, that means either Morgan has progressed this season or Hawthorne has regressed. Or maybe a little both.
Don't expect to see one of these guys pull away. It could be a back-and-forth thing from here on out.

Ricky Barnum vs. Michael Schofield

Barnum was the unquestioned starter at left guard when the season began, but has started only three-of-seven games because of a one-game suspension to begin the season, then an ankle injury that has kept him out of the past three.
Meantime, Schofield has held his own in his place. He was chewed up, as all the offensive linemen were, against Michigan State, but has otherwise shown himself to be a viable option for the Wolverines if Barnum can't get healthy.
Barnum dressed and traveled for Michigan State, which means he probably is getting close. He may return against Purdue, but he'll have Schofield on his heels.
Otherwise, another option for when Barnum returns could be to slide Schofield to the right side. That half of the line has struggled badly in recent weeks, and Schofield might be an improvement. After the disaster up front against the Spartans, Michigan surely will try anything to find a group that works.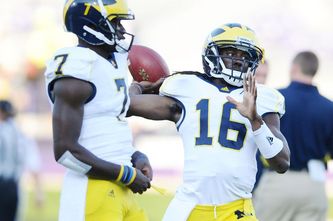 Melanie Maxwell | AnnArbor.com
Denard Robinson vs.
Devin Garnder
Hoke already has affirmed Robinson is his starter at quarterback, and there's no question the junior provides Michigan with the best chance to win right now. He's the starter, period.
At the same time, Gardner's role in the offense has grown each week since the Minnesota game. He's received snaps with Robinson on the field at either tailback or receiver, but also with him on the sideline — injured or otherwise.
What does this mean?
It means Garnder has a place in this offense. It means the coaching staff thinks he's one of the 11 best offensive players, and that he brings something to the table Robinson doesn't.
Specifically, Hoke said he had more faith in Gardner's arm against Michigan State. That speaks volumes, and indicates the sophomore will continue to be featured in the offense, even though Robinson is cemented as the starter. Expect to see both on the field as well, as it provides difficult matchups for opponents because they must account for Robinson's every move.
There won't be a dual-quarterback system, but there's also fluidity at the position, and the quarterbacks make the list because of that uncertainty. Robinson's not fighting for his job, but he is fighting off Gardner's push for an expanded role. This will be one of the most intriguing — and scrutinized — story lines of the final five games.
Kyle Meinke covers Michigan football for AnnArbor.com. He can be reached at 734-623-2588, by email at kylemeinke@annarbor.com and followed on Twitter @kmeinke.