Posted on
Sat, Oct 15, 2011 : 9:31 p.m.
Michigan State 28, Michigan 14: Your comprehensive guide to our coverage
By Rich Rezler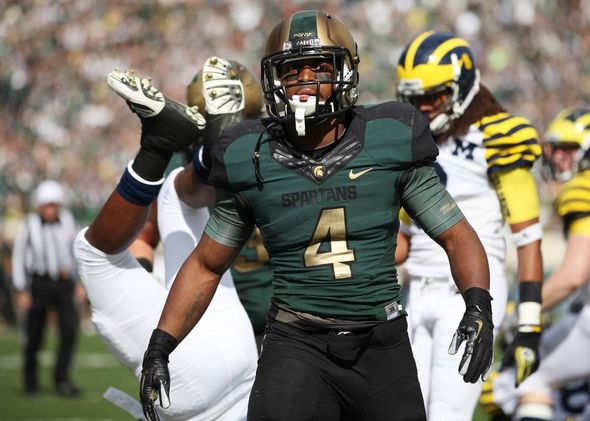 Jeff Sainlar I AnnArbor.com
Battered and bruised. Body and ego.
A Michigan football team that has had "physicality" preached to it since Brady Hoke took over the program in January was out-manned at Spartan Stadium on Saturday. They were beaten in ways other than the final score, which reads Michigan State 28, Michigan 14.
"(Mark Dantonio) outcoached us and (Michigan State) outplayed us, and we have to do a much better job in a lot of different ways," Hoke said.
Now, we wait to see if this Wolverines team follows an oh-so-familiar pattern.
Michigan entered their past two games against Michigan State 9-0. They finished those seasons 3-13. They were 6-0 Saturday morning, but limped out of East Lansing with their first loss after missing out on late opportunities to climb back into the game.
Instead, Michigan State has won four straight in the rivalry for the first time since 1959-62 and sit alone atop the Big Ten's Legends Division standings.
AnnArbor.com had the game covered from pre-game to post-game. Here is a compilation of everything you'll find on our site:

Post-Game Coverage
• Boxscore | Big Ten standings
• Kyle Meinke column: Michigan State plays 'dirty,' but Michigan lacks necessary grit.
• Game story: Michigan State flusters Denard Robinson in 28-14 win over Michigan.
• Fourth-down folly? Brady Hoke defends critical play call late in loss to MSU
• What's next? Michigan players insist they will avoid late-season swoon
• Denard Robinson mum on injury, Devin Gardner fares no better in Michigan loss
• Photo gallery: Images from Michigan State's 28-14 win over Michigan
• Grade the Wolverines: Your chance to rate Michigan's performance on offense, defense, special teams, coaching and overall.
• Game balls: MSU sweeps top honors in the handing out of game balls, Denard Robinson struggles

In-Game Coverage
• We strung together live updates throughout the game. Read them here.
• Check out the transcript from our live chat.

Pre-Game Coverage
• Michigan unveils 'legacy' road uniforms moments before kickoff at MSU
• Some ticketless Michigan fans make trip to East Lansing just to soak up the atmosphere
• We asked you to predict the outcome of the game. Eighty percent thought Michigan would win, with 41-percent predicting the Wolverines by 4-9 points.

More Scores
• Eastern Michigan 35, Central Michigan 28: (AnnArbor.com story & photo gallery)