Posted on
Sun, Aug 12, 2012 : 2:45 p.m.
Brady Hoke says he 'failed as a head coach' in 2011, emphasizes Big Ten title or bust again in 2012
By Nick Baumgardner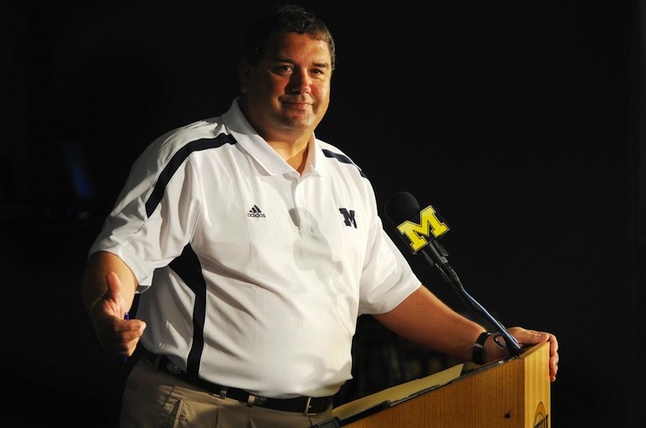 Melanie Maxwell | AnnArbor.com
On paper,
Brady Hoke's
rookie season as the
Michigan football
team's head coach was historic.
He had three more wins than Bo Schembechler earned during his first season, two more than both Gary Moeller and Lloyd Carr and became the first Wolverine coach since Fielding H. Yost (in 1901) to record 11 victories in his debut season.
On paper, it was spectacular.
In Hoke's brain, though, it was a dud.
"We failed, because I failed as a head coach," Hoke said of his 2011 campaign Sunday at the team's annual media day event. "We have to do a better job of coaching and preparing those guys on a weekly basis on how we're going to play the game of football."
WIN UM vs. ALABAMA TICKETS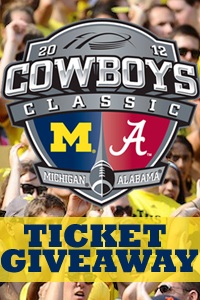 Want to check out Michigan take on defending national champion Alabama?
Click here to visit the AnnArbor.com Michigan Football News and Views Facebook page
and vote for who will be the Wolverines' most important player, besides Denard Robinson, in the 2012 season. That vote will earn you a chance to win three free tickets.
Hoke's initial message to the media
when he took the job in January centered around the Big Ten championship. Anything else, he said, was a failure.
During his first media day last August, he offered the same message, despite the fact that he was trying to mold a team that had scored just six Big Ten wins in the past three seasons.
And a year removed from an 11-2 campaign, that saw him equal those six league wins and bring the program its first BCS bowl victory in more than a decade, Hoke's still going with the same line.
Big Ten title or bust. Anything else is a waste of time.
"If we don't win the Big Ten championship, (it's a failure)," Hoke said. "We know what the goal is, what the expectation is.
"If we don't meet it, then we've failed. It's pretty cut and dry."
Since taking over a program that suffered historic struggles under former coach Rich Rodriguez, Hoke -- whether he wants to admit it or not -- has been able to bring back a certain level of respect when it comes to the Michigan football program.
The Wolverines weren't found on any national polls entering last season, but finished the year as a top 10 club. They'll also start 2011 with their highest national ranking since 2007, and have been picked by the league's media members to win the Big Ten.
Hoke's not a big fan of prognostication, but did admit he spoke with his team about those early projections.
"I'd be lying if I said we didn't talk about it," he said. "We said (the media) doesn't know much, and it doesn't matter."
Entering year two, Hoke's mission remains the same.
He's in it for hardware, not respect or national admiration.
During his first news conference as the team's head coach in January 2011, he memorably boasted "this is Michigan, for God's sake," when asked if he thought his program didn't command the respect it once had.
He's done plenty to help restore some of that luster in one season, but still maintains it never really went anywhere in the first place.
"I don't know why anybody wouldn't respect (this program)," Hoke said. "When anyone says 'this is Michigan,' (they're talking about) 11 national championships and 42 Big Ten championships."
Nick Baumgardner covers Michigan sports for AnnArbor.com. He can be reached at 734-623-2514, by email at nickbaumgardner@annarbor.com and followed on Twitter @nickbaumgardner.