Michigan football coach Brady Hoke has championship goals for first season, but still needs 'championship effort' from defense
Posted on Sun, Aug 14, 2011 : 5:51 p.m.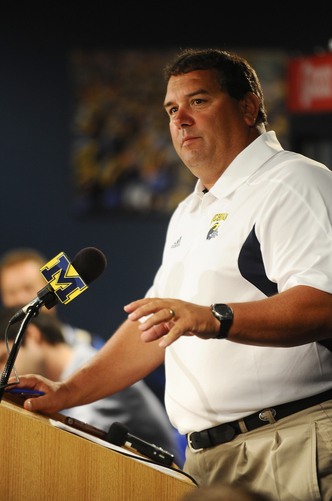 Melanie Maxwell | AnnArbor.com
The Michigan football team's defense finished 108th in the country last year. Its field-goal kicking unit was 120th — dead-last in Division I. The offense was eighth, but now is learning a new scheme.
It's hard to peg where expectations should be for this Wolverines team.
Unless you're Brady Hoke, in which case they never change.
"This is Michigan. There aren't going to be any excuses," the first-year head coach said Sunday during the team's media day at Schembechler Hall.
"If we don't win the Big Ten championship, we've failed these kids as coaches."
Nothing like setting the bar high.
If Michigan is to meet that goal, it'll have to get to work this week as the Wolverines' fall camp kicks into high gear with perhaps its most important practices other than those that lead up to the Sept. 3 opener against Western Michigan.
They will have three two-a-days this week, the first of which is Monday, and a scrimmage on Saturday. Players will be in full pads for those practices. There have been only three padded practices so far.
Hoke said the imposing schedule is by design. He wants to see how his players respond to the test, then he will begin penciling in a two-deep roster around Saturday based on those observations.
MICHIGAN FOOTBALL MEDIA
AND FAN DAY COVERAGE
"We're going to see some adversity," Hoke said. "We're going to have some adversity because we're demanding and there's an expectation for how you show up in this building, and we're going to see if they can handle that.
"It's just a struggle, part of fall camp. It's got to be hard. We're going to scrimmage pretty good there in six days, on Saturday, put them in a lot of different situations and see how they respond."
On Hoke's agenda for the week certainly will be his defensive unit. He's a longtime coach on that side of the ball, was hired by Michigan largely for his expertise there and has preached how a turnaround will be predicated on sound fundamentals and technique.
He likes to call it a "championship effort" — and he said Sunday he has not yet seen that kind of intensity from his defense.
"I don't think we've played to the standard that's going to be acceptable," Hoke said. "We need to be more physical at the point of attack. We need to have a mentality of how we want to attack the football. It's coming, but it's not like you'd like to have it."
Effort can be coached, Hoke said. He'll get it out of his players, or they'll pay for not delivering.
"If we accept them not to get to the football, if we're not chasing them, if we're not doing what we need as coaches, you accept a lack of urgency," Hoke said. "We're not accepting that. That's not how we're going to play defense. If guys don't practice that way, we're not going to play them.
"We'll take (just) 23 kids on defense and go play games (if we don't get that urgency)."
Hoke singled out safeties Thomas Gordon and Jordan Kovacs and linebacker Kenny Demens as players who have stood out for their play and effort on defense.
There remain a lot of uncertainties at several positions — either because of job battles at running back, defensive back or wide receiver; or changed schemes for established starters — and Hoke likes the fierce competition it has spawned at his first camp as head coach in Ann Arbor.
Now, he'll look to start solving some of those riddles as he "separates the boys from the men" this week.
"We've had a good first seven days," Hoke added. "We're 20 days away (from the opener), and we're not ready to play. We've got a lot of work to do."