Notebook:

Brady Hoke says Wolverines need to become better finishers and more notes

Posted on Wed, Aug 24, 2011 : 5:57 a.m.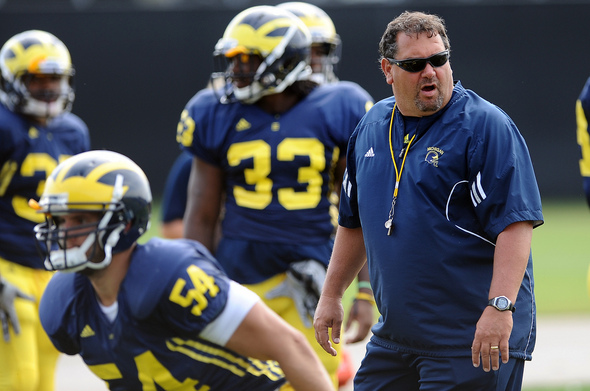 Melanie Maxwell | AnnArbor.com
Michigan football coach Brady Hoke says his team has made progress over the first 20 practices of camp, but the club still has work to do when it comes to finishing.
Hoke said Tuesday that the Wolverines ran through roughly 120 plays during Saturday's scrimmage, and at about the midway point, things started to become sluggish.
"Overall, the physicalness that we played with over about 120 plays was pretty good," said Hoke, whose club will scrimmage again Friday before voting on captains Sunday. "One of the things we have to become is a finishing team.
"We had a little bit of a letdown after play 65. It just seems like it wasn't as crisp, (didn't have the same tempo), wasn't as physical."
Hoke added that the team was able to pick up the pace during a short goal line drill, and again during a two-minute offense period, but that the general consistency day in and day out still isn't quite where it needs to be.
The Wolverines' first-year coach explained that there are still days where one side of the football will look impressive, but may be outdone by the other side the next day.
"I think we've made some progress, I think we moved the dial in every area," he said. "The thing we have to do is become more consistent as a team. When we do some competitions as a team where we define winners and losers, the defense will be good one day. And the next day the offense is good.
"As a head coach, you're neutral to all of that -- but there has to be more consistency when you look at both sides of the ball."

Kicking race still tight
Hoke said Tuesday that the competition for two of the three kicking spots is still going strong between true freshman Matt Wile and redshirt sophomores Seth Broekhuizen and Brendan Gibbons.
Wile is currently slated to handle the kickoffs, Hoke said, but the race for punter and placekicker is still up for grabs - with Wile and Broekhuizen fighting for the punting spot, and Wile and Gibbons competing for the kicking position. Starting punter Will Hagerup was suspended for the first four games of the season.
Hoke added that all kicking spots could be finalized Sunday.
"We chart every kick, everything they do," he said. "Right now, Brendan is probably kicking the best overall -- when you get some distance, though, Matt's a pretty good weapon to have."

Hoke mum on attrition
When asked Tuesday if he was concerned about the departures of freshman offensive lineman Tony Posada and junior receiver Je'Ron Stokes earlier this week becoming a growing issue, Hoke said that, no, he was not.
"To be honest with you, it was the right thing for them and how they felt," he said. "We wish them the best and they're great kids. But, sometimes kids move on for different reasons -- homesick or whatever it might be. I'm not going to get into that, but it usually works out for everybody."
Hoke also said that he has not yet thought about the impact the recent departures may have on the size of next season's recruiting class.
"I don't know," he said. "I haven't really thought about that. If there's more scholarships that we can give, then we're going to try and fill them. But I haven't thought about it yet."

Odds and ends
Hoke said he has not yet discussed with the coaching staff the possibility of getting sophomore quarterback Devin Gardner snaps during the season opener against Western Michigan. ... Michigan will begin installing WMU packages at practice Wednesday in preparation for the season opener, which is Sept. 3. ... Hoke added that Michigan will likely go into next week with a two-deep depth chart in order, but that it could still change prior to kickoff against WMU. "We're committed to playing the guys who represent Michigan the way Michigan should be represented," Hoke said. "They're evaluated every day."