Posted on
Wed, Mar 30, 2011 : 9:49 a.m.
Michigan football coach Brady Hoke signs 6-year deal that averages $3.25 million per year in compensation
By Jim Knight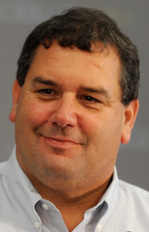 Michigan football
coach
Brady Hoke
finalized his salary with the university earlier this week when
he signed a six-year contract
with an average annual compensation of $3.25 million.
Hoke will earn $2 million this season and his contract includes bonuses for staying with the Michigan program beyond three seasons and for reaching the final year of the deal.
Hoke was hired in January by Michigan Athletic Director Dave Brandon without a defined salary or compensation package, but knowing it was a six-year package. "We would have walked here from San Diego," Hoke said at his initial press conference on Jan. 12. "Getting up the Rockies would have been a little bit difficult, but we could have figured that out."
Hoke's contract calls for a base salary of $300,000 per year, with additional compensation of $1.7 million this season, which covers television and other media appearances, a shoe and apparel deal and more. The additional compensation rises by $100,000 each year.
"The contract was handled by my agent and the University," Hoke said in a release from the Michigan athletic department Wednesday afternoon. "My focus has been on the football program and will continue to be on making this program the best in America. I couldn't tell you what's in the contract other than my signature."
"The University offered Laura and I an opportunity to coach at Michigan, and that's been my dream. Nothing will change my focus."
Rich Rodriguez, who was fired in January, earned $2.5 million per year.
Hoke also can earn a $75,000 bonus this season for reaching a bowl game. That amount climbs to $125,000 if Michigan plays in the Capital One Bowl or Outback Bowl. If Michigan plays in the inaugural Big Ten championship game on Dec. 3, Hoke will earn a $300,000 bonus or $500,000 if the Wolverines win the conference title game. The amount of those potential bonuses rises in each year of the contract, but he's only entitled to the highest single bonus each season.
Each year Hoke remains with the program, he will earn a $500,000 bonus, but he will not receive the bonuses from the first two years until he completes his third season. And he will not receive the bonuses from the fourth and fifth seasons unless he completes a sixth season with the Wolverines.
Hoke's deal includes a buyout if he is fired while under contract. If he's fired this season, he'd get an $8 million settlement. That amount slides to $6 million in year two, $4 million in year three, $3 million in the fourth year and then $2 million in year five and six.
Also in the contract:
• Michigan agrees to pay the $1 million buyout clause in Hoke's San Diego State deal.
• Hoke has an apparel allowance of $4,000 per year.
• Download Hoke's contract: Hoke contract 2011.pdf