Posted on
Mon, Oct 17, 2011 : 2:29 p.m.
Brady Hoke won't call Michigan State dirty, stays quiet on Gholston punch
By Nick Baumgardner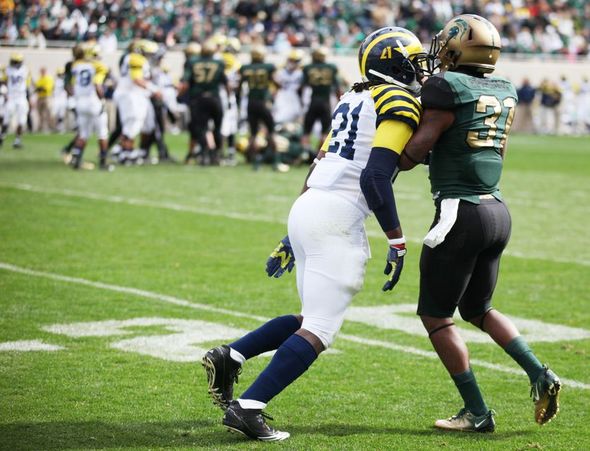 Jeff Sainlar I AnnArbor.com
Michigan football
coach
Brady Hoke
saw the punch Michigan State defensive lineman
William Gholston
threw to the face of Wolverine offensive lineman
Taylor Lewan
on Saturday.
Upon review of the film, he also saw Gholston twist Michigan junior quarterback Denard Robinson's helmet after a play, and the late hit by Marcus Rush that knocked Robinson out of the game.
He saw it all.
But was it enough to call the Spartans a dirty football team?
"I don't know," Hoke said when asked for a comment during his Monday press conference. "What's your opinion?"
Michigan State was flagged for six personal foul calls during its 28-14 win over the Wolverines on Saturday, and had a total of 13 penalties.
Video: Brady Hoke, Mike Martin discuss Michigan State loss
Immediately following the game, Michigan State defensive lineman Jerel Worthy was asked if he thought the contest was dirty. He replied, "definitely." Spartans coach Mark Dantonio didn't say his team played dirty, but rather that the Spartans played with a great deal of emotion.
"You have to play this game a little bit angry," he said following the game. "Regardless of who you are playing."
Hoke said Michigan "always" sends a handful of plays to the Big Ten Conference office following each game, and said that was the case after the loss to Michigan State.
He did not specify which plays were sent in, saying that "I'm sure they have the film if it was on TV."
In 2009, Michigan linebacker Jonas Mouton was suspended for a game against Eastern Michigan following a punch thrown a week prior against Notre Dame. At the time, former Wolverine coach Rich Rodriguez said he didn't see the punch.
The Big Ten did, though, and made Mouton pay for it.
Asked further if he felt that Gholston should be suspended for his actions, Hoke said that isn't his decision to make.
"I'm not going to react to it, I'm a football coach. I'm not a referee or a rules maker," he said. "That's not for me to say. Did I see (the punch)? Yes. Does that happen in games? Yes. Is that sometimes part of the game? Yes."
Hoke also stayed quiet on the lack of a post-game handshake between both sides, saying he wasn't aware of any rule making that ritual a necessity.
"I don't know about protocol," he said. "That's a big word for me."
Michigan's players tended to agree with their coach Monday, refusing to call their in-state rival a dirty football team.
Football was being played Saturday, they said. For now, the Wolverines appear to be leaving it at that.
"Football's a tough game," Michigan senior center David Molk said. "The line between cheap and fair is pretty thin sometimes, and really it's in the eye of the beholder.
"It's never too rough. It's football. Come on, we wear a helmet and pads for a reason."
Nick Baumgardner covers Michigan sports for AnnArbor.com. He can be reached at 734-623-2514, by email at nickbaumgardner@annarbor.com and followed on Twitter @nickbaumgardner.