Posted on
Thu, Oct 20, 2011 : 5:59 a.m.
Bret Bielema wants a trophy for Michigan State-Wisconsin. OK, Bret. You got it ...
By Nick Baumgardner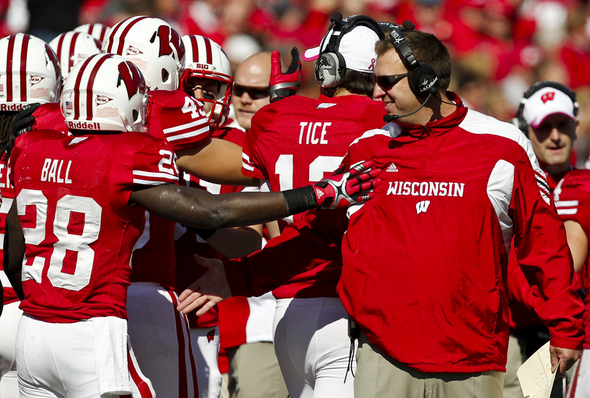 AP Photo
There's little doubt the Big Ten spotlight falls on East Lansing this week as No. 15
Michigan State
prepares to host No. 4
Wisconsin
for a nationally televised primetime showdown.
Clearly, a big game. The winner takes the catbird seat for the conference's stretch run.
But Wisconsin coach Bret Bielema wants more. He sees this as a rivalry contest, and one that should come with all the necessary trimmings.
"I was kind of disappointed that we don't have a trophy with it," he said of the Wisconsin-MSU game. "I think it's merited and it's really gotten to that status."
You want it, Bret? You've got it.
There are plenty of already established trophy games in the Big Ten. Here's a semi-humorous, semi-serious look at a few would-be trophy tilts.
Wisconsin-Michigan State
Both schools already play in a few notable trophy games, and the winner this week could very well be on its way to claiming the first ever
Stagg-Paterno Championship Trophy
.
The games on the field have been competitive over the past few years, no doubt. But that's not what makes a trophy.
Trophies are made by atmosphere, history and surroundings.
And since Madison and East Lansing are both tremendous tailgating environments …
Suggestion: The Battle for The Old Rolling Cooler
Nebraska-Iowa
Nebraska and Iowa have already given this game a name, calling it "The Heroes Game."
There hasn't been a specific trophy assigned to the game just yet, though one could be announced prior to this season's Nov. 25 matchup.
Heroes is nice, but there's no way, no how, this trophy gets invented without reference to the amount of farm machinery churning hard near both campuses. ...
Suggestion: The Battle for The Old Rototiller
Penn State-Northwestern
There haven't seen too many rowdy meetings in this series, but that really doesn't prohibit a trophy creation (see
The Little Brown Jug
).
Penn State is known as Linebacker U, Northwestern is coached by legendary Big Ten linebacker Pat Fitzgerald.
But that's not where we're going with this.
Both schools feature cat-scots: Nittany Lions and Wildcats …
Suggestion: The Battle for The Old Ball of Yarn
Wisconsin-Minnesota
Actually, this used to be a trophy game, but was defunct in 1943 due to Minnesota's refusal to accept the trophy out of respect for World War II.
Everyone has their reasons, but it's time to bring back the fabled "Slab of Bacon" trophy. This trophy has, of course, been replaced by Paul Bunyan's Axe.
But come on. It'd be cheap to make, easy to put together and adored by all. Bring it back. …
Suggestion: The Battle for the Old Slab of Bacon
You know I would love to hear your suggestions for would-be Big Ten trophy games. Drop me a comment or an email.
But, for now, on with the notes.
Melanie Maxwell I AnnArbor.com
Sky high:
Michigan State (5-1, 2-0 Big Ten)
As if beating in-state rival Michigan wasn't sweet enough for the Spartans, the gang from East Lansing now finds itself in the driver's seat for the Big Ten Legends' Division championship.
And if MSU can manage to knock off Wisconsin at home in a prime time tilt this weekend, then the Spartans clearly become the team to beat in the Big Ten moving forward.
There's plenty of work to do before that happens, and a bad loss at home to the Badgers could knock MSU off this perch rather quickly. But for now, anyway, things are looking pretty good on the banks of the Red Cedar.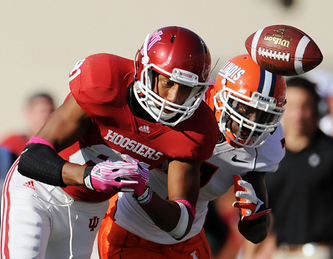 AP Photo
Rock bottom:
Indiana (1-6, 0-3)
Indiana sits here in part because it can't be Minnesota every week, and in part because the Hoosiers are terrible.
Midway through last week, I took to Twitter to express my shock at how Indiana was a 40-point dog to Wisconsin. Forty points? Against a conference opponent? I don't care how bad you are, I wrote, that seemed high.
WIthin minutes, I was reminded by several Twitter followers how wrong I was, and how bad the Hoosiers really were. On Saturday, they were proven right, and I was wrong.
Wisconsin not only covered, but the Badgers did so with room to spare, beating woeful Indiana by 52 points.
How bad is Indiana? Rather than attempting to let the football team have Saturday all to itself, the IU basketball team decided to trump its campus brother by hosting its midnight madness event later that night.
Don't worry Bloomington-ites, Indiana's basketball season officially begins with an exhibition on Nov. 5.

Last week's heavy lifter: Montee Ball, Wisconsin junior RB

This is starting to get ridiculous.
Ball accounted for four more touchdowns last week, three on the ground, and one with his arm. He became the first non-Wisconsin quarterback to throw for a touchdown since 1982, and now has had a hand in 18 total touchdowns through six games.
Ball is on a 12-game pace to score 32 rushing touchdowns this season. He's also second in the Big Ten with 653 rushing yards.

Standout stats:

2
Sacks allowed by the Michigan offensive line prior to last Saturday. The Wolverines allowed seven sacks in a loss at Michigan State, the fourth straight in the rivalry.
6
The number of Big Ten teams ranked among the nation's top 36 defenses. Michigan State (No. 2), Penn State (No. 6), Wisconsin (No. 7), Illinois (No. 12), Ohio State (No. 18) and Michigan (No. 36).
4
First downs achieved by Minnesota through two weeks of Big Ten play.
40.5
Average margin of victory for Wisconsin through six games this season.

Quotable:
"What he's done, what he's experienced and what he's earned is a lot of respect. Nobody would second guess (starting him) in this facility." — Ohio State coach Luke Fickell on his decision to start the previously suspended Boom Herron last week, rather than one of his backs that wasn't suspended.

Off the cuff:
His playing days may be long over, but former Michigan State and NBA standout Steve Smith still knows how to box out.
Following the Michigan-Michigan State game at Spartan Stadium last week, AnnArbor.com colleague Kyle Meinke and I were waiting to catch an elevator from the press box to the field for postgame interviews.
So was Steve Smith.
And apparently, no elevator is big enough for Steve and Kyle. With the elevator reaching full capacity, Smith declared "media first." He then boxed Kyle out of the elevator, and flashed a grin as the door closed.
We caught the next one.
Follow Steve on Twitter @NBATVSteve. Follow Kyle on Twitter @kmeinke.
I urge you to hassle them both for some sort rematch.
Nick Baumgardner covers Michigan sports for AnnArbor.com. He can be reached at 734-623-2514, by email at nickbaumgardner@annarbor.com and followed on Twitter @nickbaumgardner.