Posted on
Sat, Apr 10, 2010 : 1:05 p.m.
Calvin Magee happy at Michigan, wants to be a head coach one day
By Dave Birkett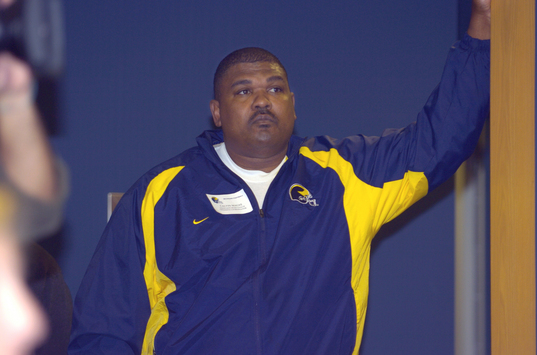 AnnArbor.com file photo
Calvin Magee had mixed emotions earlier this year when he interviewed to become South Florida head coach.
Magee has deep ties to the school and wanted the job. He spent five seasons there as an assistant coach, lived near South Florida's Tampa campus for 15 years, and trained at the school when he played for the NFL's Tampa Bay Buccaneers.
But Magee was leery of leaving his post as Michigan offensive coordinator after two unfulfilling seasons.
"It was a good process to go through, but I'm kind of weird when it comes to that," Magee said earlier this week. "I was kind of in between my feelings, because I hate unfinished things and I was excited about the returners we had coming back. That's what was interesting about it is I kept saying, 'Man, we're about to do what we're supposed to do here.' So torn a little bit."
Magee said South Florida officials contacted him about the job, and he was one of the first people to interview for a post that eventually went to Skip Holtz.
As part of his application, Magee submitted a 17-page proposal outlining the goals and principles he would follow as head coach. The submission included a proposed staff list that named several current Michigan assistants,including offensive line coach Greg Frey and receivers coach Tony Dews.
Now in his third stop as a college assistant, the 46-year-old Magee said he hopes to run his own program one day.
"That's a goal for most assistants," Magee said. "I don't spend every waking day thinking about being a head coach though. I come to work to do my job and I honestly don't think about that a whole lot, especially when I'm right in the middle of something."
Dave Birkett covers University of Michigan football for AnnArbor.com. He can be reached by phone at 734-623-2552 or by e-mail at davidbirkett@annarbor.com. Follow him on Twitter @davebirkett.