Posted on
Tue, Aug 31, 2010 : 4 p.m.
Catching Up With ... former Michigan running back Tim Biakabutuka
By Michael Rothstein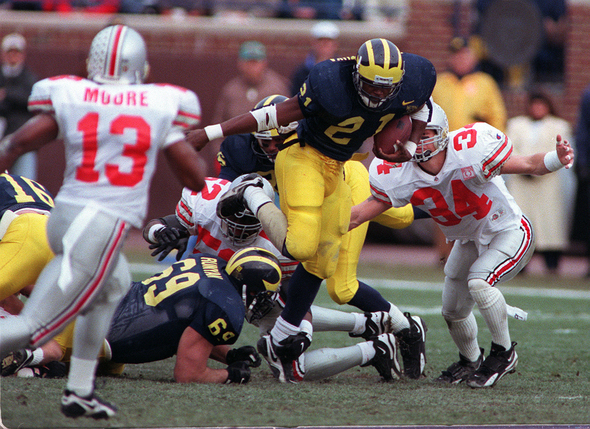 Welcome to "Catching Up With..." an occasional feature here at AnnArbor.com where we chat with someone who used to be involved with Michigan athletics. If there's someone you'd like to see AnnArbor.com catch up with, e-mail michaelrothstein@annarbor.com.
Tshimanga "Tim" Biakabutuka spent three seasons in the Michigan backfield and still holds the program's single-season rushing record with 1,818 yards in 1995. He finished his college career in 1996 in 10th place in career rushing yards with 2,810 yards.
He was taken with the No. 8 pick of the 1996 NFL Draft by the Carolina Panthers, where he spent five injury-filled seasons. He now owns two fast food restaurants.

AnnArbor.com caught up with Biakabutuka earlier this summer.
Q: What have you been up to the past few years?
Tim Biakabutuka: "Trying to be a businessman. I've been trying different ventures. I'm in the Bojangles fast food business in Augusta, Ga., I've got a couple of places there. Just being a businessman and trying to figure my way out in life after football."
Q: Did you think you'd go into business after football? How'd that come about for you?

TB: "I always had a desire to be involved in business and I think a lot of athletes have the same desire. One, because we don't know any better. We don't know how tough it is. I had a mentor who was the owner of the Panthers (Jerry Richardson, who opened the first Hardee's franchise in 1961). He became a mentor and he is the reason why I got myself in the Bojangles business. He and some partners bought into the brand and he thought it was a good fit for me to get involved in. … It's very tough, much tougher than football, being in business. I have good support. I made mistakes and I learned from them and I have got a bunch of mentors that are caring and are spending time helping me. The transition has been tough but it has been enjoyable."
Q: You say it's harder than you think. What's the lesson you've learned?

TB: "In football, especially in my case, football came pretty easy when you work hard and you have your natural, God-given ability take over and you are willing to pay the price and work hard. In business, a lot of it has to do with being willing to start at the bottom and learn and to realize what you don't know. Sometimes, because you did something well, you automatically think you'll do everything well. But it's two different beasts. In business, there are so many moving parts. In football, you start when you are young and you develop over a long time and then you reach that level. Those guys start playing when they are 8 years old. I started playing when I was 16, but still there were six years before I got to the professional level. In business, you've got to be able to start at the bottom.

"The biggest lesson I've learned is to be humble, be willing to learn and get your hands dirty. And understand what makes your business work and listen and listen and learn. Listen and take as much as you can from people that have been out there. It's a different game. Until you learn and you ask questions, you don't grasp it. But once you grasp it and you're persistent and you work hard, a lot of the elements are the same in football and in business. But the mental part of business is different than football. There's a lot of learning and a lot of skills. You get a lot from people who have built businesses from the ground up and you realize how much work and detail and sacrifice it takes. The resiliency and hard work and sacrifice, the working through downs and ups and keep pushing is similar to football. So it's a natural transition but it requires a different type of ability."
Q: Where do you see your future in business going? Do you know yet?

TB: "God willing, I have a bunch of these locations, these fast-food businesses I enjoy. It's a lot of teamwork, which I'm confident with, and hopefully we can just keep growing the business. It's doing pretty well, but we are a young company, getting the right people on board and bringing them in and trying to get them to buy into your vision and your goals and working together. So far, it's going pretty well."

Q: One football thing. When you look back on your football career, both college and pro, what's the one memory that stands out to you?

TB: "When I got into the pros I got plagued by a lot of injuries and I never got to do what I wanted to do. ... Today I was going through my rookie cards because I have a bunch of boxes of my trading cards and I was cleaning my garage. You have the sense of unfulfilled expectations and not doing what you thought you could do because of injuries. ... You worked hard, but the uncontrollable came back and got you in the end. So you look back and have that unfulfilled dream.

"You look back in college and you remember the fun and you remember the camaraderie, a bunch of little kids with little money in their pockets playing hard for each other and still have that friendship. When I went back to the golf tournament, some of the guys you play with, it just reminds you how much of a good time that part of your life comes with. For everybody, I'm sure, college is the best time of your life. Even in the pros, college was that time, the best time of my life. So I'm very, very happy to have it as a Wolverine."
Michael Rothstein covers University of Michigan basketball for AnnArbor.com. He can be reached at (734) 623-2558, by e-mail at michaelrothstein@annarbor.com or follow along on Twitter @mikerothstein