Posted on
Wed, Apr 7, 2010 : 5 p.m.
Dave Brandon 'comfortable' a month into his job as Michigan athletic director
By Dave Birkett
Dave Brandon has had little sleep and lots of meetings in his first month as Michigan athletic director.
Brandon, who took over for Bill Martin on March 8, said Wednesday he's learned plenty in his first 31 days on the job, but hasn't stumbled across "any huge, wow-ish surprises."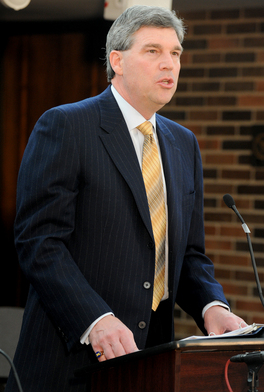 Angela J. Cesere | AnnArbor.com
"There's very little I've run into that's remarkably different than the experiences I've had in the past, either as a regent or leading a business," Brandon said. "I don't feel like a guy who got parachuted in from outer space and I'm disoriented. I feel very comfortable, I really do."
Brandon spoke briefly with a reporter after giving a speech to the Canton Economic Club in which he promised "change to grow is coming to the University of Michigan's athletic department."
Already, the former CEO of Valassis and Domino's Pizza has made one big splash as athletic director: Less than two weeks into his new job, Brandon announced the first night football game in Michigan Stadium history, Sept. 10, 2011, against Notre Dame.
"One of the first things I did is I decided I wanted to identify something that was an opportunity for us to be different and show change," Brandon said in his speech. "It's going to be unbelievable. Michigan against Notre Dame, nose to nose, under the lights, prime time. National television. That's cool. That's change to grow. That's change is good."
Brandon said other changes are in the works, but wouldn't reveal specifics.
"No hints," he said as he left the Summit on the Park banquet center. "We'll talk about cakes after they're baked."
He also addressed the state of the NCAA investigation into Michigan's football program.
The Wolverines have until May 24 to respond to a Notice of Allegations that detailed five potential rules violations. Already, the school has disassociated itself from Alex Herron, a former graduate assistant named in the complaint.
Brandon said no other self-imposed penalties have been instituted.
"We'll talk about those when we need to talk about them and when it's appropriate to talk about them," he said.

At the end of his speech, Brandon held a short question and answer period. Some highlights:
• Brandon said he's committed to setting an attendance record at the Big Chill outdoor hockey game against Michigan State, Dec. 11 at Michigan Stadium.
"The current record is 70,000-ish, and we're going to beat it," Brandon said. "We're going to create an atmosphere and an opportunity, tailgating in December. We're going to (transform) Michigan Stadium into a hockey rink and … it's going to be phenomenal. Tickets are going to be very affordable. This is not an opportunity to make a lot of money, it's an opportunity to fill that stadium, set a record and be part of an experience that no one else will be able to duplicate. That's change to grow, that's change is good."
• Construction on the new basketball practice facility will begin "as soon as President Obama leaves town after commencement," with infrastructure work on Crisler Arena to follow.
"And then the third phase will be absolutely a complete remodel of the facility where you would potentially bust out the concourses and you would create the bigger circulation space," Brandon said. "More restrooms, capacity, more amenities, better food service, maybe some kind of club-seating opportunities for those who are interested in that experience. Really making it a modern arena for the purpose of big-time college basketball. And that's ultimately where we'd love to go with Crisler Arena because the program deserves that. Both the men's and women's program deserves that."
• Brandon was asked it he'd consider running for governor in the future.
"No," he said. "I made a five-year commitment to President (Mary Sue) Coleman and to the university, and I also in that spirit said if things are going well and the university's pleased with my performance and I feel like I'm making a difference that I want to make, then I'm here to extend that for another five years. So I'm all in for Michigan."
Dave Birkett covers University of Michigan football for AnnArbor.com. He can be reached by phone at 734-623-2552 or by e-mail at davidbirkett@annarbor.com. Follow him on Twitter @davebirkett.