Posted on
Thu, Dec 8, 2011 : 5:59 a.m.
Michigan focusing on uncertain future of defensive line as bowl practices kick off
By Kyle Meinke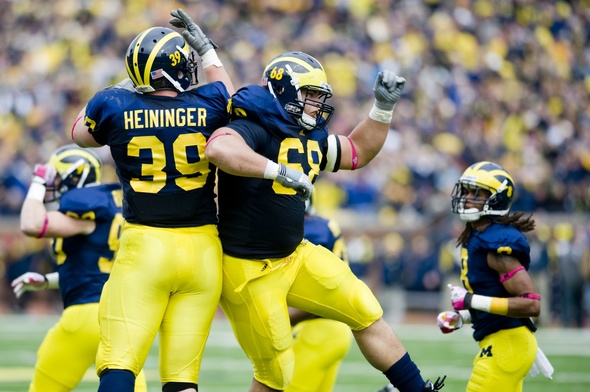 Joe Tobianski | AnnArbor.com
The Michigan football team's defensive resurgence this year was rooted in the play of its front four.
When they provided pressure, the Wolverines were at their best. When they didn't, they weren't.
Linemen Mike Martin and Ryan Van Bergen were the beating hearts of this year's team, leading off the field as well as on it, and both could play at the next level. Will Heininger added a steady, veteran presence.
Each started every game this year. Each is gone next year.
The only returning starter next season will be end Craig Roh, making defensive line the position of greatest uncertainty for next year's team. In a lot of ways, the coaching staff will be back to where it started almost a year ago.
POSITION UPHEAVAL
The defensive line is the one unit on the Michigan football team that will see considerable shake-up next season. A closer look:

WHO'S LOST
Will Heininger (6-6, 295, Sr.)*
Mike Martin (6-2, 304, Sr.)*
Ryan Van Bergen (6-6, 288, Sr.)*

WHO'S BACK
Richard Ash (6-3, 301, Fr.)
Jibreel Black (6-2, 260, So.)
Nathan Brink (6-5, 263, So.)
William Campbell (6-5, 322, Jr.)
Frank Clark (6-2, 228, Fr.
) Chris Eddins (6-5, 265, Fr.)
Keith Heitzman (6-3, 251, Fr.)
Chris Rock (6-5, 267, Fr.)
Craig Roh* (6-5, 269, Jr.)
Alex Schwab (6-0, 241, Jr.)
Quinton Washington (6-4, 302, So.)
Kenny Wilkins (6-3, 280, Fr.)

WHO'S NEW
Matt Godin (6-6, 270)
Mario Ojemudia (6-3, 215)
Ondre Pipkins (6-3, 325)
Tom Strobel (6-6, 245)
Chris Wormley (6-4, 255)

*-Starter. 'Who's new' are players that have made non-binding verbal commitments to play at Michigan.
"I feel the same way as when we first got in here," first-year defensive line coach
Jerry Montgomery
said of losing three senior stalwarts. "We knew (last winter) Mike had played a lot of ball, and Ryan played a lot of ball, but when we got the guys, they weren't doing the things we needed them to do.
"To me, I think we're no different going into this spring ball. We just got to develop the guys we had. When we got here, we felt like we had to develop guys like Mike Martin and Ryan Van Bergen and Will Heininger."
Michigan's defensive line dominated for much of the stretch run, a major factor in the Wolverines' 10-2 record and berth in the Sugar Bowl. They will play No. 11 Virginia Tech on Jan. 3 in New Orleans.
But it wasn't always so proficient. In fact, it struggled badly to open the season.
Montgomery said he expects to incur similar growing pains next year as he breaks in three new starters. That could be especially true at tackle, where the leading candidates for starting roles appear to be little-used Quinton Washington, inconsistent Will Campbell and a true freshman.
That's a significant drop-off from a player such as Martin, who was a second-team all-Big Ten selection this year and developed into an early-round NFL draft prospect.
But Montgomery likes those options, and he discussed them at length during a recent telephone interview with AnnArbor.com while on the road recruiting.
He said this week is paramount for next year's defensive line because the early bowl practices are spent working on fundamentals and cultivating younger players. The bowl game plan won't be installed in earnest until next week.
Coaching might be the biggest thing the young defensive linemen have going for them at Michigan, where head coach Brady Hoke and defensive coordinator Greg Mattison also have expertise coaching the position.
And then there's Montgomery, a former Iowa star who is familiar with the Big Ten and, at a youthful 31 years old, has become regarded as one of the fastest-rising assistants in the league.
"There are always three sets of eyes on those guys, and there is a big emphasis on how they play," Montgomery said. "When they do something right, it's, 'Hey, great job,' pat on the back. And if they do something wrong, nobody misses it."
The threesome's investment in replenishing the defensive line talent begins this week. They already have a few options in mind of what that group could look like when they open next season with a marquee matchup against Alabama.

Quinton Washington

One name that continues to surface among reserves who could jump into a starting role is Quinton Washington, a sophomore from St. Stephen, S.C.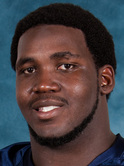 The 6-foot-4, 302-pound tackle has played sparingly in eight games this year, recording one tackle, but Montgomery said he already is one of the strongest players on the Wolverines' roster and has good raw talent.
The biggest thing holding back Washington from a spot in the rotation is consistency.
"There are days where it looks like he should be starting, and there are days when you can tell he's inexperienced," Montgomery said. "His footwork needs to become more consistent on a daily basis."
Part of that inconsistency is a function of Washington's late addition to the defensive line, after beginning his career on the offensive side of the ball.
Martin is a good evaluator of Washington's makeup because the senior went up against him while he still played offense.
"He was a load to deal with over there, working hard with the scout team," Martin said.
Martin said the toughest part about Washington's transition from offense to defense is handwork and footwork, but added he's made "day and night improvement."
"The improvement that Quinton has made is obviously something not everyone gets to see, because he doesn't get a lot of playing time, but he's made huge strides," Martin said. "(Because of) the amount of time that Coach Hoke has been working with us, really one-on-one a lot, and getting us better, and Coach Montgomery, Quinton's done a great job."

Will Campbell

Big Will Campbell is as enigmatic as any player on Michigan's roster.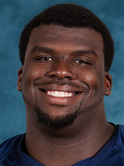 The 6-foot-5, 322-pound junior tackle from Detroit came to Ann Arbor as a five-star recruit, but has yet to develop into the force many projected him to be. He's had a hard time becoming even a role player.
He had only one tackle all last year, and five in his career heading into this season.
Campbell, though, did improve under Hoke, Mattison and Montgomery. He cracked the rotation as a reserve and saw snaps in every game. He recorded 11 tackles and two sacks.
"When he plays with pad level, and uses his hands, and he goes -- when he gets off that ball with the mind-set that no one's going to stop him -- he is as good as anybody," Montgomery said.
Campbell isn't limited by his physical tools. He's as big and strong as anybody on the team. But, he has struggled with his demeanor and consistency.
Montgomery said it is his job — one of his top priorities — to get Campbell on track.
"There's been weeks of practices where he's done that consistently, and there's been other times when he's been given consistent opportunities, and he doesn't," Montgomery said. "So, that's what I got to get out of him as a coach."
How can Montgomery do that with a guy who has underperformed so badly going into his senior season?
"You got to push, and you got to push, and you got to push -- and you got to push his buttons," Montgomery said, "and he needs to understand I'm not there to hurt him, I'm there to help him, and I think he understands that.
"Eventually, it's going to become a reality for him and he's going to say, 'OK.' He's going to find that second gear, and he's going to be like, 'I should have been doing this the whole time.'"

Options at end

While Michigan is being gutted on the line's interior, there are a few options to consider on the outside.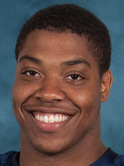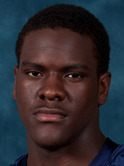 One question that likely will fester into fall camp: Will either Roh, who will be a senior fourth-year starter next year, or sophomore
Jibreel Black
be moved from weak-side to strong-side end to replace Van Bergen?
They both played well this season on the weak side, so splitting them could be a way of getting the best 11 on the field.
Montgomery's answer: "It could happen, but I'm telling you, Nathan Brink is going to be a good football player. To say anyone is going to pass him at five-technique (is premature)."
Brink was heralded throughout fall camp this year for his superior technique and coachability, and Hoke projected him to be a contributor this year. The sophomore has been quiet, though.
His biggest weakness is his weight, which hovered around 262 pounds this season. That's slight, as far as Big Ten ends are concerned, and the coaching staff would like him to bulk up to about 275 pounds.
"You better put your big boy pants on if you want to play five-technique in the Big Ten," Montgomery said. "That's why putting the weight on for Nathan Brink is going to be big."
Frank Clark also will factor into the rotation at end. The freshman came on strong after the off week, becoming a contributor behind Roh and Black on the weak side in the season's final five games. He recorded five tackles.
If he continues to develop, that could enable a smooth transition if Roh or Black is indeed moved to the strong side.
"He made some mistakes early on, but the only way you're going to get better is to be put in those situations, and be able to make mistakes and learn from those mistakes," Montgomery said. "He did a tremendous job."
Van Bergen said earlier this year Clark is one of the fastest players on the defense, and was ahead of other freshmen in picking up Mattison's 4-3 scheme.

Incoming freshmen will have shot

NCAA rules preclude coaches from speaking specifically about freshmen until they sign letters of intent in February, but Montgomery was very clear:
They'll compete for playing time next year.
"Who knows? We could have a true freshman lining up against Alabama," he said. "It's a huge possibility, because of our depth."
Michigan has secured verbal commitments from five defensive linemen. Among them, four-star Kansas City prospect Ondre Pipkins is considered the closest to "college-ready," and could be a contender for immediate playing time.
The 6-foot-3, 325-pounder is Scout's No. 12 tackle in the country. And, considering Washington's lack of experience and Campbell's lack of consistency, he's expected to be given a long look for a rotation spot.
Others who could factor into the rotation are ends Chris Wormley and Tom Strobel. (Michigan's 2012 recruiting class.)
They're all highly touted recruits, but that doesn't always translate to immediate playing time. A lot will depend on how they perform once they are on campus.
But it's clear they'll be given shots to play.
"As Coach Hoke says, the best players are going to play, and if that's a freshman, that's a freshman," Montgomery said.
Lots of options. Just as much uncertainty.
Kyle Meinke covers Michigan football for AnnArbor.com. He can be reached at 734-623-2588, by email at kylemeinke@annarbor.com and followed on Twitter @kmeinke.