Posted on
Sat, Sep 17, 2011 : 5:42 p.m.
After slow start, Denard Robinson leads Michigan football team to 31-3 win over Eastern Michigan
By Kyle Meinke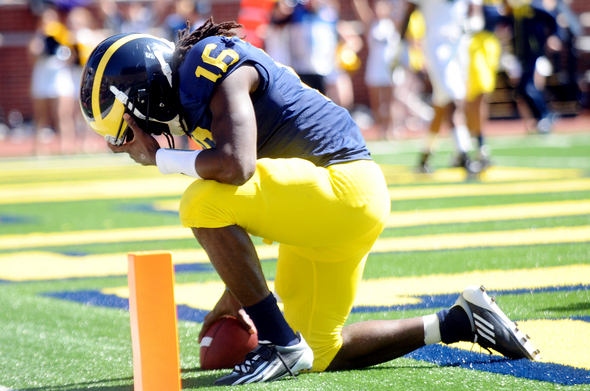 Melanie Maxwell | AnnArbor.com
Updated 5:42 p.m.
Denard Robinson is concerned about his team's slow starts. He's just not sure what's causing them.
The junior quarterback rushed 26 times for 198 yards and one touchdown, and reserve tailback Vincent Smith had nine carries for 118 yards to lead the Michigan football team to a 31-3 win Saturday against Eastern Michigan.
But for the third consecutive game, Michigan (3-0) was held scoreless in the first quarter and outplayed for the game's first 20 minutes. It trailed Eastern Michigan 3-0 until midway through the second quarter.
"We wanted to come out fast, and that's what we've been focusing on," Robinson said after the game. "There's no reason (for the slow start). There's no reason for it."
With Robinson sputtering -- he missed on his first five passes -- Michigan went three-and-out on two of its first three drives. Eastern Michigan (2-1) held a first-quarter edge in total yards (140-32), first downs (7-2), did not allow a completion and controlled the ball for 10 minutes, 35 seconds.
"We might be thinking a little too much out there," junior safety Jordan Kovacs said. "I think we did a good job of making some adjustments to some of the funky things they were throwing at us."
Those funky things included trick plays such as a flea-flicker scramble by Eastern Michigan quarterback Alex Gillett and a double-pass for the end zone, as well as various irregular formations.
The Wolverines adjusted, though, and eventually got in gear.
"The coaches did a good job," Kovacs said. "They gave us some funky formations, they kind of came out and threw the kitchen sink at us in the first half — some formations we had never seen.
"We stayed calm and knew eventually they would have to play some football. We just relaxed and we were ready for them."
Michigan was within 3-0 of Eastern Michigan because of three big plays by its safeties in the game's first 17 minutes.
Sophomore Thomas Gordon recovered a fumble on EMU's opening drive, Kovacs had a tackle on an EMU fourth-and-goal from the 1 and Gordon made a spectacular one-handed, over-the-shoulder interception.
Gordon, who also had six tackles, had his best game at Michigan.
"Kenny Demens made a big play to force the fumble, and I was just fortunate enough to be in the right position to pick it up," he said. "On the interception, they gave us a funky formation. Their backup quarterback was in the backfield, and we keyed that, so we knew some trickery was up.
"The guy released, and I just ran with him and made a good play."
Eastern Michigan got only one more first down in the first half after Gordon's pick.
Meantime, Robinson went to work with his legs, even with his arm abandoning him. He had 52-yard burst from inside his own 5 to get Michigan moving in the second, then found Kevin Koger for his two completions — the second of which was a 9-yard touchdown that gave Michigan its first lead, 7-3 with 9:28 left in the second.
"We came out a little flat, but obviously that 97-yard yard drive picked up some momentum and we kept it going the whole game," Robinson said.
The junior added an 11-yard touchdown run 6 minutes later to give Michigan a 14-3 lead heading into halftime. He finished with 14 rushes for 131 yards and one touchdown in the first half.
Michigan asserted itself in the second half, going on three consecutive long scoring drives to put the game out of reach.
"The offensive staff came in at halftime and said, 'This is what we like and this is how we oughta light it formationally, this is how we probably need to tweak the blocking of it'" Michigan coach Brady Hoke said.
"Both units — offensively and defensively and their respective coaches — do a tremendous job of gathering information during possessions in the first half and then coming in there as a group in each other's room and taking some things out, putting some things in, making adjustments, and then relaying it and teaching it to the kids so they understand it."
One adjustment was targeting Smith more in the running game. The junior picked up 80 of his 118 yards in the second half, becoming the first tailback to break 100 since senior Michael Shaw had 126 against UMass last year.
"(Smith) ran the ball pretty well today," Hoke said. "Until you analyze it, look at it and really evaluate it, i would hate to say that" he could become the team's starting tailback.
Starter Fitz Toussaint had 11 carries or 46 yards and one touchdown after missing last week with an injured shoulder.
The Wolverines began the half with a 13-play, 83-yard touchdown drive that was punctuated by another Robinson touchdown run, this one a 1-yarder. It gave the Wolverines a 21-3 lead.
Their next drive went 11 plays and 75 yards, featured more nifty running by Robinson and ended with a 19-yard touchdown pass to sophomore receiver Drew Dileo that made it 28-3.
"It's a read, basically, and I just read it out," Robinson said. "He came open and I gave it to him."
Michigan capped its scoring with a 21-yard field goal by sophomore kicker Brendan Gibbons. After the Wolverines finished last in the country last year (4-of-14), they are 1-for-1 this season.
The crowd gave Gibbons a loud cheer for his make.
Kyle Meinke covers Michigan football for AnnArbor.com. He can be reached at 734-623-2588, by email at kylemeinke@annarbor.com and followed on Twitter @kmeinke.