Posted on
Tue, Sep 7, 2010 : 5:31 p.m.
Denard Robinson's success may mean end of 'Shoelace,' plus Michigan football team nears Top 25
By Pete Bigelow
Denard Robinson may have been too fast for his own good Saturday. His performance against UConn could cost him his nickname.
Desperate to stop the lightning-quick "Shoelace," the Huskies resorted to trying to strip the sophomore quarterback of his cleats, which he has preferred to keep untied since age 6.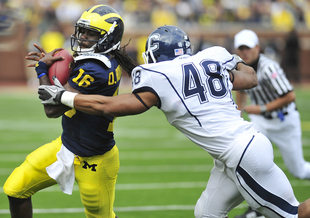 Melanie Maxwell | AnnArbor.com
They succeeded a few times, and Michigan football coach
Rich Rodriguez
figures if future opponents latch on to the strategy, his quarterback may need to tie his shoes.
"If it becomes an issue that they keep yanking on them, we'll have to get them tied on," Rodriguez said Wednesday. "It's kind of funny. He has Velcro, so it's not like they're loose."
Robinson mentioned no plans to alter his routine Wednesday, but has already put his 383 all-purpose-yards effort against the Huskies in the rear-view mirror.
"I had to refocus, put that behind me and focus on Notre Dame," Robinson said. "I've just been watching film on Notre Dame and trying to prepare."
Michigan is at Notre Dame on Saturday in a 3:30 p.m. game (NBC).
Follow-up on Big Ten changes
After having a week to ponder Big Ten divisions and the conference championship game, Rich Rodriguez is upbeat about future prospects.
"It's another game you have to win to get to the national championship," he said. "The positives certainly are, well, we'll get to see the league on display and play in a conference championship game."
He thought the conference handled the scheduling changes that came as a consequence of the two-division format well.
"It creates more rivalries that haven't exited before, and keeps traditional rivalries intact," Rodriguez said. "It's a win-win all the way around."
Michigan on the outskirts of the Top 25
At the time he spoke Wednesday, Rodriguez hadn't yet learned that the Wolverines were ranked No. 26 in the country following their 30-10 win over UConn.
Had he known Michigan had received 71 votes, he probably would have urged people to be cautious about overconfidence.
"Every coach in America would probably tell you the same thing, but we're still a work in progress," he said.
Looking at Notre Dame
Growing up in Florida, the annual rivalry game between Michigan and Notre Dame wasn't exactly a focal point for Denard Robinson. "I didn't really pay attention to it," he said. "But now that I'm a part of it and see how intense it was last year, it was crazy and amazing, and it's exciting to be a part of something."
Robinson did not play in last year's 38-34 Michigan victory.
Pete Bigelow can be reached at (734) 623-2556 or emailed at petebigelow@annarbor.com. Follow him on Twitter @PeterCBigelow.