Posted on
Wed, Feb 17, 2010 : 3:24 p.m.
Donovan Warren ready for NFL combine, intent on 'proving all those people wrong'
By Dave Birkett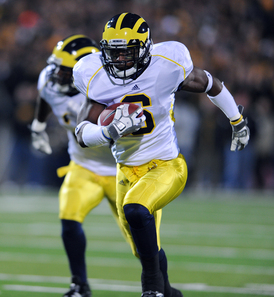 Former Michigan cornerback
Donovan Warren
would have been better off staying in school for his senior season, ESPN draft analyst
Mel Kiper Jr
. said in a conference call Wednesday.
But Warren, who led the Wolverines with four interceptions last year, said he's comfortable with his decision to turn pro and focused on getting ready for next week's NFL combine.
"I feel like I'm right up there talent wise with any cornerback that's coming out," Warren said Wednesday during a break from workouts at the Performance Gaines training facility in Westlake Village, Calif. "Just cause those guys had people around them and things went well for their team, my (play) at the combine and my ability, my interviews will speak for itself.
"Right now I'm focusing on that. Once I made that decision, it was full speed ahead just proving all those people wrong."
Kiper said Warren "probably should have stayed" in school and would have helped his draft stock by returning for his senior season.
"If you even look back at the young kids that would have been maybe moving up to (next year's draft) class, he still would have been right there at the top," Kiper said. "That, to me, puts him in the category where right now you're looking maybe third, fourth round as opposed to going back and being certainly one of the top two or three corners going into next year."
Warren does not rank among Kiper's top five cornerbacks for 2010, and Kiper said fellow underclassmen Joe Haden of Florida, Kareem Jackson of Alabama, Amari Spievey of Iowa and Dominique Franks of Oklahoma all could get drafted before Warren.
Haden, the No. 1 cornerback in the class, is projected as a top-10 pick.
Kiper praised Warren as "a physical corner" who "likes going head-to-head on an island with the best receivers in the country," but knocked him for taking too many chances in coverage.
"If he had been a little bit more consistent in that area in terms of not allowing the big pass plays and big plays overall and being a little up and down, I would have said, 'Hey, come out and be a second-round pick,'" Kiper said. "So I'd say, yeah, it probably would have been better for him to go back and maybe you could have been a first- or second-round pick guaranteed with a strong senior year."
Warren still may end up being a high pick. He said he expects to run the 40-yard dash "somewhere in the 4.4s - 4.45 or lower" at the combine next week, and likely would solidify a spot in the top two rounds if he makes good on that time.
"It's a real big week for me," Warren said. "Basically, any guy in the combine, you just want to go out there, prove that you can compete with anyone out there."
Dave Birkett covers University of Michigan football for AnnArbor.com. He can be reached by phone at 734-623-2552 or by e-mail at davidbirkett@annarbor.com. Follow him on Twitter @davebirkett.