Posted on
Tue, Aug 21, 2012 : 1:30 p.m.
ESPN analysts predict Michigan won't win Big Ten championship
By Kyle Meinke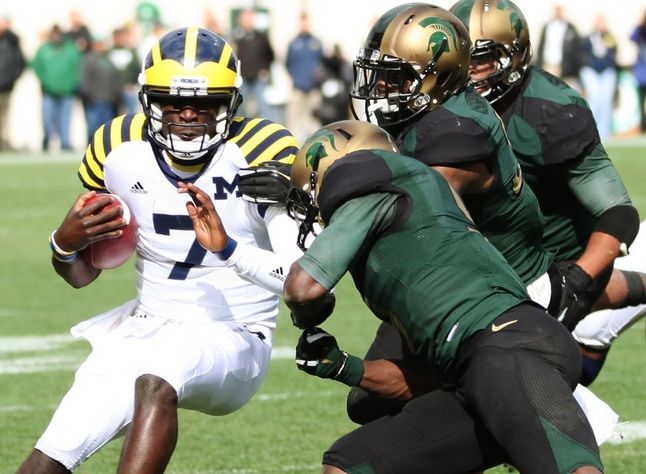 Jeff Sainlar | AnnArbor.com
The
Michigan football
team is ranked among the top 10 in both major preseason polls.
It even received a first-place vote
in the AP poll.
It is the media's preseason favorite to win the Big Ten.
ESPN college football analysts Kirk Herbstreit and Todd Blackledge aren't buying into the hype, and neither picked Michigan to win the Big Ten championship.
"I think at this stage, they lost a lot from last year," Herbstreit said during a segment previewing the Big Ten. "Junior Hemingway seemed to bail out that passing game very often last year. Mike Martin on the defensive side kind of anchored the defensive line. You take him out of the mix.
"I think there are some questions on this team, not to mention not only do they open up with Alabama, but you start to go through their schedule, this is a nasty schedule that they're going to have to be able to get through."
Michigan opens the season Sept. 1 against the defending national champs, and also must face Notre Dame, Nebraska and Ohio State on the road.
"I still have some major questions about them," Blackledge said in the segment. "I think Brady Hoke and his staff have done a marvelous job. But my two biggest questions about Michigan: Denard Robinson still has to prove himself as a passer in a more consistent way.
"(Second), there were three senior defensive linemen who anchored that defense who are all gone, who have to be replaced, and that will be tough to do."
Herbstreit picked Michigan State to win the league, while Blackledge thinks Wisconsin will repeat as champion.
But Herbstreit, a former Ohio State quarterback, sees the tide shifting in Michigan's favor in the future due to strong recruiting. Ditto for the Buckeyes, who now are helmed by Urban Meyer.
"I think you would have them in that (national championship) discussion this year, if they were eligible," Herbstreit said of the Buckeyes. "I think he inherits a team that has some talent, I think he has a quarterback who plays his system.
"Within a year, Ohio State is going to be shooting for goals of trying to compete not just for Big Ten championships, but national championships. And with the way he's recruiting -- and you mentioned Brady Hoke -- I think we're getting ready to go back to the old days with Woody and Bo, the 'Big Two, Little Eight' they used to say? I think both of those coaches are really shooting for bigger goals than just a Big Ten championship."
Kyle Meinke covers Michigan football for AnnArbor.com. He can be reached at 734-623-2588, by email at kylemeinke@annarbor.com and followed on Twitter @kmeinke.