Posted on
Tue, Jan 3, 2012 : 1:57 p.m.
Ex-Michigan coach Lloyd Carr compares quarterback Denard Robinson to former great Anthony Carter
By Kyle Meinke
NEW ORLEANS -- Lloyd Carr had his share of issues trying to defend spread-offense quarterbacks.
So, he certainly can appreciate watching one shred defenses for the Wolverines.
The former Michigan football coach is in New Orleans to be honored as part of his induction into the College Football Hall of Fame. He met briefly with the media before tonight's Sugar Bowl, and couldn't help but marvel at what quarterback Denard Robinson has been able to accomplish in his first two years as the Wolverines' starting quarterback.
When asked who Robinson reminded him of, Carr had to reach way back.
His answer: Anthony Carter.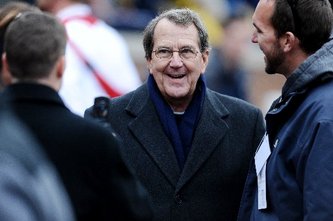 Melanie Maxwell I AnnArbor.com
"Anthony Carter is as exciting as any football player I've ever seen," Carr said of the former receiver, whose excellence began the tradition of doling out the No. 1 jersey to the team's top wideout.
"I can remember being in the press box, and I was (coaching) defense at Michigan Stadium, and every time John Wangler would throw the ball in Anthony's direction, everybody on that side of the field would stand up because they were scared they were going to miss something. I mean, he could make something out of nothing.
"I think Denard has the same kind of electricity when he takes off because he's made so many plays."
Robinson set an NCAA quarterback for rushing yards in a season last year, and he led the Big Ten in total offense this season despite transitioning into offensive coordinator Al Borges' system.
He'll lead Michigan against Virginia Tech at 8:30 tonight in the Sugar Bowl (ESPN).
Carr still can remember the first time he met Robinson, when an academic support staffer introduced them. The staffer warned Carr he would like the quarterback.
They spoke for about 30 minutes, and Carr already knew she was right.
"I think he's just been a sensational representative of Michigan football," Carr said. "He's handled the good and the bad, and he's handled the success.
"When he became the starter for the first time (last year) and the success he had, he handled that extremely well. And, when things didn't go well, he really handled it well -- which, to me, is really an important sign because it shows maturity."
Carr had trouble in his final years against spread quarterbacks such a Texas' Vince Young, Florida's Tim Tebow and even Appalachian State's Armani Edwards, which gives him an appreciation for what Robinson's been able to accomplish.
He's been especially impressed by his durability.
"The two guys that we played against was Tebow and Vince Young," Carr said. "Now, when you walk onto a football field and you see Vince Young, you don't see many guys in a career that is more impressive physically, and so a guy like that, you say, he's big enough that he can endure all the contact. And Tebow, of course, was sensational.
"And now Denard, he's not like either one of those guys, yet he's been extremely productive."
When asked if he would have tried to recruit Robinson himself, Carr replied, "Absolutely. Tried to."
Other topics broached by Carr in his 10-minute meeting a small group of reporters:
On maintaining contact with the fifth-year seniors, whom he recruited: "I had guys coming to my office because I told them when I left there, I said, 'look, I'm going to be around if I can ever help you, and you know where to find me,' but I don't see them on a regular basis. But, I'm trying to make it clear I've been watching and cheering for them."
On whether coach Brady Hoke exceeded his expectations this year: "If you had told me back in August that this Michigan team is going to have the season have had, and end the season and improved so much from start to finish … I go back to the Western Michigan, where we had problems stopping them, and then you fast forward and, to me, Nebraska was a sensational performance in every phase of the game, and end up in the Sugar Bowl … If someone would have said you have to bet your life, I wouldn't have bet my life."
Kyle Meinke covers Michigan football for AnnArbor.com. He can be reached at 734-623-2588, by email at kylemeinke@annarbor.com and followed on Twitter @kmeinke.