Posted on
Tue, Jan 3, 2012 : 6:48 p.m.
Your mega guide to the Sugar Bowl: Michigan vs. Virginia Tech
By Rich Rezler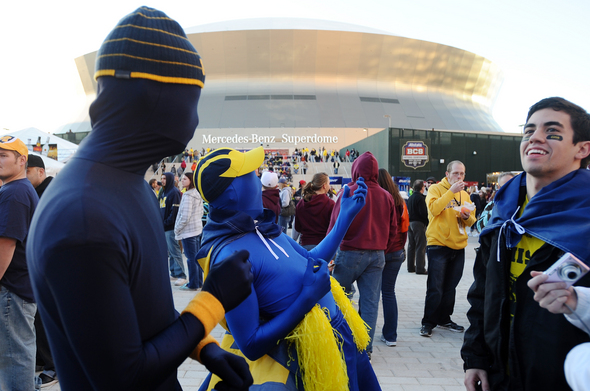 Melanie Maxwell I AnnArbor.com
Updated 6:48 p.m.
WHO: No. 13 Michigan (10-2) vs. No. 17 Virginia Tech (11-2)
WHERE: Mercedez-Benz Superdome, New Orleans
WHEN: 8:30 p.m.
ODDS: Michigan is favored by 3 points, according to sportsbook.com.
SERIES RECORD: First meeting.
BROADCAST INFORMATION: TV: ESPN; Radio: Michigan Sports Network (local affiliates).
LIVE COVERAGE: Join our live chat on the Michigan football home page beginning at 8 p.m. and follow beat writer Kyle Meinke on Twitter @kmeinke for live updates during the game.
MICHIGAN: Roster | Stats | Schedule/Results
VIRGINIA TECH: Roster | Stats | Schedule/Results

AnnArbor.com coverage

There's an argument to be made that neither Michigan nor Virginia Tech should be playing in the Sugar Bowl, considering there were other teams ranked above them in the final Bowl Championship Series standings.
But both are, and together they create some interesting storylines.
It's the winningest program in college football history (Michigan) against the program that's won more games than any other since 1995 (Virginia Tech).
It's a matchup of two defenses tied at No. 7 nationally in scoring defense (both allow 17.2 points per game) focused on slowing down the others' big-play threats; particularly Michigan quarterback Denard Robinson, who averages 286 yards of total offense, and Virginia Tech running back David Wilson, the nation's sixth-leading rusher at 125.2 yards per game.
It's the Hokies vs. the Hoke-a-maniacs.
(Note: The short story is that a HokieBird is a turkey, although the official definition of "hokie" is "a loyal Virginia Tech fan." The long story — all 3,000 words of it, available on the Virginia Tech website -- is a little more convoluted.)
It's the 2012 Allstate Sugar Bowl ... and AnnArbor.com has been covering it from every angle for weeks. We've compiled all of our stories from the past 10 days below. If that's just not enough to keep you busy until kickoff, you can find our complete Sugar Bowl coverage here.

FEATURED STORIES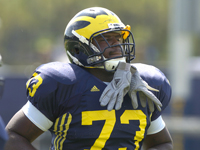 From loaf to starter: Will Campbell gets spotlight to show he's turned a corner
After three mostly disappointing seasons, Will Campbell isn't just going to play consistent snaps for the first time in his career. Because of a foot injury to defensive tackle Will Heininger, he is expected to be thrust into his first starting assignment at the Sugar Bowl -- the program's highest-profile game in five years.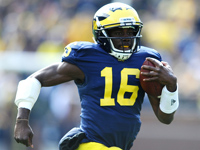 Michigan QB Denard Robinson grows from 'scared little kid' into rising star
Denard Robinson is one of the most electrifying players in the country. Yet, just days before playing in front of the nation in the Sugar Bowl, he acknowledged there was a time he thought he might never play big-time college football. "My dream was to be an NFL player — then when I got to high school, I was like, 'Hopefully, I can get to a Division II school," Robinson said.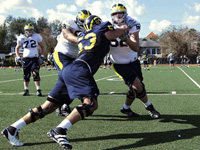 Bowl preparations 'stepped up a couple notches' under new coach Brady Hoke
Man, the vibes around this team, in this city, couldn't be much different than last year's bowl prep. "Culture change" might be a cliche, but it's applicable here. Ryan Van Bergen said Gator Bowl practices last year were less physical and less was expected of them as compared to this year's Sugar Bowl prep.
Sweet-dancing Fitz Toussaint has 'blossomed' this season for Michigan football team
By the end of the season, Fitz Toussaint was rolling. He broke 100 yards rushing in four of the final five games and had 678 yards in that stretch. That's more than any tailback all of last season. "The more I got to touch the field, the more I got to touch the ball, the more I got comfortable," Toussaint said. "So, I think that really helped me a lot, and that really got me acclimated."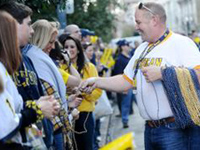 Photo gallery: Michigan fans gather in New Orleans for Sugar Bowl pep rally
AnnArbor.com photographer Melanie Maxwell captured the spirit of a Michigan pep rally in downtown New Orleans on Sunday. The event, sponsored by the Michigan Alumni Association, was held on Canal Street and included the Michigan marching band, the cheer team, speeches by coach Brady Hoke and several players and more.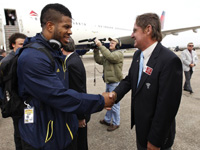 Michigan football team arrives in New Orleans with high hopes
Smiles were wide and spirits were high as the Michigan football team de-planed from its charter flight on a landing strip in Southern Louisiana. An old-time New Orleans brass band greeted them with sounds of the city. But Michigan coach Brady Hoke made one thing clear: The Wolverines will enjoy New Orleans, but there's plenty of work to be done.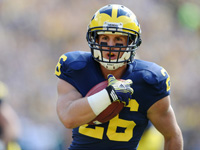 Drew Dileo is headed home to land of gators and gumbo for Sugar Bowl
Drew Dileo grew up in the heart of SEC country and just down the road from LSU, but idolized Charles Woodson, Mike Hart and Desmond Howard. His bedroom's curtains and pillows were plastered in maize and blue. He asked for a Michigan comforter for Christmas when he was 8. So, naturally, Michigan was at the top of Dileo's wish list, even though it seemed to be a pipe dream.

OTHER MICHIGAN HEADLINES

• (1/3/12) Ex-Michigan coach Lloyd Carr compares quarterback Denard Robinson to former great Anthony Carter
• (1/3/12) Michigan football team embracing national stage, chance at validating season
• (1/2/12) What can Michigan learn from Clemson? Stop either David Wilson or Logan Thomas
• (1/2/12) Photo gallery: Cheerleaders, marching band, Dhani Jones and more cheer for Michigan football team
• Count basketball coach John Beilein among fans all in for Michigan football team's Sugar Bowl date
• (1/2/12) Highlights from Brady Hoke's final news conference before Sugar Bowl
• (1/2/12) Flashback: Auburn won Bo vs. Bo matchup in Michigan's last Sugar Bowl appearance
• (1/2/12) Michigan's Ryan Van Bergen, and his illustrious hair, finishes career as de facto captain
• (1/2/12) Former gymnast Blake Countess could be key to stopping Virginia Tech's stable of large receivers
• (1/1/12) Sugar Bowl notebook: Cornerback J.T. Floyd joins Denard Robinson in gauging NFL draft stock
• (1/1/12) DL Will Heininger not expected to play, Thomas Gordon reclaims safety job and other notes
• (12/31/11) Michigan's Stephen Hopkins on how he carved out full-time role at fullback
• (12/31/11) Michigan receiving corps is a 'nasty crew' because of their punishing blocking style
• (12/30/11) Michigan quarterback Denard Robinson: 'Oh yeah, I expect to be back'
• (12/30/11) Michigan adjusting to unseasonably warm temperatures in New Orleans
• (12/29/11) Notebook: Michigan has 'sluggish' start to practice, but Michael Schofield impresses
• (12/28/11) How Michigan will compensate for loss of Nathan Brink, uncertainty of Will Heininger on defensive line
• (12/28/11) 5 position battles that will heat up as Michigan football team begins practice in New Orleans
• (12/28/11) Michigan football program sells about 86 percent of its Sugar Bowl tickets
• (12/27/11) Nice year for Michigan QB Denard Robinson, right? Wait till next year, Al Borges says
• (12/26/11) Michigan offensive coordinator Al Borges knows Virginia Tech's defense well, and identifies a weakness

VIRGINIA TECH HEADLINES
• (1/2/12) Sugar Bowl tidbits: Some things you may not know about Virginia Tech
• (1/2/12) Virginia Tech player's take: Bowl games are great, but gifts, entire week is too much
• (12/29/11) Virginia Tech respects Michigan for its combination of power, size and speed
• (12/29/11) Hokies down to one kicker after Tyler Weiss misses curfew, sent home
• (12/28/11) Virginia Tech arrives in New Orleans without kicker Cody Journell; Frank Beamer defends team's Sugar Bowl bid
• (12/27/11) Virginia Tech has distributed more than 14,000 tickets for Sugar Bowl
• (12/24/11) Know the foe: Links to recent Virginia Tech coverage

VIDEO STORIES
A compilation of stories that feature videos from AnnArbor.com reporter Kyle Meinke and MGoBlue.com, but first a multimedia presentation from staff photographer Melanie Maxwell:

• (1/1/12) Michigan works out in the Superdome
• (12/30/11) Sugar Bowl fun: Ryan Van Bergen defeats Big Will Campbell in rap battle
• (12/30/11) Michigan football players happy to practice in full pads
• (12/29/11) Michigan coaches work closely with Will Campbell, Quinton Washington in practice
• (12/29/11) A look at Michigan's arrival in New Orleans and first bowl practice
• (12/27/11) Details, details, details: Moving Michigan football gear to Sugar Bowl is a major operation
• (12/27/11) Michigan players coached on how to enjoy a short break before workouts resume

Associated Press capsule

WHAT'S AT STAKE

Michigan, which won 10 games in Brady Hoke's first season as head coach, is in its first BCS bowl since the 2007 Rose Bowl and is looking for its first BCS Bowl victory since defeating Alabama in overtime of the 2000 Orange Bowl. Virginia Tech seeks to salvage an otherwise impressive 11-win season which was marred by a lopsided loss to Clemson in the ACC championship game. That result left many questioning whether the Hokies deserved a BCS bid, so they look to answer that with their first 12-win season in program history.
KEY MATCHUP

Virginia Tech RB David Wilson, a projected first-round NFL draft choice who rushed for 1,627 yards and nine TDs this season, against Michigan's defense. The Wolverines have improved defensively since coordinator Greg Mattison returned to Michigan from the NFL's Baltimore Ravens, but still had some hiccups and yielded 1,549 rushing yards to opponents this season.
PLAYERS TO WATCH

Virginia Tech: Senior WRs Jarrett Boykin (180 catches, 2,854 yards) and Danny Coale (157, 2,541) rank first and second in career catches and yards receiving for the Hokies.
Michigan: Dual threat QB Denard Robinson is not relied upon under Hoke's regime as he once was to create the bulk of the offense, but he remains a constant big-play threat. He ranks eighth all-time at Michigan in both rushing (3,216 yards) and passing (4,814 yards). He is also sixth in school history with 38 TD passes and fifth with 35 TD runs.
FACTS & FIGURES

Virginia Tech is in its 19th straight bowl and sixth BCS bowl since the 1995 season. ... The Hokies are 1-4 in BCS Bowls, including 1-2 in the Sugar Bowl, where they beat Texas on Dec. 31, 1995, and lost to Florida State on Jan. 4, 2000 and Auburn on Jan. 3, 2005. ... Tech is 9-15 all time in bowls. ... Virginia Tech has won at least 10 games in each of the past eight seasons. ... The Wolverines are making their 41st bowl appearance, taking a bowl game record of 19-21 into the Sugar Bowl. ... Michigan has played in one previous Sugar Bowl, losing 9-7 to Auburn on Jan. 2, 1984. ... Michigan is 18-3 all-time against schools from the ACC. ... The Wolverines have won one bowl game in their last six. ... Michigan is the only bowl participant this season to have played 10 other bowl teams during the regular season. ... Nine of Michigan's 10 victories this season came against teams that finished the season with six or more victories.

Statistical comparison
Rushing offense: Michigan 530-2,828 (235.7 ypg); Virginia Tech (542-2,453 (188.7 ypg)
Passing offense: Michigan 145-262-2,249 (187.4 ypg); Virginia Tech 224-377-2,592 (227.1 ypg)
Total offense: Michigan 792-5,077 (423.1 ypg); Virginia Tech 919-5,405 (415.8 ypg)
Rushing defense: Michigan 381-1,549 (129.1 ypg); Virginia Tech 422-1,401 (107.8 ypg)
Passing defense: Michigan 202-346-2,262 (188.5 ypg); Virginia Tech 196-391-2,680 (206.2 ypg)
Total defense: Michigan 727-3,811 (317.5 ypg); Virginia Tech 813-4,081 (313. 9 ypg)
Turnover margin: Michigan +6 (27-21); Virginia Tech +6 (22-16)
Scoring offense: Michigan 34.2 ppg; Virginia Tech 28.5 ppg
Scoring defense: Michigan 17.2 ppg; Virginia Tech 17.2 ppg

Michigan bowl history
Record: 19-21
Jan. 1, 2011: Gator Bowl (Mississippi St. 52, Michigan 14)
Jan. 1, 2008: Capital One Bowl (Michigan 41, Florida 35)
Jan. 1, 2007: Rose Bowl (Southern Cal 32, Michigan 18)
Dec. 28 2005: Alamo Bowl (Nebraska 32, Michigan 28)
Jan. 1, 2005: Rose Bowl (Texas 38, Michigan 37)
Jan. 1, 2004: Rose Bowl (Southern Cal 28, Michigan 14)
Jan. 1, 2003: Outback Bowl (Michigan 38, Florida 30)
Jan. 1, 2002: Citrus Bowl (Tennessee 45, Michigan 17)
Jan. 1, 2001: Citrus Bowl (Michigan 31, Auburn 28)
Jan. 1, 2000: Orange Bowl (Michigan 35, Alabama 34, OT)
Jan. 1, 1999: Citrus Bowl (Michigan 45, Arkansas 31)
Jan. 1, 1998: Rose Bowl (Michigan 21, Washington St. 16)
Jan. 1, 1997: Outback Bowl (Alabama 17, Michigan 14)
Dec. 28, 1995: Alamo Bowl (Texas A&M 22, Michigan 20)
Dec. 30, 1994: Holiday Bowl (Michigan 24, Colorado St. 14)
Jan. 1, 1994: Hall of Fame Bowl (Michigan 42, N.C. State 7)
Jan. 1, 1993: Rose Bowl (Michigan 38, Washington 31)
Jan. 1, 1992: Rose Bowl (Washington 34, Michigan 14)
Jan. 1, 1991: Gator Bowl (Michigan 35, Mississippi 3)
Jan. 1, 1990: Rose Bowl (Southern Cal 17, Michigan 10)
Jan. 2, 1989: Rose Bowl (Michigan 22, Southern Cal 14)
Jan. 2, 1988: Hall of Fame Bowl (Michigan 28, Alabama 24)
Jan. 1, 1987: Rose Bowl (Arizona St. 22, Michigan 15)
Jan. 1, 1986: Fiesta Bowl (Michigan 27, Nebraska 23)
Dec. 21, 1984: Holiday Bowl (Brigham Young 24, Michigan 17)
Jan. 2, 1984: Sugar Bowl (Auburn 9, Michigan 7)
Jan. 1, 1983: Rose Bowl (UCLA 24, Michigan 14)
Dec. 31, 1981: Bluebonnet Bowl (Michigan 33, UCLA 14)
Jan. 1, 1981: Rose Bowl (Michigan 23, Washington 6)
Dec. 28, 1979: Gator Bowl (North Carolina 17, Michigan 15)
Jan. 1, 1979: Rose Bowl (Southern Cal 17, Michigan 10)
Jan. 1, 1978: Rose Bowl (Washington 27, Michigan 20)
Jan. 1, 1977: Rose Bowl (Southern Cal 14, Michigan 6)
Jan. 1, 1976: Orange Bowl (Oklahoma 14, Michigan 6)
Jan. 1, 1972: Rose Bowl (Stanford 13, Michigan 12)
Jan. 1, 1970: Rose Bowl (Southern Cal 10, Michigan 3)
Jan. 1, 1965: Rose Bowl (Michigan 34, Oregon St. 7)
Jan. 1, 1951: Rose Bowl (Michigan 14, California 6)
Jan. 1, 1948: Rose Bowl (Michigan 49, Southern Cal 0)
Jan. 1, 1902: Rose Bowl (Michigan 49, Stanford 0)


Virginia Tech bowl history
Record: 9-15
Jan. 3, 2011: Orange Bowl (Stanford 40, Virginia Tech 12)
Dec. 31, 2009: Chick-fil-A Bowl (Virginia Tech 37, Tennessee 14)
Jan. 1, 2009: Orange Bowl (Virginia Tech 20, Cincinnati 7)
Jan. 3, 2008: Orange Bowl (Kansas 24, Virginia Tech 21)
Dec. 30, 2006: Chick-fil-A Bowl (Georgia 31, Virginia Tech 24)
Jan. 2, 2006: Gator Bowl (Virginia Tech 35, Louisville 24)
Jan. 3, 2005: Sugar Bowl (Auburn 16, Virginia Tech 13)
Dec. 26, 2003: Insight Bowl (California 52, Virginia Tech 49)
Dec. 31, 2002: San Francisco Bowl (Virginia Tech 20, Air Force 13)
Jan. 1, 2002: Gator Bowl (Florida State 30, Virginia Tech 17)
Jan. 1, 2001: Gator Bowl (Virginia Tech 41, Clemson 20)
Jan. 4, 2000: Sugar Bowl (Florida State 46, Virginia Tech 29)
Dec. 28, 1998: Music City Bowl (Virginia Tech 38, Alabama 7)
Jan. 1, 1998: Gator Bowl (North Carolina 42, Virginia Tech 3)
Dec. 31, 1996: Orange Bowl (Nebraska 41, Virginia Tech 21)
Dec. 31, 1995: Sugar Bowl (Virginia Tech 28, Texas 10)
Dec. 30, 1994: Gator Bowl (Tennessee 45, Virginia Tech 23)
Dec. 31, 1993: Independence Bowl (Virginia Tech 45, Indiana 20)
Dec. 31, 1986: Peach Bowl (Virginia Tech 25, N.C. State 24)
Dec. 15, 1984: Independence Bowl (Air Force 23, Virginia Tech 7)
Jan. 2, 1981: Peach Bowl (Miami 20, Virginia Tech 10)
Dec. 14, 1968: Liberty Bowl (Mississippi 34, Virginia Tech 17)
Dec. 10, 1966: Liberty Bowl (Miami 14, Virginia Tech 7)
Jan. 1, 1947: Sun Bowl (Cincinnati 18, Virginia Tech 6)


Sugar Bowl results

2011: Ohio State 31, Arkansas 26
2010: Florida 51, Cincinnati 24
2009: Utah 31, Alabama 17
2008: Georgia 41, Hawaii 10
2007: LSU 41, Notre Dame 14
2006: West Virginia 38, Georgia 35
2005: Auburn 16, Virginia Tech 13
2004: LSU 21, Oklahoma 14
2003: Georgia 26, Florida St. 13
2002: LSU 47, Illinois 34
2001: Miami 37, Florida 20
2000: Florida St. 46, Virginia Tech 29
1999: Ohio St. 24, Texas A&M 14
1998: Florida St. 31, Ohio St. 14
1997: Florida 52, Florida St. 20
1995: Virginia Tech 28, Texas 10
1995: Florida St. 23, Florida 17
1994: Florida 41, West Virginia 7
1993: Alabama 34, Miami 13
1992: Notre Dame 39, Florida 28
1991: Tennessee 23, Virginia 22
1990: Miami, Fla. 33, Alabama 25
1989: Florida St. 13, Auburn 7
1988: Syracuse 16, Auburn 16, tie
1987: Nebraska 30, LSU 15
1986: Tennessee 35, Miami 7
1985: Nebraska 28, LSU 10
1984: Auburn 9, Michigan 7
1983: Penn St. 27, Georgia 23
1982: Pittsburgh 24, Georgia 20
1981: Georgia 17, Notre Dame 10
1980: Alabama 24, Arkansas 9
1979: Alabama 14, Penn St. 7
1978: Alabama 35, Ohio St. 6
1977: Pittsburgh 27, Georgia 3
1976: Alabama 13, Penn St. 6
1975: Nebraska 13, Florida 10
1974: Notre Dame 24, Alabama 23
1973: Oklahoma 14, Penn St. 0
1972: Oklahoma 40, Auburn 22
1971: Tennessee 34, Air Force 13
1970: Mississippi 27, Arkansas 22
1969: Arkansas 16, Georgia 2
1968: LSU 20, Wyoming 13
1967: Alabama 34, Nebraska 7
1966: Missouri 20, Florida 18
1965: LSU 13, Syracuse 10
1964: Alabama 12, Mississippi 7
1963: Mississippi 17, Arkansas 13
1962: Alabama 10, Arkansas 3
1961: Mississippi 14, Rice 6
1960: Mississippi 21, LSU 0
1959: LSU 7, Clemson 0
1958: Mississippi 39, Texas 7
1957: Baylor 13, Tennessee 7
1956: Georgia Tech 7, Pittsburgh 0
1955: Navy 21, Mississippi 0
1954: Georgia Tech 42, West Virginia 19
1953: Georgia Tech 24, Mississippi 7
1952: Maryland 28, Tennessee 13
1951: Kentucky 13, Oklahoma 7
1950: Oklahoma 35, LSU 0
1949: Oklahoma 14, North Carolina 6
1948: Texas 27, Alabama 7
1947: Georgia 20, North Carolina 10
1946: Oklahoma St. 33, St. Mary's, Cal. 13
1945: Duke 29, Alabama 26
1944: Georgia Tech 20, Tulsa 18
1943: Tennessee 14, Tulsa 7
1942: Fordham 2, Missouri 0
1941: Boston College 19, Tennessee 13
1940: Texas A&M 14, Tulane 13
1939: Texas Christian 15, Carnegie Tech 7
1938: Santa Clara 6, LSU 0
1937: Santa Clara 21, LSU 14
1936: Texas Christian 3, LSU 2
1935: Tulane 20, Temple 14