Posted on
Fri, Dec 2, 2011 : 12:05 p.m.
Ex-Michigan coach Rich Rodriguez to his new boss: How about a game against the Wolverines?
By AnnArbor.com Staff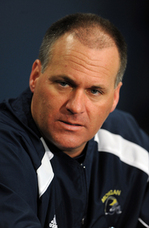 Arizona vs. Michigan? Rich Rodriguez vs. Brady Hoke?
Rodriguez, the former Michigan football coach who is the newly hired coach at Arizona is open to that matchup. And Rodriguez already has planted the seed with his boss.
From the Arizona Daily Star:
UA athletic director Greg Byrne said Thursday he and the Wildcats' new coach discussed playing Michigan, which fired Rodriguez after the 2010 season. "He brought it up like, 'Hey, let's look at this down the road,'" Byrne said. "I said, 'Sure.'" Byrne said the conversation lasted 10 seconds. He has yet to contact the Wolverines. "It's a two-way path to play a game," he said.
Byrne isn't the first person to mention the desire for an Arizona-Michigan game. J.T. Curtis, one of the most prominent high school football coaches in Louisiana, said he, too, spoke to Rodriguez, who said he wouldn't mind seeing the game in a few years.
Michigan does not have an open date until the 2014 season.