Posted on
Sun, Apr 22, 2012 : 5:59 a.m.
After 3 years on a 'supplemental' defense, Mike Martin's NFL stock has risen thanks to Greg Mattison
By Kyle Meinke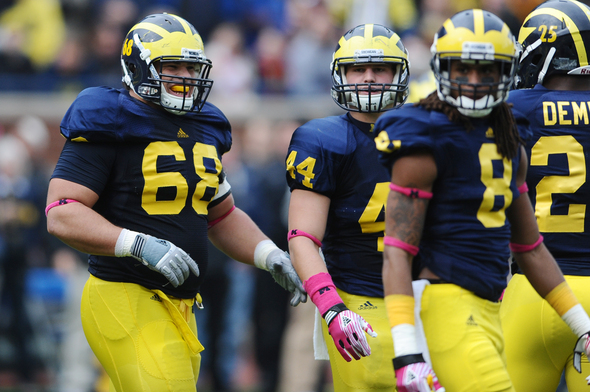 Melanie Maxwell | AnnArbor.com
Mike Martin arrived at Schembechler Hall recently for a private workout with the New England Patriots.
The former Michigan defensive lineman was prepared to answer the usual questions. What are your strengths? Weaknesses? What kind of system best fits you?
But he also got this: "Where's Coach Mattison at? I'd love to see him again."
Turns out, the person assigned to work out Martin had been a graduate assistant for Michigan defensive coordinator Greg Mattison, way back when.
Small world, eh?
Well, it gets a lot smaller when your coordinator is Mattison, who has coached college football for 31 seasons and in the NFL for three. He's been around a lot of people.
Mattison also developed a sterling reputation while in the pros with the Baltimore Ravens from 2008-10, and that has become a powerful tool for Martin as he prepares for this week's NFL Draft.
Martin is a solid third-round prospect, and has scouts buzzing over his technique and physicality. But he says his credibility with NFL personnel also has soared after his year with Mattison.
MIKE MARTIN AT A GLANCE

Height:
6-foot-1
Weight:
306 pounds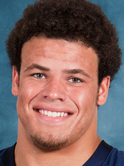 Hometown:
Redford, Mich.
High School:
Detroit Catholic Central
Position:
Defensive tackle
Notable:
Team captain as a senior. ... Named second-team all-Big Ten (coaches and media) in 2011. ... Named all-Big Ten (second team coaches, honorable mention media) in 2010. ... Three-time Michigan defensive lineman of the year. ... Played in 49 games, recording 172 tackles and 10.0 sacks.
Projections
ESPN's Mel Kiper Jr.: Third round
ESPN's Todd McShay: Third round
NFL.com: Fourth to seventh round
CBS Sports: Second to third round

Rankings
ESPN: No. 10 defensive tackle, No. 77 player overall
CBS Sports: No. 8 defensive tackle, No. 79 player overall

Combine results
Bench press: 36 repetitions, second among defensive tackles
40-yard dash: 4.88 seconds, third among defensive tackles
Three-cone: 7.19 seconds, third among defensive tackles
20-yard shuttle: 4.25 seconds, second among defensive tackles
Vertical jump: 33.5 inches, fourth among defensive tackles
Broad jump: 113.0 inches, first among defensive tackles

What they're saying
"Martin is arguably my favorite player in this draft. I could watch him over and over and over again. He's one of five or six players that are so much fun to watch because they just never quit. I nicknamed him 'Grunt.' He's just your classic grunt. He's just always working hard, and he's going to outwork you." -- McShay
Recent stories

"There's just no way I'd have the same kind of respect if it weren't for him," Martin told AnnArbor.com during a recent interview. "We were playing backyard defense (under former defensive coordinator Greg Robinson), pretty much. Just going out, picking a gap and just kind of doing whatever we wanted to do. It was a lot different."
Michigan's defensive struggles under former coach Rich Rodriguez are well documented. But during those three years, Martin still managed to become a defensive menace.
He could have declared for the NFL Draft after a dominant junior season, and few would have blamed him. The defense had set a school record for points allowed, and another coaching change meant he would have to learn his fourth system in as many years if he stuck around.
But he elected to return for his senior year. Turned out to be a sage move.
The laissez-faire defensive style played under Rodriguez and Robinson doesn't fly in the NFL, and Martin likely would have struggled with the transition. By returning, he received a year of tutelage under the demanding Mattison.
In a way, he got many of the lumps he would have incurred at the pro level out of the way in the college game, where players have greater latitude to learn and struggle. Martin's education jumped to warp speed.
"I learned more than I did in my first three years combined -- easily," Martin said.
Martin says he has a lot of respect for Bruce Tall, his defensive line coach under Rodriguez, but his progress stalled under Tall because he didn't have an expertise in the position.
He coached safeties for Rodriguez at West Virginia.
"It was nothing against him, he just didn't know what he needed to know to coach D-line," Martin said.
The overall coaching approach under Rodriguez devalued defense, Martin said.
"It wasn't very emphasized," he said. "He didn't really spend much too much time on the defense. We were kind of a supplement -- just there, trying to help out the offense."
Under Mattison and head coach Brady Hoke, the spotlight was returned to the defense. Martin went from having no coaches with defensive line expertise to three in Mattison, Hoke and position coach Jerry Montgomery. It became the most scrutinized position on the field.
For Martin, a player with all the tools but lacking in direction, that proved to be the impetus for lifting his game to the next level.
"One of the biggest things is he found out he had to get up here," said Mattison, gesturing his hand near his eyes. "When you're maybe one of the better players, and it's OK to be here" -- Mattison lowered his hand to his waist -- "you don't get better.
"So he just said, 'What do I gotta to do? You keep saying that's not good enough. What do I have to do?' Then all of the sudden he'd get up there, then there, and that's why I love the kid. He understood he can be as good as we wanted him to be and that's what he worked to be."
In turn, Michigan underwent a defensive renaissance. It jumped from 110th in total defense in 2010 to 17th last year. It allowed only 17.4 points per game -- about half the 35.2 it yielded in Rodriguez's final year.
Martin matured as well. Despite taking on constant double teams, he finished with a career-high 64 tackles and 3.5 sacks.
"It was the mentality that Coach Mattison brought in," Martin said. "He knows what it takes to win. When he came in, he just set the bar at a whole other level.
"We thought we were doing things we needed to do to get better, but watching film, we weren't. With Coach Mattison, being more technically sound and harping on all the little details really turned things around."
His size remains the biggest impediment to his draft prospects. He stands only 6-foot-1, which is slight by NFL standards, although his weight is up to 306 pounds.
He is ranked the No. 10 defensive tackle in the draft by ESPN, and No. 8 by CBS Sports.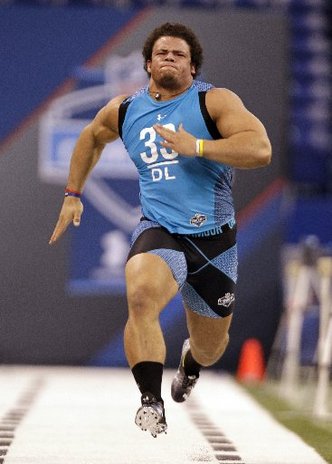 Associated Press
Yet, his play still stands out.
ESPN draft analyst Todd McShay called Martin "arguably my favorite player in the draft."
"I could watch him over and over and over again," McShay said. "He's one of five or six players that are so much fun to watch because they just never quit. I nicknamed him Grunt.' He's just your classic grunt. He's just always working hard, and he's going to outwork you.
"He's short, and he can get engulfed and pushed around by bigger guys and get caught up in traffic and all that. But ... I just think teams recognize what he can do, the effort with which he plays."
Martin says he's received heavy interest from several teams. The Pittsburgh Steelers are one that is seriously interested -- they sent head coach Mike Tomlin to Michigan's pro day to see Martin -- and the Houston Texans are another.
He's also received some interest from the Tampa Bay Buccaneers, and the Tennessee Titans hosted him on a visit earlier this month (although he did not work out for them).
Martin first turned heads in pro circles when he had one of the best showings at the Senior Bowl in January. Then he went to the combine in February and finished among the top-four defensive tackles in every drill, a breathless display of speed and power.
He says it was the result of his offseason training regimen. While many players choose to workout on campus, or head south to a training facility, Martin instead moved to nearby Novi and worked out rigorously with former Michigan strength coach Mike Barwis.
"I don't do that pretty-boy stuff," he said. "I'm blue collar."
It was a grueling regimen, but Martin says he's now in the best shape of his life as he prepares to enter rookie camp.
He also has continued to fine tune his mechanics with Mattison, making the drive back to Ann Arbor a couple times per week after completing his workouts with Barwis.
"He's torn my game down to the bare bones, and built it back up," Martin said. "I've benefited hugely from him, both in what these (scouts) think of me, but also in how I play the game.
"I can't even tell you what that means to me, to be where I am now."
Mattison says his phone has rung frequently from old colleagues, inquiring about Martin.
"I've got great relationships with some of the guys that are coaching," Mattison said. "They know I'm going to be brutally honest. No matter who it is, I think they know I'll never tell someone he could play, if he couldn't play.
"And there ain't a doubt about whether or not Mike Martin can play."
Kyle Meinke covers Michigan football for AnnArbor.com. He can be reached at 734-623-2588, by email at kylemeinke@annarbor.com and followed on Twitter @kmeinke.