Posted on
Thu, Sep 8, 2011 : 5:36 p.m.
Ex-Michigan star Desmond Howard not spilling the beans on ceremony Saturday at Michigan Stadium
By Nick Baumgardner
Earlier this week, Michigan athletic director Dave Brandon told reporters to "stay tuned" with regard to what he and the department have in store for Wolverine legend Desmond Howard on Saturday.
On Thursday, Howard echoed that statement - refusing to spill the beans, and saying that the ceremony in his honor prior to Michigan's nighttime contest against Notre Dame Saturday will be memorable.
"I think once you see what Dave Brandon and the University of Michigan have in store, then you're going to understand (what we mean when we say) the 'Michigan difference,' " Howard said Thursday.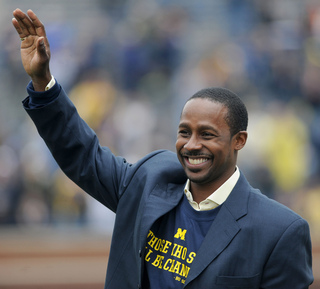 Angela J. Cesere | AnnArbor.com
The 1991 Heisman Trophy winner and Michigan football icon is in town this weekend in part for his duties with
ESPN's College "GameDay
," and also to receive an honor from the university surrounding his recent induction into the
College Football Hall of Fame.
On Tuesday, Brandon discussed certain aspects of the events surrounding Howard's pre-game ceremony. He did not give away what the school has in store, but did end any speculation that the university would retire his No. 21 jersey.
"We're going to recognize Desmond, and you stay tuned on how that's going to happen," Brandon said. "The retirement of jerseys is something we've been pretty public about in terms of having some serious difficulties and limitations.
"So I would not look forward to that, but I would look forward to some other things."
Earlier this summer, Howard said that it was time for Michigan to retire both his and fellow Heisman winner Charles Woodson's jerseys.
On Thursday, though, his tune was markedly different.
"As a player, you feel as though retiring your number is the biggest honor," Howard said. "But when you do what I do (at ESPN), and you see guys' numbers getting retired that didn't accomplish half of what you accomplished - it kind of cheapens it a bit. It's like everyone's retiring numbers now.
"I think they're doing something that you'll be really very surprised and pleased with."
Howard - who said he would be joined by 'close family' members this weekend - said he's aware of a portion of the festivities Michigan has in store for him Saturday, but not the entire package.
When asked if he's pleased with the part he knows about, Howard responded affirmatively.
"Watch my reaction," he smiled.
Howard slams Miami, Nevin Shapiro
Asked Thursday if he was concerned about the state of college football given the recent rash of off-field scandals, Howard said that he was, and that the lack of overall respect for coaches in today's game is a main reason for the issues.
"People can't wrap their mind around a clean player or clean program these days," he said. " And I remind people, 'You have to understand that I played for a coach who was a no-nonsense coach.' As players, we felt as though Bo Schembechler had eyes and ears everywhere on campus. We didn't think we could do anything that wouldn't get back to the old man.
"That's how we felt as players. You really didn't cross that line, and it didn't cross your mind to cross that line. You walked the straight and narrow. People can't wrap their minds around that now because it's so prevalent. But it's because the coaches don't have that type of respect - from the community, from their players or everybody they let infiltrate (your program)."
Howard - who is a current Miami resident - went on to say that he has a hard time believing how no one at the University of Miami put a stop to former rogue booster Nevin Shapiro during his lengthy run inside the Hurricane program.
He added that he met Shapiro for "five minutes at a (Miami) Heat game," and was easily able to draw his own conclusion from there.
"I live in Miami, I've seen that scumbag snake Shapiro," he said. "There's no way he could walk in this room and you wouldn't think he was scum. It's impossible. But they dealt with this guy for eight years and you're going to tell me no one knew?"
No longer a pose striker
Howard admits that his legendary Heisman pose following a punt return touchdown against Ohio State in 1991 was a moment that changed his life forever.
But does he strike the pose anymore?
"It was something that at the Hall of Fame enshrinement in South Bend, Jon Gruden asked me to do it, and I said, 'I don't do it anymore,' " he said. " If I do it, it cheapens that moment. Just leave it for those who experienced it in Ann Arbor." Howard also added that he doesn't offer any type of Heisman advice to Michigan junior quarterback Denard Robinson - saying that Robinson is talented enough to win the award someday, and that he should let his skills do all his talking for him.
"(The Heisman) was never a goal of mine. Once it becomes attainable you want to win it because we're competitors by nature," he said. " I never thought about it, I just went out there and played my game. To our credit, it wasn't like Michigan force-fed me the ball. I don't even think I had 1,000 yards receiving that year, everything that happened, happened within the flow of the offense.
"I tell (Robinson) to play his game and let the chips fall where they may."
Nick Baumgardner covers Michigan basketball for AnnArbor.com. He can be reached at 734-623-2514, by email at nickbaumgardner@annarbor.com and followed on Twitter @nickbaumgardner.