Posted on
Wed, Apr 25, 2012 : 5:59 a.m.
Former Michigan WR Junior Hemingway rises into middle-round projections of NFL Draft
By Kyle Meinke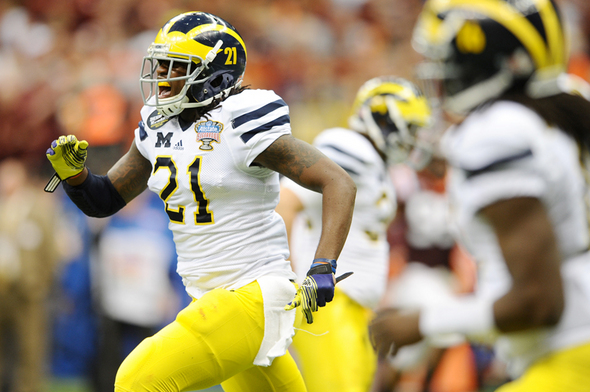 Melanie Maxwell I AnnArbor.com
Junior Hemingway concluded a trying five-year Michigan football career on a Superdome podium, where he accepted his Sugar Bowl MVP trophy before a national TV audience.
With tears welling in his eyes, his two touchdowns the difference in the Wolverines' overtime victory, he exclaimed to the word that "Man, I'm telling you, it feels too good, man. Too good."
And yet, things have gotten even better for the Wolverines' top receiver.
ESPN's Mel Kiper Jr., one of the preeminent voices on the NFL Draft, originally projected Hemingway as, at best, a seventh-round pick for this week's NFL Draft. There even was a chance he'd slip out of it entirely.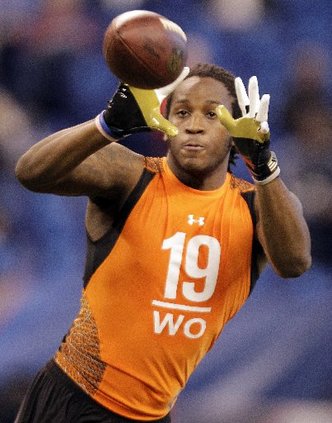 AP Photo
But after a strong showing at the NFL Scouting Combine, bolstered by a good performance at Michigan's pro day, Kiper says Hemingway has climbed into the fourth- to fifth-round range.
"Junior Hemingway is a very underrated receiver," Kiper said.
And why is that?
"Probably would have gone higher if he had a little bit more productivity," he offered.
Therein lies the biggest reason Hemingway entered the offseason as a castaway on most draft boards.
His first four seasons out of Conway, S.C., were littered with injury and illness, which shredded any chance for him to put up big-time numbers. He also played in three offensive systems.
He says he prefers to look at that as a positive, though.
"I don't think it really hurt me, being that I played in three different offenses," Hemingway said during a recent interview. "I think it's pretty good, because I was able to learn three (systems). ... That might help me out on the learning curve at the next level."
It could help him adapt quickly to an NFL offense -- particularly after Michigan introduced pro-style elements last season -- but it likely hurt his numbers in the college game.
So did playing for three years in former coach Rich Rodriguez's spread-option offense, which focused on the run. When Michigan did pass, it preferred short to intermediary routes.
Quarterback Denard Robinson, who has struggled with his consistency in the passing game, also hurt Hemingway's stock.
"Keep in mind, Denard Robinson is not going to be a quarterback in the NFL -- he's going to be probably a receiver or return man," Kiper said. "That's what hurts Junior Hemingway. ... Denard Robinson is a great college quarterback, but his throwing ability is very questionable."
Hemingway had a lot of forces weighing down his stock. But in the past year, he's turned things around.
First, there was the hiring of coordinator Al Borges for his senior year, and with it an infusion of pro-style elements to the offensive scheme. The system was still run-oriented, but it stretched the passing game vertically.
Hemingway is most effective down field, as the Wolverines soon discovered. He is a big-bodied wideout at 6-foot-1, 222 pounds, and flourished in one-on-one matchups downfield.
He ranked third in the country in yards per catch (20.6) last year, and became Michigan's go-to receiver. He finished with 34 catches for 699 yards and four touchdowns, all career highs.
His teammates nicknamed him "Big Play Hemingway."
"Hemingway, when the ball is in the air, he's so competitive, times his jumps well, and I think he does a really good job in that facet of the game," ESPN draft analyst Todd McShay said during a recent teleconference.
"Obviously, he doesn't have the speed, and getting in and out of breaks and a lot of the little things that you look for in wide receivers, but I do think he's going to catch on."
Speed has always been the biggest knock on Hemingway's game, but he showed at the combine in February he has made tremendous strides. He still is not a blazer -- his 4.53-second 40-yard dash was 19th among receivers at the combine -- but his quickness is far better than most anticipated.
He finished first among receivers in the three-cone drill and 20-yard shuttle, as well as second in the 60-yard shuttle. Those are terrific times, considering his 6-1, 222-pound frame.
And as those times dropped, his stock rose. He's now squarely in the draft, according to the major draft analysts and sites, and has erased many of the doubts that lingered about whether he will make it at the next level.
"I just think that he catches the ball well enough and has instincts as a receiver and a route runner that he's going to wind up, I think, outplaying his draft spot," McShay said.
Kyle Meinke covers Michigan football for AnnArbor.com. He can be reached at 734-623-2588, by email at kylemeinke@annarbor.com and followed on Twitter @kmeinke.