Posted on
Sat, Jan 7, 2012 : 5:59 a.m.
Michigan receiver Junior 'Big Play' Hemingway concludes winding career as Sugar Bowl MVP
By Kyle Meinke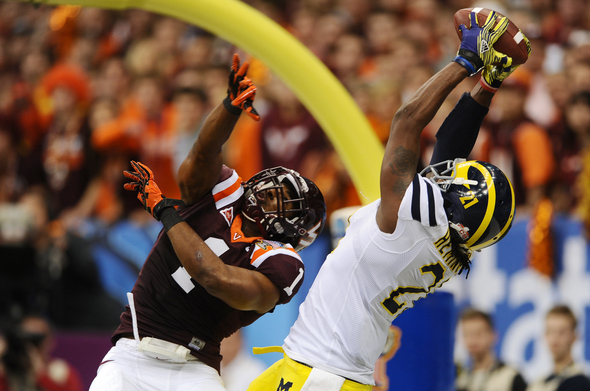 Melanie Maxwell | AnnArbor.com
There are a lot of people who say bowls are meaningless.
Those people should take a look at Junior Hemingway as he accepted his MVP trophy after the Sugar Bowl.
Hemingway is a fifth-year senior, party to a Michigan football class that is the first since the 1920s to play for three head coaches at the school. They'll be remembered for the depths to which they sank, and the ability to still triumph.
On a day little went right for the Wolverines' offense, Hemingway, the team's leading receiver, had just two catches. They both went for touchdowns — Michigan's only touchdowns — in a 23-20, overtime win against Virginia Tech.
It all came to a head on that stage near midfield of the Superdome.
"It shows our hard work," Hemingway said, caressing his trophy, head bowed, voice cracking, tears streaming down his face. "It shows everything we put in from Day One, all the long days, long nights. Man, I'm telling you, it feels too good, man. Too good."
It didn't always feel good against Virginia Tech, as the offense sputtered to fewer than 200 yards, its worst production of the year, and had difficulty sustaining drives.
But Hemingway capped the Wolverines' longest drive of the day with a 45-yard touchdown catch, grabbing the ball just moments before Virginia Tech safety Eddie Whitley swooped in for a possible interception. That gave Michigan its first lead, 7-6, in the second quarter.
"I heard the safety coming over; I didn't know if he was going to take me out or what," Hemingway said. "Snatched the ball in there, ran it in for six."
Hemingway's second catch came early in the third quarter, when he went up high for the ball deep in the back of the end zone. It was reminiscent of a play late against Iowa, when Hemingway went up for a possible game-tying score, but officials ruled the play an incomplete pass and Michigan lost the game.
Not this time, as Hemingway dragged one foot in bounds for the Wolverines' final touchdown, helping to ensure the loss against the Hawkeyes would be the last for Team 132.
"It was an all-goal play and I got behind the safety, and I was thinking in my head: 'Please, Denard, throw this up, please, I want you to so bad,'" Hemingway said. "And he threw it up. He threw it up. And I made a play on it."
Hemingway finished with only those two grabs, but they were big ones, further bolstering the nickname teammates have bestowed upon him: "Big Play Hemingway."
He averaged 20.6 yards per catch this year, third most in the country. Eleven of his 34 receptions went for at least 25 yards.
Hemingway finished with 34 catches for 699 yards and four touchdowns this year, all career highs.
Touchdown No. 1:
Touchdown No. 2:
Kyle Meinke covers Michigan football for AnnArbor.com. He can be reached at 734-623-2588, by email at kylemeinke@annarbor.com and followed on Twitter @kmeinke.