Posted on
Sat, Sep 4, 2010 : 9:51 p.m.
For Brock Mealer, Saturday's walk out of Michigan Stadium tunnel was 'dream come true'
By Pete Bigelow
Before Brock Mealer began his walk across the Michigan Stadium football field Saturday, he had one question for athletic director Dave Brandon.
"Would it be OK if I touched the banner?"
With an enthusiastic endorsement from Brandon, that's exactly what Mealer did in front of the largest crowd to ever watch a college or professional football game in U.S. history.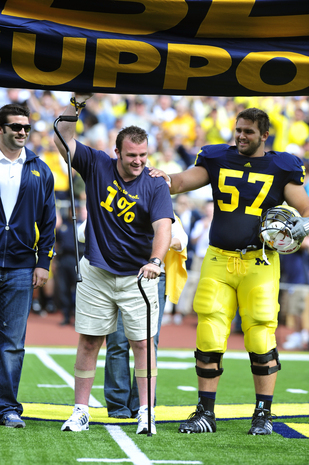 Melanie Maxwell | AnnArbor.com
It was an emotional moment for Mealer, Brandon and the rest of the 113,090 in attendance prior to Michigan's 30-10 dismantling of Connecticut.
Mealer was paralyzed from the belly button down in a car accident that took the life of his father, Dave, and his brother's girlfriend, Hollis Richer on Dec. 24, 2007.
Doctors told him he would never walk again.
Last October, Michigan coaches invited Mealer to work with the team's strength and conditioning staff. As he made unprecedented progress, the Wolverines, including his brother Elliott, rallied around him.
In the spring, Michigan football coach Rich Rodriguez hatched a plan to have Brock Mealer lead the team through the tunnel and onto the field before the opener.
"I was more nervous in that tunnel than I have been in a long time, maybe ever," Brock Mealer said afterward. "I did a lot of praying and left it in God's hands. In that moment after the national anthem, I started looking up at all the people in the stands.
"It's just a blessing, unbelievable."
With his brothers, Blake and Elliott by his side, and his mother, Shelly, walking behind him, Brock Mealer left his wheelchair on the sideline and paced from the tunnel to midfield, gaining momentum as he walked.
The crowd roared with thunderous approval.
"We were halfway down the tunnel, and so the upperclassmen and the seniors with me got to see it," Rodriguez said. "It was a touching moment for us."
For Mealer and his family, it was a major milestone.
"I'm so thankful for Coach Rod giving me this opportunity and Dave Brandon making it happen," he said. "It's been surreal. We've been through the nightmare. Today was a dream come true."