Posted on
Mon, Aug 9, 2010 : 9:50 p.m.
Mark Moundros, Stephen Schilling named Michigan football captains and other notes
By Michael Rothstein
When Rich Rodriguez took over the Michigan football program before the 2008 season, he eliminated the long-standing tradition of having full-season captains.
Now, he's making a compromise and bringing them back.
At the urging of his senior class - the last full class to have been recruited and played under former coach Lloyd Carr - he will institute two permanent captains in linebacker Mark Moundros and left guard Stephen Schilling and then have two captains rotate from game to game.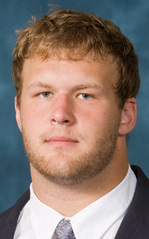 "It was their idea to do two permanent captains before the season and then two game captains throughout the season," Rodriguez said. "Which I had never thought of that concept, because I like all the seniors to have the ability to be a game captain and have some ownership of the team.
"But there are times if you have the right two, they can lead now and take charge of the team."
In Rodriguez's previous years, he named season captains at the end of the year. The last captains Michigan had named prior to the start of the season were in 2007, when offensive lineman Jake Long, running back Mike Hart and linebacker Shawn Crable were selected.
It's about Michigan football Rodriguez spoke to the media for the first time since his name surfaced in a Notice of Allegations of NCAA violations at West Virginia last week.
On Monday, he declined further comment on the case, which also alleges Rodriguez failed to promote an atmosphere of compliance in Morgantown - the same charge he is fighting in the Michigan case.
"We made a statement about that, didn't we," Rodriguez said. "I'm talking about Michigan football."
Current West Virginia coach Bill Stewart was also named in the West Virginia case with the same allegation.
Negotiations ongoing Despite a report that Michigan and Alabama have finalized a deal to play in the new Dallas Cowboys' stadium in 2012, Rodriguez said Monday that the negotiations are ongoing.
"You all tell me, you think that would be fun," Rodriguez joked.
Should the deal come to pass, it would give Michigan two marquee non-conference games away from Ann Arbor in 2012 - at Notre Dame and a neutral site game against the 2009 national champion.
It would also give Michigan a chance to recruit more in Texas, one of the most fertile high school football states in the country.
Number of parents don't matter When asked about the comments made by former Michigan defensive coordinator and current Eastern Michigan coach Ron English regarding recruiting players from two-parent homes, Rodriguez said it doesn't matter how many parents a player has.
It matters more about the character of the kid.
"Anybody you recruit, you want someone who is totally committed to doing all the right things on and off the field, getting a degree, being a successful football player and being a good person," Rodriguez said. "I've had some from two parents, one parent and no parents.
"So I don't pigeonhole my recruiting class into a certain socioeconomic or certain type of family situation because I've been fortunate to have success with guys from all different types of scenarios."
This and that Rodriguez said some freshmen as well as running back Michael Shaw missed practice because of classes. Shaw's eligibility for 2010 is still in question pending the end of summer school. … It took one day of practice, but Rodriguez seemed confident freshman Will Hagerup will be the Wolverines' starting punter against Connecticut on Sept. 4.
Michael Rothstein covers University of Michigan basketball for AnnArbor.com. He can be reached at (734) 623-2558, by e-mail at michaelrothstein@annarbor.com or follow along on Twitter @mikerothstein