Posted on
Wed, Feb 23, 2011 : 9:30 a.m.
Former Michigan guard Steve Schilling prepares for this week's NFL Combine
By Michael Rothstein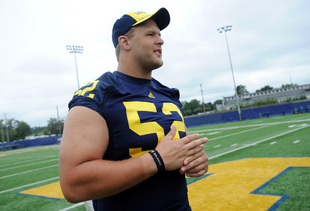 The 50-plus days since Steve Schilling played his final football game for Michigan all revolved around intense preparations for the NFL Scouting Combine.
Schilling is training in Arizona and he played in the Senior Bowl since finishing his college career Jan. 1 in the Gator Bowl. What's been the biggest moment as he prepares for the April 28-29 NFL Draft?
"So many new things every day," Schilling said Monday night from Arizona. "Working with new people and meeting so many players that are going to be first-round picks and big-time players in the NFL for a long time, and working with my position coach here. There are so many things, I can't pick one out."
Much of his focus has been toward this week's trip to Indianapolis, where Schilling and former Michigan linebacker Jonas Mouton are two of the more than 300 prospects invited to the combine. It started Wednesday and concludes Tuesday.
The combine is the second of the true high-profile events in the pre-NFL Draft cycle following the college all-star games. Schilling played in the Senior Bowl.
"Obviously the practices are more important, but I thought I played pretty well," Schilling said. "Tried to give good effort for practices and the game. I did fine up there, got to play a lot of minutes, which was great, and had fun. Thought I played pretty well."
That was also the message his agent, Doug Hendrickson from Octagon, relayed. Hendrickson also has been helping Schilling prepare for the combine.
Hendrickson set Schilling up with Athletes Performance, where the 6-foot-5 Bellevue, Wash., native has spent time paired with former Wisconsin defensive end J.J. Watt working on drills and techniques. Schilling also spent time preparing for team interviews, which are often described as the most stressful portion of the pre-draft routine.
"I think I'm going to be OK, but it's definitely helpful," Schilling said. "You go through the mock interviews with guys, and you realize how easily they can twist words on you and get you. So I just have to be prepared to get in there and that you are saying what you want to say and when you want to say it."
NFL.com and CBSSports.com list Schilling as a likely mid-round selection. NFL.com describes Schilling as a "very complete pass protector who can deal with the bull rush, slide his feet some, has hands that never stop moving and can pick up blitzers."
Both CBS and NFL wrote Schilling needs improvement on his run blocking. His plan for the combine? Work as hard as he can.
"You hear certain things that someone wants or needs, but I can't really look into that too well," Schilling said. "I just need to do my best at everything and prove I can be a hard worker and dependable.
"Someone who can be an asset to the team."
Michael Rothstein covers Michigan basketball for AnnArbor.com. He can be reached at (734) 623-2558, by e-mail at michaelrothstein@annarbor.com or follow along on Twitter @mikerothstein.