Posted on
Mon, Jan 10, 2011 : 2:57 p.m.
Former Wolverines felt disconnected from Michigan football under Rich Rodriguez
By Pete Bigelow
Former Michigan football players pride themselves on maintaining a connection with their alma mater and passing down traditions they consider sacred to current Wolverines.
That didn't happen under Rich Rodriguez, several said.
While former coaches and players were welcomed with open arms in previous eras, players said they felt unwanted at Schembechler Hall over the past three years.
"There's definitely been some disconnection," said Aaron Shea, a fullback and tight end at Michigan who now works for the Cleveland Browns.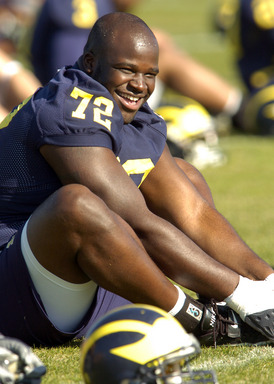 File photo
During his press conference announcing Rodriguez's firing, Michigan athletic director Dave Brandon acknowledged that a rift had developed within the school's family.
"We have been divided to a large extent, and we continue to be divided," Brandon said.
Part of that rift has been the alienation former players have felt from the football program. Rueben Riley, an offensive lineman from 2003 to 2006 who later played three years in the NFL, said former players have not been included in the program as they have been in the past.
"When I was around, you'd see guys like Hutch (Steve Hutchinson) come back and talk, (Gary) Moeller come back, and you could just see their passion," he said.
"For a coach to have Lloyd Carr on campus and never have him back to talk to the team? That's unbelievable to me."
Following stints with the Carolina Panthers, Miami Dolphins, Washington Redskins and New York Giants, Riley moved to Belleville in 2009.
While staying in shape for his job with the Hartford Colonials of the United Football League, he also volunteered to tutor student-athletes in Michigan's Academic Success Program.
RELATED CONTENT
In that respect, he was involved with Michigan athletics. In other ways, he felt unwanted.
When he worked out at the current facilities, he found an atmosphere quite different than the one he remembered.
"I remember guys lifting with (former strength coach Mike) Gittleson, and it was 'everybody gather up' and listen to Jeff Backus for two minutes or A-Train (Anthony Thomas) for two minutes,'" Riley said.
In the past year?
"You could tell, it felt like they were doing you a favor," he said. "But I didn't consider it a slap in the face, because they didn't reach out to anybody."
Riley and others thought Rodriguez underestimated the role former players and coaches play in the Michigan program.
They tried to give him the benefit of doubt - conceding that Michigan alumni are more active in their program than former players at other universities and they understood an outsider may not know that.
But that involvement, they say, is part of what makes Michigan special.
Embracing the history of Michigan and its players should go with the territory of coaching the Wolverines, said Jon Jansen, a two-time all-Big Ten player at Michigan. "Coaching the team might be the easiest part of the job," he said. "Trying to live up the legacy of coaches who came before, Bo, Mo and Lloyd, and dealing with a lot of former players that are very passionate about the university is a big part of this."
Jansen, Shea and Riley agreed they'd prefer Brandon hire a coach with Michigan ties. Beyond that, they want someone who respects the past.
"I have the utmost respect for Dave Brandon and know he'll do a good job," Shea said. "He'll get whoever is the best coach out there, someone who knows this is a dream job. This isn't an NFL job that comes open every few years, this is a sacred job."
Pete Bigelow covers the Michigan football team for AnnArbor.com. He can be reached at (734) 623-2551, via e-mail at petebigelow@annarbor.com and followed on Twitter @PeterCBigelow.