Freshman DT Ondre Pipkins showcases impressive athleticism in Michigan's 1st week of practices
Posted on Fri, Aug 10, 2012 : 6:30 a.m.
Defensive line is one of the most difficult positions for a true freshman to figure out.
Tackle Ondre Pipkins seems to be well on his way to doing just that for the Michigan football team.
And Michigan needs tackles.
"Pip's a guy that is just real strong, and he goes real hard," senior defensive end
Craig Roh
said after Thursday's practice. "I've seen a couple plays where he's just knocked back the quarterback or the running back or something. He's pretty good with his pass rush as well. For how big he is, he moves pretty well.
"I saw a few highlight tapes of his, but actually seeing him in person move like that was pretty impressive."
The Wolverines have lost starting tackles Mike Martin and Will Heininger, and their replacements -- senior Will Campbell and junior Jibreel Black -- combine for one career start.
Coaches at various points have praised reserves Quinton Washington and Richard Ash, but neither has played in more then mop-up duty and combine for three total tackles.
Michigan could use a player such as Pipkins to step into the rotation.
The Wolverines have practiced only four times, and their first fully padded workout won't be until Friday afternoon, so it's difficult to get a good read on any freshman this early -- and particularly one who plays a physical position such as defensive line.
WIN UM vs. ALABAMA TICKETS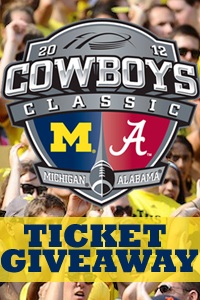 Want to check out Michigan take on defending national champion Alabama?
Click here to visit the AnnArbor.com Michigan Football News and Views Facebook page
and vote for who will be the Wolverines' most important player, besides Denard Robinson, in the 2012 season. That vote will earn you a chance to win three free tickets.
Related:
Ondre Pipkins hopes to follow in footsteps of his mentor, ex-Michigan star LaMarr Woodley
But Pipkins' athleticism already has stood out, which is notable because of his enormous size. He weighed in at 337 pounds on the team's initial roster, and coach Brady Hoke said he would like him to get down to around 320 pounds.
Instead, Pipkins actually gained three pounds on the latest roster, weighing in at 340.
It's a similar career arc of Campbell, who, like Pipkins, was a highly touted five-star recruit coming out of high school. But Campbell's career -- which began at 356 pounds -- has been largely disappointing.
The tackles are rooming together during camp, and Campbell has taken Pipkins under his wing.
"I've been talking to him and getting in his head and make sure he won't make the mistakes I did," said Campbell, who now weighs in at 308 pounds. "I'm trying to make sure he gets the point before I did."
Despite the similarities, Campbell says Pipkins is ahead of where he was at that age.
"He's probably stronger than I was coming in," Campbell said. "Quicker off the ball, probably. He's a hard worker. I'm surprised right now."
Fifth-year senior middle linebacker Kenny Demens, the Wolverines' leading tackler last year, has a unique vantage point of Pipkins because he plays right behind the freshman.
He called him the best freshman of camp.
"He's a natural learner," Demens said. "There's more to being physical -- he understands the game, he understands gap-control and I feel like he's been doing a better job since Day 1. He's making small strides.
"He's getting there."