Posted on
Fri, Aug 19, 2011 : 5:59 a.m.
Freshman Matt Wile will handle kickoffs, Denard Robinson completing 70 percent of his passes and more notes
By Kyle Meinke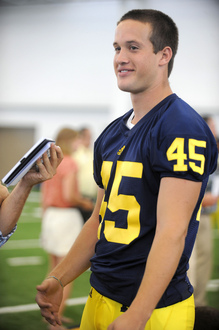 Angela J. Cesere | AnnArbor.com
Michigan football coach
Brady Hoke
said Thursday that true freshman
Matt Wile
will handle kickoff duties.
Hoke also said Wile is a strong contender to handle punting duties while starter Will Hagerup serves a four-game suspension to start the season. Place-kicker remains up for grabs with the season opener against Western Michigan looming Sept. 3.
If Wile wins all three jobs, he could become the first true freshman to kick off, attempt a field goal and punt for Michigan in a season opener since freshmen became eligible to play in 1972.
"I'd imagine he'll be our kickoff guy for sure," Hoke said of Wile after Thursday's practice. "I think he's punting pretty daggone well. We did that today, with some pressure on him, and he hit three pretty daggone good punts.
"With field goals and stuff like that, it's still a competitive process."
Wile is challenging incumbents Seth Broekhuizen and Brendan Gibbons to become the starting place-kicker. He is Michigan's highest-ranked kicking prospect since 2003, and made 19 of 24 field-goal attempts his final two years of high school.
He said he is consistent within 50 yards, and he has career long is 63.
Broekhuizen and Gibbons combined to make four of 14 attempts last year, last in Division I, but there may be hope for them.
Hoke said Gibbons has looked good lately in camp, and stood out during a recent workout at Michigan Stadium. Broekhuizen said Sunday that he corrected a mechanical flaw (following through between the uprights) in the off-season, and that he's been striking the ball more consistently.
"I think it's still a great competition," Hoke said. "I wouldn't say we have who it is."
Denard Robinson accurate in drills
Hoke said junior quarterback Denard Robinson has completed more than 70 percent of his passes since the start of camp.
The team charts all throws during organized drills.
"I think the ball's coming off quicker," Hoke said. "I think his timing's better. And you have to give the guys catching the ball credit, because I think their route running is better."
Backup Devin Gardner has completed 59 to 62 percent of his passes. Hoke said the sophomore has shown good maturity, but must improve his consistency.
Thinking of Corwin Brown
Hoke's thoughts on former Michigan player Corwin Brown, who is facing three felony charges after an armed standoff with police ended with a self-inflicted gunshot wound:
"The only thing I can say is our thoughts are with him and his family. We think about him every day, he's a Michigan Man."
Brown currently is being cared for at a hospital but will be sent to jail upon his release.
Hoke on Miami and Nevin Shaprio
Hoke's reaction to the brewing scandal at Miami, where booster Nevin Shapiro allegedly gave at least 72 players impermissible gifts such as cash, prostitutes and trips:
"My reaction is we got to make sure we're doing a great job at Michigan about educating everybody ... our kids, first and foremost, and being a student-athlete and what that's all about."
More notes
Hoke said his team is doing a better job of taking care of the ball after it posted a minus-32 turnover margin the past three years. "We need to be on guard," he said. "That's not winning football." ... Hoke said no tailback has yet separated himself in the competition to become Michigan's first lead back since 2007, but he isn't yet worried. ... Some freshmen are almost completely done with the academic obligations from the summer semester, and there are "a couple guys out there (who are) going to help us," Hoke said. He doesn't expect to have any academic hang-ups entering the fall semester.
Kyle Meinke covers Michigan football for AnnArbor.com. He can be reached at 734-623-2588, by email at kylemeinke@annarbor.com and followed on Twitter @kmeinke.