Posted on
Tue, Oct 18, 2011 : 5:58 a.m.
Head-butting David Molk makes tough admission: Michigan State was tougher than Michigan
By Kyle Meinke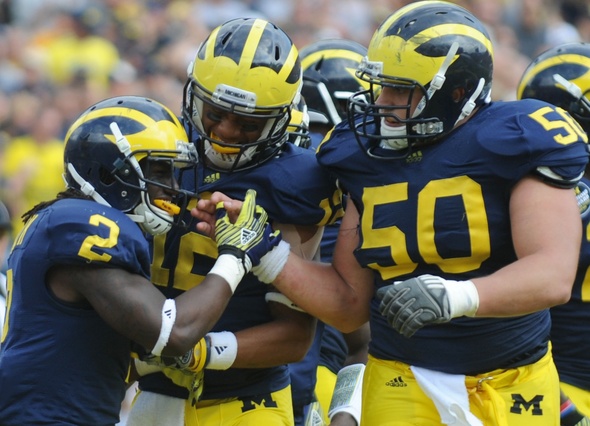 Angela J. Cesere | AnnArbor.com
When
David Molk
says someone out-toughed him, you listen.
After all, he's the guy who eases his pregame jitters by head-butting freshmen. What's tougher than that?
The Michigan football team's senior captain often is too wound up before games to properly execute his duties as center. He's found, though, that ramming his head into freshmen placates those nerves.
"Dave's crazy," fellow senior Mike Martin said of the head-butting last week. "They can't get away from it. ... it's just something that's going to happen."
IT'S MAILBAG TIME!
Something on your mind after Michigan's first loss of the year? Email your question or comment to football beat writer Kyle Meinke at
kylemeinke@annarbor.com
for Thursday's column.
Also, join Meinke in a live chat at noon Thursday to talk more Michigan football.
It's something Molk has done each season -- well, since he was a freshman himself. Two years ago, his favorite target was current backup center
Rocko Khoury
. Last year, it was current starting left guard
Ricky Barnum
.
This year, it's offensive lineman Jack Miller. Why him?
"I like Jack," Molk said. "He doesn't like it. He always says it's OK if he knows it's coming. Usually, when I come back from the coin toss, I'll just kind of run up to him and grab him, and slam my head into him."
It's not exactly a tap, either.
"I think I might have given him a slight concussion one time," Molk said, seemingly tongue in cheek, although one cannot be so sure when it comes to the senior.
He's crazy. And crazy tough.
So, when Molk says he was out-toughed, you listen. And that's exactly what he said happened Saturday in a 28-14 loss to rival Michigan State.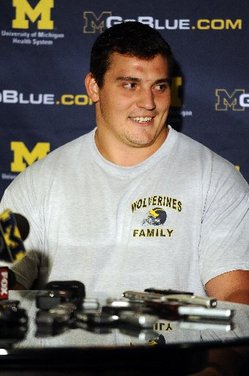 File photo
The
Michigan offensive line struggled
to contain the Spartans, who had seven sacks and held the Wolverines to a season-low 82 rushing yards. Quarterback
Denard Robinson
ran for just 42 yards, a career low among starts. Michigan State's
Jerel Worthy, William Gholston
and
Marcus Rush
consistently blew the Wolverines off the ball.
"They out-toughed us, you could say," Molk said. "We need to be a tougher team. This is Big Ten play, tough teams win."
As one of the country's top centers, and someone who prides himself on his brute strength, he said admitting he was out-toughed by Michigan State -- a team he's never beaten, nor ever will -- was one of the hardest things he's ever had to reconcile.
"(Physicality is) what this game is," Molk said. "It's not a finesse game. That's why we wear a helmet, we wear a facemask. That's why there's so much money put into improving equipment, because that is what we do.
"That's what makes this game great, how tough you are. Who can win? Who can go down the line and be bigger, better, badder?"
Just how bad were the Spartans, though?
They committed six personal fouls to Michigan's one, including two on Gholston for twisting Robinson's head at the bottom of a pile, then punching left tackle Taylor Lewan in the throat. Some were calling Michigan State a dirty team -- Worthy himself among them.
But Molk, like his Michigan teammates and coaches, refused to make excuses or call the Spartans dirty.
"Football's a tough game," he said. "The line between cheap and fair is pretty thin sometimes and, really, it's in the eye of the beholder. What could be tough play, could be rough play, could be too much."
When asked to explain how he defined toughness for himself, Molk appeared to draw a line.
"I don't punch," he said. "I play as fair as possible. The way that I show that I'm tough is I hit hard, play within the rules, I drive people, I pancake people. That's how I play. I don't talk."
He may not talk, but that won't help poor Jack Miller.
Kyle Meinke covers Michigan football for AnnArbor.com. He can be reached at 734-623-2588, by email at kylemeinke@annarbor.com and followed on Twitter @kmeinke.