Posted on
Tue, Jan 11, 2011 : 6:51 p.m.
Fans hail Brady Hoke's hiring as a return to 'The Victors'
By Lisa Allmendinger
(Editor's note: This story was revised to correct the location of Ball State University.)

Peg Canham, the widow of former University of Michigan Athletic Director Don Canham, says bringing Brady Hoke on as the new head football coach could help Michigan return to Big Ten prominence.
Like many other fans, Canham expressed excitement at today's announcement that Hoke would lead the team.
"Hoke understands the Michigan tradition, and I'm delighted he was chosen," said Canham of Lodi Township. "We needed someone who would dedicate himself to returning Michigan football to its former national prominence, and his love of U-M is apparent."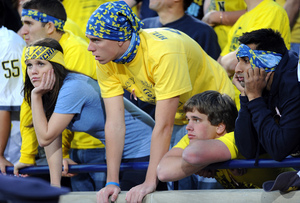 File: Melanie Maxwell I AnnArbor.com
Hoke is the 19th head coach in the 131-year history of Michigan football. He was a mentor for U-M's defensive line for eight seasons, including 1997 — the last time the Wolverines won a national championship, according to information from U-M.
William Graves of Ann Arbor, a long-time U-M fan, said he was somewhat hoping Athletic Director David Brandon would keep former head coach Rich Rodriguez because "the program was on the way up."
But he said people he knows trust Brandon "to the utmost."
"You get the idea that the former players like him, and my hunch is they talked to Brandon about him," Graves said of Hoke.
Brandon fired Rodriguez last week after three seasons and a record of 15-22.
"Welcome, Mr. Hoke," said Craig Maier, a U-M fan from Lima Township. "It's nice to see a fresh Michigan face back at U-M."
But Hoke isn't a household name for all U-M football fans.
Nancy Jennings of Dexter Township, who has been a U-M football fan for many years, said she hadn't heard of Hoke until her drive home from work today when she learned about his hiring on the radio.
"We really need a defensive coach, so that's good. I'm excited for next year," she said. "Can't wait to see how everyone plays. Go Blue. "
James Bollinger of Chelsea said he was surprised it took this long to find a new coach.
"I'm surprised there wasn't someone in place before Rich Rod was fired," he said. "Michigan's always been known for its strong defense and we definitely need a defense-minded coach. The offense is there already. My only concern — is he here too late to do any recruiting for next year?"
Hoke returns to Ann Arbor from San Diego State University. The Aztecs finished this season with their first bowl game in 12 years and a victory over Navy in the Poinsettia Bowl.
From 2003-2008, Hoke was the head coach at Ball State University in Muncie, Ind.
Lisa Allmendinger is a reporter for AnnArbor.com. She can be reached at lisaallmendinger@annarbor.com.