Posted on
Thu, Nov 25, 2010 : 7:10 a.m.
As Denard Robinson leads Michigan football team, Deerfield Beach finds reason to believe
By Pete Bigelow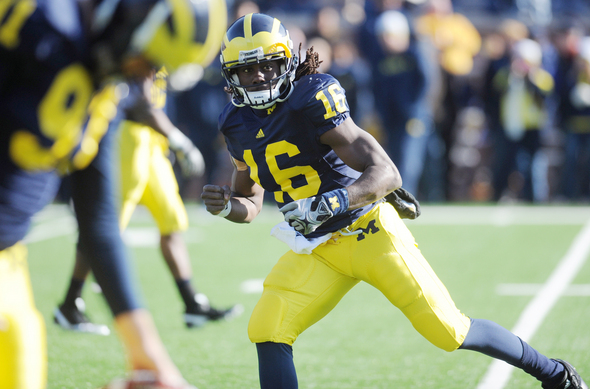 Melanie Maxwell | AnnArbor.com
DEERFIELD BEACH, Fla. - Several stories above the Atlantic Ocean shoreline, construction crews transform an old hotel into what is touted as the new "world-class" Wyndham Resort.
Yellow tape cordons off a section of shrubs and sand, part of Broward County's effort to prevent beach erosion and keep tourists interested in this swath of southeast Florida.
A few blocks away, a drawbridge connects the glittery beaches to the poorer side of town, where Khalid Sameem fights erosion of a different kind.
"I see the other side every day," said Sameem, a detention center supervisor by day and a volunteer coach with the Packer Rattlers youth football team at night.
Children under his care on the football field often later fall under his supervision at the Detention Center for Boys in nearby Boca Raton. He predicts that transition with more regularity than he cares to discuss.
"You have the kids who you say, 'Yeah, I know your family, and you're going to prison,'" Sameem said. "Basically, I know the ones that will be in prison in three years."
Once a close-knit farming community, Deerfield Beach's 76,000 or so residents have been chilled by three brutal child-on-child crimes committed within the past 13 months.
Those cases, combined with a scourge of daily drug offenses, have worsened fears that Deerfield Beach is losing its grip on a generation. "Ten or 15 years ago, the parents wanted to know why their kids weren't playing," said George Benton, another volunteer coach with the Packer Rattlers. "They ain't concerned no more."
He points to an empty stand of aluminum bleachers on a humid October night.
"We used to have a stand full of parents," he said. "Now, we have three the whole year."
Wedged in a neighborhood between Interstate 95 and the Dixie Highway, Westside Park, home of the Packer Rattlers, is surrounded by strip malls, small bungalows and street crime.
Good kids emerge from the neighborhood. Sometimes the best ones. John Marlow, principal at Deerfield Beach High School, frames their photos on a wall adjacent to his desk.
Among them: Sam Sargent, a class valedictorian now attending Penn and Chloe Brown, an undergrad at the University of Michigan. But one photo stands out amid the cluster of pictures.
Denard Robinson impressed coaches and teachers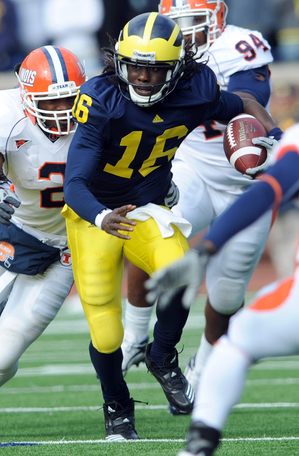 Lon Horwedel | AnnArbor.com
The Packer Rattlers coaches speak of him with a hint of awe in their voices.
"We were on the 1-yard line and couldn't get in because the offensive line wasn't blocking," Sameem said. "He comes to me and says, 'Coach, put me in. I'll block.' I said, 'Are you for real?'"
Standout quarterback Denard Robinson, age 13, was for real.
"I said, 'You ain't no gutter kid,'" Sameem said. "'You the quarterback.' He wanted to get it done. He blocked, and blew his man off the ball. I knew right then we weren't dealing with an ordinary kid."
Six years later, he smiles and shakes his head at the memory.
There are no words.
From family members and long-time coaches to people who have only known him a short time, Robinson evokes feelings that run deeper than whatever promise he holds on a football field.
If there's someone who personifies what Deerfield Beach hopes for its community, it's Robinson.
The Michigan quarterback's family roots in the town stretch to a time when deer actually were plentiful and ran through fields of saw palmetto and cabbage palms. Robinson's great grandfather, Thomas Philpart, farmed peppers, beans and tomatoes in the 1930s, and sold the produce at the railway depot that stamped Deerfield Beach, approximately 15 miles north of Fort Lauderdale, as a booming agricultural town.
His grandfather on his mom's side, Donald Vaughn, owned the town's first filling station on the corner of 8th Street and the Dixie Highway.
Both settled their growing families in a neighborhood just south of 10th Street, where the Robinsons still live today.
Traces of that Deerfield Beach remain. A handful of farms survived the sprawl. The Royal Palm Motel, only two blocks from the new Wyndham Resort, advertises rooms for $39.88 a night.
But Deerfield Beach has changed.
"I've seen positive changes, and I wouldn't go back," said Flora Philpart, Robinson's great aunt. "But back in the day, you could get in trouble in one area, and by the time you got to where you were going, your parents knew about it. That's the way everybody was."
Now, people wonder about the parents.
In October, the Broward Sheriff's Office charged 17-year-old Jose Torres with felony manslaughter after he allegedly shot and killed a 12-year-old playmate with a .38 caliber pistol at point-blank range. When investigators searched Torres' home, they found a cache of weapons that included two 9-mm semi-automatic pistols, a .45 caliber handgun, a Tec 9 machine gun and a 12-gauge Mossberg shotgun.
Torres' parents had no idea about their son's gun "fetish," the Miami Herald reported.
In October 2009, five boys allegedly doused 15-year-old Michael Brewer in rubbing alcohol and set him ablaze. Brewer suffered burns over 65 percent of his body, nearly died and spent months in the hospital.
Brewer's old school, Deerfield Beach Middle School, is the same place where an eighth grader, Josie Lou Ratley, was nearly stomped to death in March by a classmate wearing steel-toed boots. Those cases brought national attention, but there is equal concern for children claimed by the undertow of everyday crime.
Art Taylor, Robinson's high school football coach at Deerfield Beach High School who now coaches at Cooper City, had a promising sophomore running back who could have teamed with Robinson in the Bucks' backfield.
"I lost him to drugs," Taylor said. "Never saw him again."
Staring at the empty bleachers, Benton says the answers lie at home.
"It's parents," he said. "A lot of these kids are raising themselves or have young parents. It's like a baby raising a baby, you know?"
Parents help Robinson stay out of trouble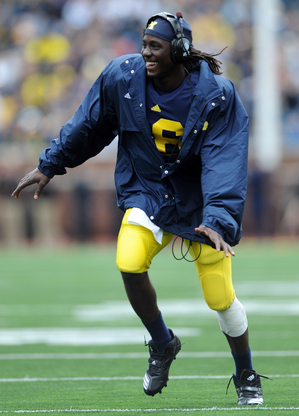 Lon Horwedel | AnnArbor.com
Kenny Brown, track coach at Deerfield Beach High School, laughs at the memory.
"I spoke to his parents all the time," he said of Tom and Dorothea Robinson. "She would say, 'Don't let him get into trouble.' That was the main thing. Mom and Dad made sure I understood that.
"Coach,' she said when she walked up. 'Coach. Make sure you keep him out of trouble, Coach.'"
Trouble is one place Brown never worried about finding Denard Robinson.
Maria Brunet-Heeter, his high school Spanish teacher, loved having Robinson in school. Not because he was necessarily a star pupil - "he was more interested in football and girls," she said - but because he respected her and listened.
"He was always, 'Yes, ma'am, no, ma'am,'" she said. "I love it when kids do that."
When Robinson came back to visit last Christmas, he gave Brunet-Heeter a hug so big he lifted her off the floor.
One marking period, Robinson's grade fell to a B in the class. Dorothea Robinson interceded, reached out to Brunet-Heeter and made sure her son didn't lag anymore.
"Mom has that hold on him," Taylor said. "She has that smile. I can see her watching the games smiling. She's a tough lady, though. His dad is a hard worker and mom, he don't want to disappoint Mom."
Or coaches. During drills one day, Packer Rattler teammates scattered like dandelion seeds in the wind. Robinson herded them together and thundered.
"He told kids, 'You have to listen to the coaches, not do that crap y'all doing,'" Benton said. "He knew the game, knew what to do. Those kids didn't pay no attention. He paid attention."
His family paid attention, too. Coaches said Robinson's father and brothers watched almost every Rattlers practice from a chain-link fence that rings Westside Park.
Lessons learned in that contained environment served him well when he arrived on a larger stage. In his second career start in September, Robinson scored a game-winning touchdown with 27 seconds left against Notre Dame and compiled 502 yards of total offense.
The performance launched the college sophomore, currently the nation's leading rusher with 1,538 yards, into the national spotlight and Heisman Trophy conversation. Two days later, Taylor's phone rang while he sat at home with his two younger children. He recognized Robinson's number, and expected to hear all about the game and its glorious aftermath.
"He calls and he's like, 'How's Kayla? How's Ace?'," Taylor said. "I mean, wow, what kid thinks about stuff like that, you know?"
Brown coached Robinson and three teammates to back-to-back state championships in the 4x100-meter relay, spending hours driving with the group to Winter Haven and hundreds more in training.
When it comes to explaining Robinson, who leads Michigan into Saturday's annual classic with Ohio State on Saturday (noon, ABC), he shakes his head and pauses.
"He's an old man in a young man's body," he said.
What do people remember? His leadership and loyalty
Four dreadlocked, chiseled sprinters give a hard stare into the camera. The shutter snaps. A framed picture on a wall in their principal's office preserves the moment.
Adrian Witty, Donte Dotson, Cassius McDowell and Robinson had just won their first of two 4x100 state championships.
The slowest relay member runs a 4.4-second 40-yard dash. But on that day, Robinson found himself in fifth place out of eight teams when he received the baton from McDowell for the anchor leg.
Trailing by eight yards at the handoff, Robinson picked through the competition one by one until he only had Pompano Beach's Patrick Peterson, now a cornerback at LSU, to beat.
For the third and most important time that season, Robinson caught Peterson at the tape for a Deerfield Beach win.
"That was classic," Brown said. "I think I called Mr. Marlow about five times and said, 'Oh, my God, we won! We won! We did it!'"
Hearing a description of the race's final seconds, Marlow wasn't entirely surprised.
"As much as we're talking about what a nice kid he is, don't let that fool you on the athletic field," he said.
Statistics are one thing - on the football field, Robinson threw for 1,872 yards and 18 touchdowns as a senior while running for 538 yards and eight more touchdowns - but Marlow more remembers the fire inside.
When the Bucks endured a sloppy performance at a spring game in Palm Bay, Robinson tore into his teammates, much in the same way he barked at the Wolverines after this year's 34-17 loss to Michigan State. "I saw a different side of him that I had never seen," Marlow said.
Still, when it comes to football, it's not the intensity or the speed or even the heartbreaking playoff loss against Miami Northwestern that people in Deerfield Beach remember.
Sitting in the principal's office, Flora Philpart unfurls another picture, this one of four teammates in their scarlet-and-gold uniforms holding hands, approaching midfield.
From the left: Josh Philpart, now Jacksonville University's leading receiver; Robinson; Gerald Stewart, now a student at Florida Atlantic University; and George Orridge, who will attend Air Force starting in February.
The four are team captains and cousins, bound by football and family.
'He'll never forget where he comes from'
When Taylor attended college in Iowa in the 1980s, he lost a wallet brimming with $300 his father had given him to buy books for the new semester. A man returned the wallet.
"All the money is there," Taylor said. "That doesn't happen in Florida. I tell my kids to get out and experience other people. Because here, you don't know that people like that exist." Cornelius Jones, another Packer Rattlers volunteer who played football at Peru State in Nebraska is more blunt: "I tell kids, 'You need to get away from here.' It's sad, but it's the nature of the beast around here."
Kids do leave. Recruits from Florida in general and Broward County in particular populate the rosters of FBS football programs across the country. It's bittersweet for those left behind.
The Big Ten Network can be found on local cable networks, and it might get a ratings bump from this South Florida city, because so many watch Robinson, so many are invested in his success.
On a recent night at Westside Park, Robinson walked out of the darkness and appeared before the practicing Packer Rattlers. He was just there to say hello.
"He hasn't forgotten," Sameem said. "He'll never forget where he comes from. He knows that when he hits the field on Saturdays, Deerfield is watching. And when he gets home, we'll let him know, 'Hey man, we're real proud of you.'" They're proud of his success on the football field, prouder of a kid from Deerfield Beach winning a fight against the tide.
Pete Bigelow covers Michigan football for AnnArbor.com. He can be reached at (734) 623-2556, via e-mail at petebigelow@annarbor.com and followed on Twitter @PeterCBigelow.