Posted on
Sat, Sep 11, 2010 : 11:11 p.m.
Michigan 28, Notre Dame 24: Your comprehensive guide to Saturday's coverage
By Amalie Nash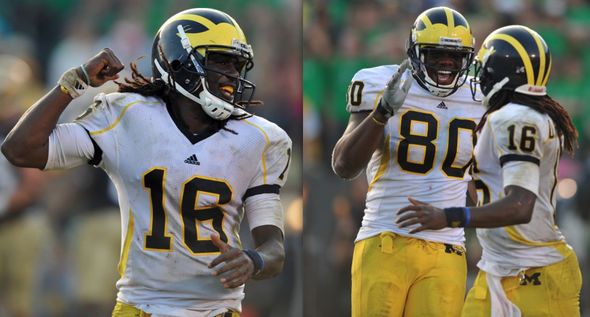 Lon Horwedel | AnnArbor.com
The story of Week 2 in the Wolverines' season was Denard Robinson again, the quarterback who shepherded the team to its first win of the season against UConn last weekend.
On Saturday, Robinson shone again in the toughly fought 28-24 win over the Irish in South Bend with 502 total yards. He scored on a 2-yard run with 27 seconds left in the game, finishing with 258 yards rushing and 244 yards passing. Oh, and he scored twice and tossed a touchdown pass as well.
The win gives Michigan a 2-0 record as its prepares to take on Massachusetts next weekend. And with Bowling Green on the schedule for Sept. 25, the Wolverines have a good chance of going 4-0 in September play.
AnnArbor.com had reporters, photographers and videographers capturing the action in Notre Dame Stadium on Saturday. Here's a look at our complete coverage, as well as other coverage around the Big Ten:
GAME STORIES
• Wolverines beat reporter Pete Bigelow's game story offers a behind-the-scenes look at the Michigan's victory, with an emphasis on Denard Robinson's record-breaking performance for the second Saturday in a row.
• Meanwhile, Mike Rothstein offers more on what he's labeled "The Denard Robinson Experience" that rolled all the way through South Bend. As impressive as Robinson's first two outings as a Wolverine have been, the young quarterback is improving - and fast.
• Another storyline Saturday was how the Michigan defense took advantage after it knocked Notre Dame quarterback Dayne Crist from the game. With Crist in the game in the first half, Notre Dame moved the ball fluidly against the Michigan defense. With him out, Michigan capitalized.
• And in the game day notebook, Pete Bigelow discusses how the missed kicks nearly cost Michigan a win, why Michigan defensive coordinator Greg Robinson had torn loyalties during the game, missed opportunities for both Michigan and Notre Dame, and more.
• Finally, Bigelow awards his game balls to the top performers in the Wolverines' 28-24 victory against Notre Dame. Check out who got them.
GAME INTERACTIVE
• AnnArbor.com's Rich Rezler moderated a fast-paced live chat during the game, with Pete Bigelow and Mike Rothstein weighing in from the press box at Notre Dame. If you weren't part of that chat - or you were and want to check it out again - here's an archive. Our sports team begins the live chat each game day, so check it out next weekend as well.
• With two wins down and 10 games to go, we want to know where you think the Wolverines will go from here. How many more games will they win? And can Denard Robinson continue to shine on the field? Take our polls.
PHOTOS
• AnnArbor.com's Lon Horwedel was all over the field at Notre Dame Stadium, capturing Saturday's action in this slideshow. He got plenty of shots pre-game, during the action and post-game.
AROUND THE BIG TEN
• The most talked about game Saturday around the Big Ten was the Minnesota Golden Gophers' shocking 41-38 loss to the University of South Dakota Coyotes. It was the biggest Division I win to date for South Dakota, fueled by junior quarterback Dante Warren, who racked up 433 yards of total offense and five touchdowns.
• Michigan State fended off Florida Atlantic 30-17 in a "sloppy" win in its road game at Ford Field. Next weekend, the Spartans will play the Fighting Irish - perhaps still stinging from their loss to the Wolverines - in an 8 p.m. game in East Lansing.
• No. 2 Ohio State intercepted Jacory Harris four times in a 36-24 victory over 12th-ranked Miami. Terrelle Pryor ran for 113 yards and a touchdown and passed for another. It was the first time the two teams had met since the national championship game at the 2003 Fiesta Bowl.
• A fourth-quarter field goal was all the scoring No. 18 Penn State could manage Saturday night as top-ranked Alabama made a statement with a 24-3 victory. The Nittany Lions drove into scoring position three times but turned the ball over each time.
• The ninth-ranked Hawkeyes delivered a dominating old-school dismantling of Iowa State 35-7 at Kinnick Stadium. The Hawkeyes head west for their first road game of the season next Saturday against Arizona at Tucson.
• Purdue beat Western Illinois 31-21 in its home opener as Dan Dierking rushed for 102 yards and two touchdowns. Western Illinois was tied with Purdue at 7-7 before the Boilermakers scored 10 points in the final 18 seconds of the first half.
• Illinois State and Northwestern met for the first time on Saturday as the Wildcats defeated the Redbirds 37-3. Northwestern quarterback Dan Persa, in just more than one half of play, completed 19 of 23 passes for 240 yards and two touchdowns - and also ran for a score.
• San Jose State fell 27-14 to Wisconsin. But it wasn't a depressing loss for the Spartans, who were 38-point underdogs against the No. 11 Badgers. In fact, the Spartans showed plenty of moxie and even jumped around on the field after scoring their first touchdown of the season to cut Wisconsin's lead to 20-7.
• Southern Illinois didn't fare too well in Champaign Saturday night as Illinois picked up a 35-3 win. The Salukis were coming off a 70-7 victory against Quincy, but failed to find the same fire power against Illinois as the Illini defense kept Southern Illinois without a touchdown.