Posted on
Tue, Jan 3, 2012 : 8:13 p.m.
In-game Sugar Bowl updates: Michigan vs. Virginia Tech football
By Jim Knight
Melanie Maxwell | AnnArbor.com
(Refresh for latest updates on the game.)
OVERTIME
Michigan: Brendan Gibbons kicked a game-winning 37-yard field goal to give Michigan a 23-20 overtime victory against Virginia Tech in the Sugar Bowl.
Virginia Tech: Justin Myer missed a 37-yard field goal wide right, his first miss of the night. Virginia Tech thought it had a touchdown when Danny Coale dove for a ball in the end zone, but the touchdown was overruled by the replay booth.
FOURTH QUARTER
Michigan 20, Virginia Tech 20: Justin Myer kicked a 25-yard field goal to tie the game with 2 seconds left. It was Myer's fourth field goal of the game —Â and the fourth field goal of his career.
Michigan 20, Virginia Tech 17: Brendan Gibbons put Michigan in front with 4 minutes left with a 39-yard field goal. Michigan struggled to move the ball, going 23 yards in eight plays after recovering a botched fake punt by Virginia Tech's Danny Coale.
Michigan 17, Virginia Tech 17: Quarterback Logan Thomas bulled into the end zone on a 1-yard keeper and the Hokies went 61 yards in 16 plays. Thomas then hit Marcus Davis for the two-point conversion. It's a tie game with 10:22 to play. Key play, perhaps of the game: Thomas ran up the middle for a first down on a fourth-and-11 play.
THIRD QUARTER
Michigan 17, Virginia Tech 9: Justin Myer kicked his third field goal, a 36-yarder. The Hokies drove 39 yards in nine plays.
Michigan 17, Virginia Tech 6: Junior Hemingway caught an 18-yard touchdown pass from Denard Robinson in the back of the end zone. Michigan went 35 yards in three plays following an interception by freshman Frank Clark.
SECOND QUARTER
Michigan 10, Virginia Tech 6: Brendan Gibbons kicked a 24-yard field goal as the half ended, capping a strange final minute that included a fake field goal and a pass reception by long snapper Jareth Glanda. Michigan started the six-play drive on the 20-yard line after recovering a fumble on the kickoff.
Michigan 7, Virginia Tech 6: Denard Robinson, under pressure, found Junior Hemingway for a 45-yard touchdown pass with 49 seconds to go before halftime. Michigan drove 96 yards in 11 plays.
Virginia Tech 6, Michigan 0: Justin Myer, who entered the game 0-for-2 on field goals this season, kicked his second field goal of the game, a 43-yarder, early in the second quarter. Virginia Tech dominated the first quarter with 110 yards of offense to Michigan's 47.
FIRST QUARTER
Virginia Tech 3, Michigan 0: Justin Myer, the third-string kicker for Virginia Tech, kicked a 37-yard field goal to cap a 12-play, 44-yard drive.
PREGAME
Which team will be most successful stopping the running game tonight? Both the Michigan and Virginia Tech football teams allow just 17.2 points a game, and both feature elite runners.
Junior running back David Wilson leads the Hokies with 1,627 rushing yards, and quarterback Logan Thomas has rushed for 416 yards and 10 touchdowns.
Michigan has the duo of quarterback Denard Robinson and running back Fitz Toussaint, who combined for more than 2,000 rushing yards.
We'll update this file throughout the game. In the meantime, check out:
Have an opinion? Want to know more? Join our live chat.
Need more information? Read our Sugar Bowl mega guide
What's it like in New Orleans? Check out this video from Melanie Maxwell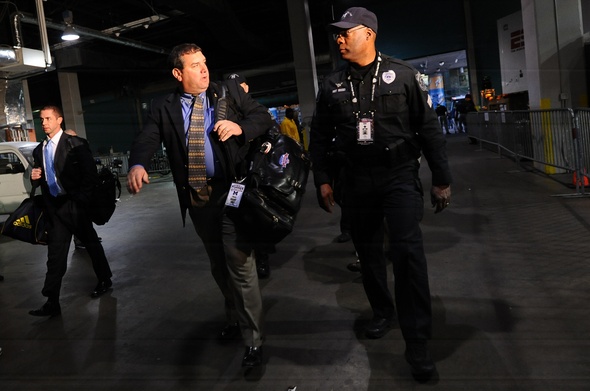 Melanie Maxwell I AnnArbor.com