Posted on
Sat, Oct 15, 2011 : noon
In-game updates: It's Michigan at Michigan State
By Rich Rezler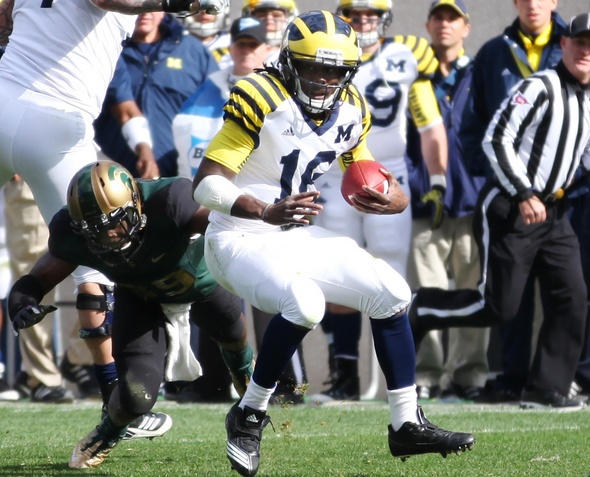 Jeff Sainlar I AnnArbor.com
Welcome to live, in-game updates from the Michigan-Michigan State football game. Refresh for the latest.
More about the game: Browse our mega guide.
Join our live chat: Pete Cunningham is your friendly host.

FINAL SCORE: Michigan State 28, Michigan 14


FOURTH QUARTER

Run out the clock: Michigan stopped on its ensuing possession (Devin Gardner sacked on a 4th-and-22 play -- Michigan State's seventh sack of the game) and the Spartans are driving with the clock winding down.
Robinson injured: Denard Robinson left the field under his own power after being attended to by Michigan trainers. Michigan State was called for its fifth personal foul penalty of the game on the play.
Michigan State 28, Michigan 14: The Spartans' Isaiah Lewis picks off a Denard Robinson pass on first down and returns it 35 yards for a touchdown. A Dan Conroy PAT makes it 28-14 with 4:31 left. Robinson is now 9-of-24 passing.
Three-and-out: Michigan will get another shot. Defense forces a 3-and-out, Wolverines ball at their own 35-yard-line with 4:40 remaining.
Stopped! Fourth-and-inches from the Spartans' 9-yard-line and Denard Robinson is sacked by Johnny Adams for a 10-yard loss. Michigan State ball with 6:16 left.
Whoa, Nellie! We have a ballgame: Michigan State's Keyshawn Martin fumbles on an end-around. Jordan Kovacs recovers on the MSU 32 with 9:44 remaining.
Michigan State 21, Michigan 14: A Denard Robinson-to-Roy Roundtree touchdown pass covering 34 yards pulls the Wolverines within one score with 9:49 remaining. After forcing a three-and-out, Jeremy Gallon returned an MSU punt 18 yards to the 34. Robinson hit Roundtree on a slant route on the first play.
Another missed opportunity: Michigan starts the fourth quarter in Michigan State territory ... and punts. The Wolverines were 1st-and-10 at the Spartans' 23-yard-line but two sacks and an incompletion later, Michigan punted from the 32.

THIRD QUARTER

Michigan State 21, Michigan 7: Keyshawn Martin catches his second touchdown pass of the game and the Spartans take a 21-7 lead in the final minute of the third quarter. MSU has now scored 14 unanswered points against a Michigan defense that allowed just 21 second-half points all season.
First turnover: The first turnover of the game comes when Edwin Baker broke free for a long run. Michigan recovered the ball on the MSU 41, but didn't capitalize. The Wolverines went went backwards from there and punted the ball away from near midfield.
Mid-third quarter: That first-possession success ends. After getting a continuation when MSU picked up its third personal foul penalty of the game on a third-down stop, the Wolverines couldn't convert its next third-and-long. MSU ball at its own 20, up 14-7 with 6:17 left in the third quarter.
Michigan State 14, Michigan 7: First-possession success continues. The Spartans march 54 yards for a touchdown on their first drive of the second half to make it 14-7. Kirk Cousins hit Keshawn Martin for a 10-yard score after Edwin Baker did most of the work (4 carries, 44 yards) on the nine-play drive. Baker now has 115 yards on 15 carries.
Here we go: Second half has started. MSU gets first possession.

HALFTIME STATS

Rushing: UM 31-138, MSU 30-162 Passing: UM 4-14-43-0, MSU 8-13-62-0 First downs: UM 10, MSU 8 Time of possession: UM 14:54, MSU 15:06 Turnovers: UM 0, MSU 0 Penalties: UM 2-10, MSU 8-67
Michigan passing: Robinson 3-11-39, Gardner 1-3-4; Michigan State passing: Cousins 8-13-62.
Michigan rushing: Robinson 7-42 (1 TD), Smith 6-33, Gallon 1-8, Toussaint 1-4, Dileo 1-3; Michigan State rushing: Baker 11-71 (1 TD), Bell 3-17, Martin 1-6, Fowler 1-6.
Michigan receiving: Hemingway 2-38, Koger 1-4, Gallon 1-1; Michigan State receiving: Nichol 2-20, Cunningham 2-19, Martin 1-8, Linthicum 1-7, Bell 1-5, Caper 1-3.

SECOND QUARTER

Halftime: We're going to the break, still tied 7-7.
Late second quarter: Michigan does nothing with its field position and Denard Robinson's passing troubles continue. He is 3-of-11 for 39 yards (and 29 of those yards came on one pass to Junior Hemingway.) Another Hagerup punt to the 5-yard-line gives the Spartans a lot of field in front of them with 2 minutes left before halftime.
Mid-way: Will Hagerup vying for Michigan MVP honors. His third punt of the game pins MSU at its own 5-yard-line. Three punts, two downed inside the 20. And the field position change helps. MSU goes 3-and-out and punts from its own end zone. Michigan ball near midfield. 4:00 left in the half.
Early second quarter: Punts by each team early in the quarter. Both defenses seem to have settled in after giving up touchdowns on their first possessions. Two punts for each team since.
FIRST QUARTER

End of first quarter: After exchanging punts, the first quarter ends with Michigan on its own 35-yard-line. First quarter stats:
Rushing: Michigan 63, MSU 69
Passing: Michigan 39, MSU 16
Time of possession: Michigan 8:23, MSU 6:37
Turnovers: Michigan 0, MSU 0
Penalties: Michigan 2-10, MSU 3-25

Michigan State 7, Michigan 7: The Spartans answer right back. Michigan State scores on its own first possession -- with Edwin Baker scoring from 1-yard out. Baker did most of the work on the 63-yard scoring drive, running 5 times for 49 yards. Dan Conroy's PAT ties it up with 5:08 left in the quarter.
Michigan 7, Michigan State 0: Michigan scores on its opening possession -- a drive kept alive on a Drew Dileo fake field goal from the MSU 22-yard-line -- when Denard Robinson escapes a sack, reverses field and dives into the corner of the end zone. Brendan Gibbons' PAT kick makes it 7-0. Vincent Smith ran 3 times for 38 yards on the 10-play, 80-yard drive.
PRE-GAME

Early reports from East Lansing are that it's very windy at Spartan Stadium. From AnnArbor.com's Nick Baumgardner: "It's bad. Wind is whipping all over the place, changing directions. It'll play a major factor."
With Michigan State in its Nike-designed Pro Combat Series uniforms for the game, the Wolverines have busted out their own special look. They warmed up in their regular road uniforms, but took the field before kickoff in a a road version of the legacy uniforms the Wolverines wore against Notre Dame.
A press release from the Michigan athletic department arrived at exactly 12 p.m. and says:
Michigan Unveils Legacy Road Uniform for MSU Game


EAST LANSING, Mich. -- Prior to kickoff of the Battle for the Paul Bunyan Trophy, the University of Michigan football team unveiled a legacy uniform designed by apparel provider adidas.

"Our players really enjoyed the uniforms from the night game with Notre Dame so we decided to surprise them and the country with a new-look design for the Michigan State game," said head coach Brady Hoke. "This is such a great in-state rivalry that we decided to honor the former players that played in this game."

The legacy jersey is a compilation of design elements from different eras of Michigan football. It features player numbers on the front and back of the jersey with a block M above the heart and repeating striped sleeves. The shirts under the uniform have "Victors" on the left bicep and "Valiant" on the right bicep.

The white pants are a throwback to the 1974 and 1975 seasons when the program wore all white on the road. In addition, the Wolverines wore two-tone socks with blue on top (calf) and white on the bottom.

Player numbers continued to appear on the famous winged helmet that first appeared in the late 1960s. After wearing them on the helmets for the Notre Dame game, head coach Brady Hoke decided to continue the tradition before the start of the conference season to pay homage to the former players that represented the program in the past.

Michigan warmed up in its traditional road uniforms but returned for the start of the game in the new legacy uniforms.
Jeff Sainlar | AnnArbor.com