Posted on
Sat, Oct 15, 2011 : 12:37 a.m.
Your mega guide to the Michigan vs. Michigan State football game
By Rich Rezler
Melanie Maxwell | AnnArbor.com
WHO: No. 11 Michigan (6-0) at No. 23 Michigan State (4-1)
WHERE: Spartan Stadium, East Lansing
WHEN: Noon
ODDS: Michigan State is favored by 2 1/2 points, according to sportsbook.com.
SERIES RECORD: Michigan leads, 67-31-5
LAST MEETING: Michigan State won 34-17 on Oct. 9, 2010. (AnnArbor.com coverage)
WEATHER: Showers in the morning. Windy and temperatures in the low 50s at kickoff. Latest forecast.
BROADCAST INFORMATION: TV: ESPN; Radio: Michigan Sports Network (local affiliates).
LIVE COVERAGE: Join our live chat on the Michigan football home page beginning at 11:30 a.m. and follow beat writer Kyle Meinke on Twitter @kmeinke for live updates during the game.
MICHIGAN: Roster | Stats | Schedule/Results
MICHIGAN STATE: Roster | Stats | Schedule/Results

AnnArbor.com coverage

Bragging rights seem so trivial this year, don't they? If nothing else is at stake, the winner of the Michigan-Michigan State football game at least packs up the Paul Bunyan Trophy and gives its fans a year's worth of bragging rights in their office or school or living room.
This game at Spartan Stadium is about so much more. It's about being a contender or pretender, about redemption or continued dominance, about tainted legacies or hero status. AnnArbor.com has covered all those storylines this week. Here is a compilation of related stories leading up to kickoff:

TODAY

• 3 keys to a Michigan victory against Michigan State, and 3 keys to a loss

FRIDAY

• AnnArbor.com Michigan football beat writer Kyle Meinke says this game is bigger for the Wolverines than anyone could have anticipated before the season started. Why? Because, Meinke claims in this video preview, a win at Spartan Stadium gives Michigan a legitimate shot at a Big Ten Legends Division championship:
• Opinion: Michigan-Michigan State winner will become frontrunner to win Legends Division
• Michigan's senior class is trying to change its legacy against Michigan State
• Is Michigan at a disadvantage because of MSU's off week? The data says no, but there are two schools of thought
• We list 6 of the best villains (or heroes, depending on your viewpoint) from the UM-MSU series
• Advice from a Spartan: Tips for U-M fans heading to East Lansing this weekend
• Our weekly poll: Las Vegas oddsmakers have made Michigan State a 2 1/2-point favorite. What do you think?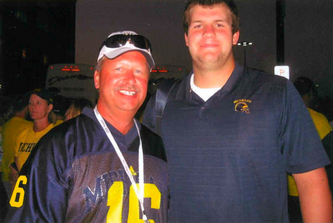 Courtesy of Cathy Kirby
THURSDAY
• Playing for Kirby: Michigan lineman Mark Huyge wants win over MSU for deceased friend
• Can Brady Hoke do what a Michigan coach hasn't done since 1948 and win his first game against Michigan State?
• Catches are down for Michigan receivers, but their 'knockdowns' number is up
• B1G Notes: Midseason football report card, standout stats and more
• Kyle Meinke hosted a live chat on Thursday afternoon. Read the transcripts here.

WEDNESDAY

• How is Michigan preparing for MSU? Head butts and practicing 'controlled anger'
• Notebook: Denard Robinson has paid more attention to his health this season, feels good at midway point of season
• Beat Writer Breakdown: Spartans likely to add blitzes and other wrinkles to its stop-Denard Robinson gameplan, says Grand Rapids Press' Greg Johnson
• Associated Press: Mark Dantonio's passion for Michigan-Michigan State rivalry is clear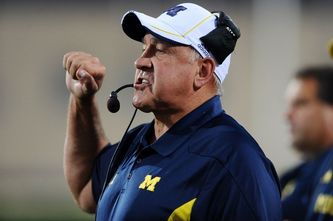 Melanie Maxwell I AnnArbor.com
TUESDAY
• Michigan-Michigan State rivalry 'so personal for so many people in this state'
• Slowing down Denard Robinson is 'easier said than done,' MSU coach Mark Dantonio says
• Notebook: Michigan defensive coordinator Greg Mattison's halftime adjustments key to second-half dominance
• Michigan coach Brady Hoke expects 'a dog fight' against MSU, says 'you've got to punch back'
• Troy Woolfolk sheds cast from right arm and more notes from Michigan's open Tuesday practice

MONDAY

• Michigan veterans know their legacy is on the line against Michigan State
• Denard Robinson has been brilliant and flirted with disaster, but the Wolverines are glad he's on their side
• Notebook: Is Michigan worthy of a top 10 ranking? Brady Hoke says no way
• Video: Hoke and players discuss Michigan State week
• We asked which special game-day uniform fans prefer: Michigan State's Pro Combat Series uniform it will wear against Michigan or the "legacy" uniform that the Wolverines wore against Notre Dame. Here are photo galleries of each: Michigan | Michigan State.

MLive.com coverage

Our colleagues over at MLive.com have been busy producing plenty of good content from the Michigan State camp this week. Here is some of the best:
• Stakes are high as Brady Hoke's Wolverines seek redemption in rivalry with Michigan State
• Michigan State-Michigan game means good time for Mark Dantonio to welcome recruits
• Emotions running high as Spartans prepare for showdown with rival Wolverines
• Michigan State's plan to slow Wolverines QB Denard Robinson? Make him throw the ball
• Kirk Cousins, Michigan State seniors eye fourth consecutive victory against rival Wolverines
• Spartans' Jerel Worthy has Michigan's attention because of his play, not his tattoo

Associated Press capsule

WHAT'S AT STAKE: Michigan State is trying for its fourth consecutive victory over Michigan, something the Spartans haven't accomplished since 1959-62. The unbeaten Wolverines have ascended the national rankings under new coach Brady Hoke, but their schedule has been favorable so far. A win in East Lansing would establish Michigan as a definite threat to win the Big Ten title.
KEY MATCHUP: Michigan QB Denard Robinson vs. Michigan State DT Jerel Worthy. Michigan State has the nation's top-ranked defense, led by Worthy, who has a tattoo displaying a Spartan stomping on a Wolverine. The Spartans will have to chase Robinson around this weekend. The elusive Michigan quarterback is one of the nation's most exciting players and will be eager to avenge last year's 34-17 loss to Michigan State.
PLAYERS TO WATCH: Michigan: WR Junior Hemingway. Michigan State's defensive front has proven it can pressure the passer, but if Robinson can buy time, he has a big-play threat to throw to. Hemingway is averaging 26.1 yards per reception this season. Michigan State: RB Le'Veon Bell. Splitting time with Edwin Baker, Bell has been Michigan State's most productive rusher so far this season. The Spartans have had issues with their offensive line, but when they're running the ball effectively, they're tough to beat.
FACTS & FIGURES: The team with the most productive running game has won 38 of the last 41 meetings between the teams. During its current three-game winning streak in the series, Michigan State has outrushed Michigan 613-274. ... Michigan won six straight in the series before its current skid. ... Kirk Cousins is trying to become the first Michigan State starting QB to win three straight games over Michigan. ... The Wolverines are averaging a Big Ten-best 257 yards rushing per game.

Around the Big Ten
• The AnnArbor.com staff is predicting Big Ten games this year. You can play along by voting for your own winner of each game before noon today.
• Indiana at Wisconsin, noon, ESPN2. (Preview)
• Purdue at Penn State, noon, BTN. (Preview)
• Ohio State at Illinois, 3:30 p.m., ABC (Preview)
• Northwestern at Iowa, 7 p.m., BTN. (Preview)
• Idle: Minnesota, Nebraska.