Posted on
Wed, Mar 31, 2010 : 10:10 a.m.
Turf vandals 'kind of hacked it out' on block 'M' at Michigan Stadium
By Jeff Arnold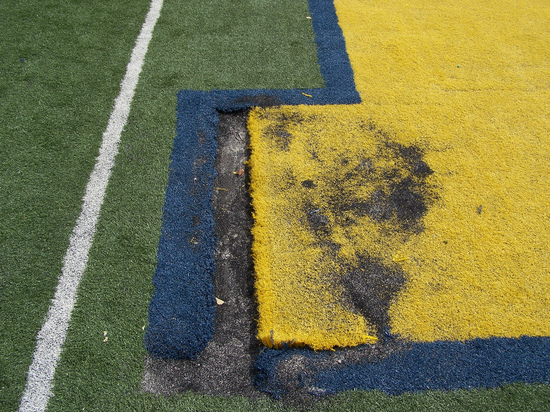 Damage to the block "M" at the 50-yard line of Michigan Stadium in a weekend vandalism incident likely was done with a large utility knife and caused $1,500 to $2,000 in damage, the stadium's facility manager said Wednesday morning.
A 6-foot by 8-inch chunk of FieldTurf was carved out of the block "M" in a similar fashion someone would cut carpet, Chris Ehman said.
"It was like they just kind of hacked it out," Ehman said.
Department of Public Safety spokeswoman Diane Brown said Tuesday that a construction worker noticed the damage Monday. Associate athletic director Bruce Madej said he expects the field will be repaired by Michigan's spring football game on April 17.
Due to the ongoing $226 million renovation at the stadium, exterior gates may have been left open. Ehman said the gates are not staffed by security on weekends as they are during the week.
Security cameras that monitor the lower bowl are not in use because the feed for those cameras comes from the press box, which is under construction, Ehman said. Public safety officials are reviewing tapes from cameras located outside the stadium.
Ehman said the field was intact Saturday, but that the damage could have been done later in the day or sometime on Sunday.
FieldTurf is a brand of a carpet-like surface that has the feel of natural grass. An underbelly of ground rubber cushions it, meaning vandals would have had to use a large-bladed knife. FieldTurf was installed at Michigan Stadium in 2003 after attempts to maintain a natural grass surface were unsuccessful.
Artificial turf was first installed in the stadium in 1969.
The incident is the second act of vandalism at the stadium in less than a week. Last week, an exterior light was broken, causing $1,000 in damage, during what DPS officials believe was a scavenger hunt. Ehman had not heard whether the field damage was caused during under similar circumstances.
"Obviously, we'd like to know who did this," Ehman said. "I wouldn't think it was done by a Michigan fan."
Jeff Arnold covers sports for AnnArbor.com and can be reached at (734) 623-2554 or by e-mail at jeffarnold@annarbor.com.