Posted on
Tue, Sep 20, 2011 : 10:41 p.m.
Is Michigan's Vincent Smith too small to be a lead tailback? Offensive coordinator Al Borges thinks not
By Kyle Meinke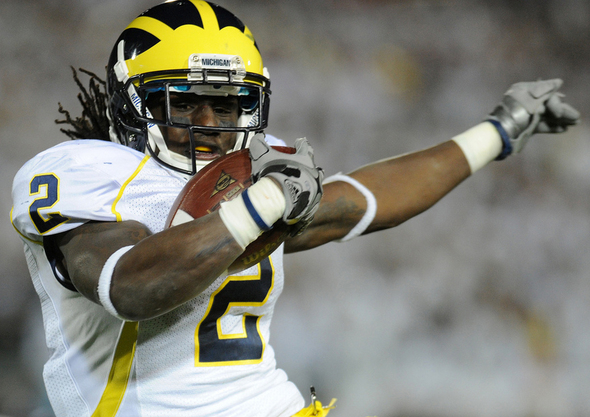 AnnArbor.com file photo
Vincent Smith
is 5-foot-6, 172 pounds. He'll never be mistaken for the downhill, between-the-tackles runner the
Michigan football
coaching staff prefers.
But, he does have one thing they're seeking.
"This game is about production, not potential," offensive coordinator Al Borges said after the team's practice Tuesday. "If a guy is smaller, but produces, you got to find a way to let him play.
"Vince has been producing."
Smith had nine carries for 118 yards in a win over Eastern Michigan last Saturday, the best performance of the season by a Wolverines tailback. Coach Brady Hoke said on Monday that Smith "has earned that right" to start this week against San Diego State.
THURSDAY LIVE CHAT
Come back to AnnArbor.com at noon Thursday for a live chat with Kyle Meinke. He'll recap the Wolverines' win over Eastern Michigan, discuss news that emerged this week and preview the game against San Diego State on Saturday.
Neither is concerned about Smith's size.
"I want a guy who is 220 pounds and runs 4-nothing (40-yard dash), but those aren't falling out of trees these days," Borges said. "You take what you can get.
"If he was 200-something pounds, he'd really be something. But he does a good job with his size, does everything he can with what he has."
Smith's 100-yard game was the first by a Michigan back since Michael Shaw ran for 126 against Massachusetts in the third game of the 2010 season.
Was there a moment when Smith felt like he was turning the corner against Eastern Michigan?
"No, it was just me getting into a rhythm," he said. "I was just taking what the defense (gave) me and not trying to do anything too big."
Borges credited the running threat of quarterback Denard Robinson for some of Smith's success against Eastern Michigan.
"(Robinson) started running the ball and the awareness levels of him running the ball heightened," Borges said. "Because of the nature of the spread offense, and what we do within it, they're forced to defend him, which takes the attention, a lot of time, off the running backs — and in this case, it was Vince.
"He's a complete football player. He does so many things well."
Despite Smith's big day, and Hoke's proclamation that he'd earned a starting spot, Borges isn't yet ready to hand over the position. When will he be?
"(Not) until someone steps to the forefront and establishes himself as that guy," Borges said. "We're not going to just name a guy to name a guy. That'd be absurd."
One reason could be Borges remains high on sophomore Fitz Toussaint, who started against Western Michigan and Eastern Michigan. He missed the Notre Dame game in between with an injured shoulder.
"He's a tough guy, he's relentless, he's not afraid of the defense, he makes no concessions to the defense," Borges said. "He has pieces of his game that still need improvement, but he's going to give all he's got."
Borges also said freshman Thomas Rawls, who debuted against Eastern Michigan with two carries for 4 yards, could receive more snaps in future weeks.
"He's a talented kid we need to find out more about," Borges said. "I've said it in the beginning: If it's a freshman that's the best back, so be it, but we're never going to find out unless we put him in the game and find out."

Wile not feeling any family conflict

Michigan freshman kicker Matt Wile said the game against San Diego State on Saturday may be difficult for his father, but for him it'll be just another football game.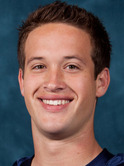 Wile's father, Peter Wile, served as the Aztecs' team physician while Hoke coached there the past two years, but recently stepped down to watch his son kick for Michigan.
"I'm sure it may be hard for my dad," said Wile, a San Diego native. "But for me, Michigan's my team.
"I like that (the game) is in the Big House. That's my home stadium."
The first-year Wolverines kicker said Peter Wile, who attended medical school at Michigan, has attended each of the Wolverines' three games, during which time Matt Wile has punted and kicked off.
The freshman said he thought his punting was "mediocre at best" last week against Eastern Michigan and that the return of suspended punter Will Hagerup prior to the Oct. 1 game against Minnesota will push him to improve.
"Will, throughout camp and these last few weeks, has been helping me a lot," Wile said. "He's really been the main reason I've been able to get more comfortable. All I know is that I'm going to keep competing. Whoever the best man is will play, and whatever makes us better is all I'm worried about."
Asked how his placekicking was coming along, the freshman said his recent long in practice was a 59-yard field goal.

Mattison: Emotions won't be a factor

Michigan defensive coordinator Greg Mattison knows what it's like to be in the spot Hoke and five assistants will be in Saturday when they battle their former team, San Diego State.
When Mattison left Michigan for Notre Dame before the 1997 season, he had to face his former employer in the Irish's fourth game of the season.
He said he doesn't recall much about that game, which was a 21-14 Michigan win, but does know Hoke won't have mixed emotions this weekend against the Aztecs.
Neither will Borges, special teams coordinator/tight ends coach Dan Ferrigno, offensive line coach Darrell Funk, wide receivers coach Jeff Hecklinski nor linebackers coach Mark Smith, Mattison said.
"Those guys gave so much to that (San Diego State) program when they were there, worked so hard and turned that thing around, so you have to know that there is a feeling in there (that remembers SDSU)," Mattison said. "But this is also a profession. And when (Michigan athletic director) David Brandon is your boss and he's the guy that you answer to, then you better make sure that when the time comes you're coaching for (Michigan). … And this group will automatically.
"If anything, whenever you compete against someone you respect, you want to do the very, very best job you can. … And I'm sure that's the case with them."

Raymon Taylor progressing

Freshman defensive back Raymon Taylor saw his first action of the season against Eastern Michigan, and Mattison said the Detroit native showed plenty of good things.
And some bad, as well.
"I thought he showed he could cover, I thought he really showed the athleticism we knew he had and I think he showed (that he's still a freshman) with that stupid (personal foul) penalty," Mattison said. "Again, there's another example of a guy that's out there trying to survive, trying to do anything he can. ... But I thought he did a nice job in there."
Mattison said Taylor was put in against EMU over sophomore Courtney Avery because Avery had never played the nickel back position, and that Taylor has the speed and athleticism to play that spot.

Odds and ends

Although Borges uses the same system and terminology from when he was at San Diego State, he said he does not employ the same signs. ... Mattison said he was impressed with how freshman strong-side linebacker Brennan Beyer bounced back after struggling earlier this season. He played well against Eastern Michigan, recorded one tackle and could see more time.
AnnArbor.com reporter Nick Baumgardner contributed to this story.
Kyle Meinke covers Michigan football for AnnArbor.com. He can be reached at 734-623-2588, by email at kylemeinke@annarbor.com and followed on Twitter @kmeinke.