Posted on
Wed, Feb 10, 2010 : 4:01 p.m.
Jeremy, Fred Jackson happy to be together on Michigan football team
By Dave Birkett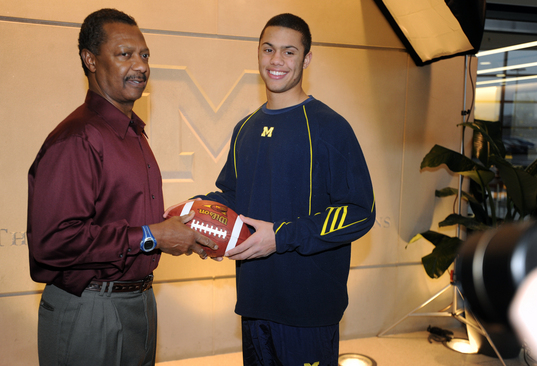 Fred Jackson
has always worked long hours; it comes with the territory as Michigan running backs coach. But lately, Jackson's found an excuse to stay at the office even more.
During one recruiting weekend last month, Jackson was upstairs at his desk when his son, Jeremy, dropped by to tell him about his just-completed workout.
Jeremy left, ate and came back a short while later for more father-son conversation.
"I see him more now than I ever saw him," Jackson said. "It's so precious, that time with your son. I really enjoy it. It's so important to me that he feels good enough to come and talk to his father as opposed to going and talking to someone else. That's special to me. It's a very special time."
And it will be for the next four or five years.
A polished receiver who hopes to get on the field this fall as a true freshman, Jeremy Jackson signed with the Michigan football team as part of its 2010 recruiting class.
His commitment - he enrolled along with six other Michigan recruits in January - fulfills a dream 17 years in the making.
Despite his father's nomadic profession, Jeremy has spent his entire life in Ann Arbor. (Fred is Michigan's longest-tenured assistant, entering his 19th year.)
He watched practices from Michigan's sideline, attended Michigan football camps as a youth, and lost days soaking up pass-catching tips from former Wolverine receivers like Ron Bellamy and David Terrell.
There were mischievous moments, like the time Jeremy pulled a fire alarm during player meetings when he was 4.
"All of the players knew Jeremy was the one who did it," Fred said.
And as Jeremy grew up and had his own athletic commitments, and as college football became more of a 24-7 business, father and son spent less and less time together. Fred estimates he saw maybe "a fifth of what Jeremy's done as an athlete" over the last four years, and Jeremy said he "rarely" got to see his dad during the fall while in high school.
"Like 10 o'clock," Jeremy said. "See him before bed and go to sleep. That's the relationship."
All the while, Jeremy dreamed of being a Wolverine and Fred hoped to one day coach his son.
When Jeremy emerged as one of Michigan's top recruiting targets for 2010, Fred drew the role of lead recruiter. He wrote Jeremy a letter or two each week, as he did all of his prospects, explaining how much he wanted him and what Michigan had to offer. And he made regular trips to see Jeremy at Huron High School.
As a father, though, Fred walked a fine line between recruiting Jeremy and telling him where to go. He went the low-pressure route, though he concedes Jeremy "probably deep down inside knew what I wanted."
When Jeremy finally did commit two falls ago, he told Michigan coach Rich Rodriguez first, then calmly strode down the hall to let his father know he'd made a decision.
On signing day last Wednesday, Rodriguez made it clear Jackson was not a charity signing.
"He stands on his own merits," Rodriguez said. "He's a good football player, very good football player."
Michigan wasn't the only major program to offer Jackson a scholarship. Florida, Texas, Nebraska, Iowa and North Carolina all came calling, too, and Jeremy seriously considered signing with LSU.
He liked that he had family there - Fred grew up in Baton Rouge, La., - and the LSU offer held special significance.
"Back when (my father) played football he would have had the offer (from LSU), but because he was African-American he had to go to an all African-American school," Jeremy said. "He had offers from Michigan State and Colorado, but just getting that offer and seeing that through his son is really what made it for him."
As meaningful as that was, Fred, who played quarterback at Jackson State, said nothing matches what he's going through now.
"When he told me he was coming to Michigan, that was one of the best days of my life," Fred said. "It hurts to know that you didn't see part of your kids growing up, but you look around and boom, they're out the house, they're gone. I'm just lucky enough to be in a position where I can be on the same field with him every day. That's like a bonus to me."
Dave Birkett covers University of Michigan football for AnnArbor.com. He can be reached by phone at 734-623-2552 or by e-mail at davidbirkett@annarbor.com. Follow him on Twitter @davebirkett.